Yes, everyone, this really is a bourbon but with an Irish Whiskey twist. Kentucky Owl St. Patrick's Edition combines unique bourbons that are blended to achieve similarities to an Irish spirit. It is a special edition release.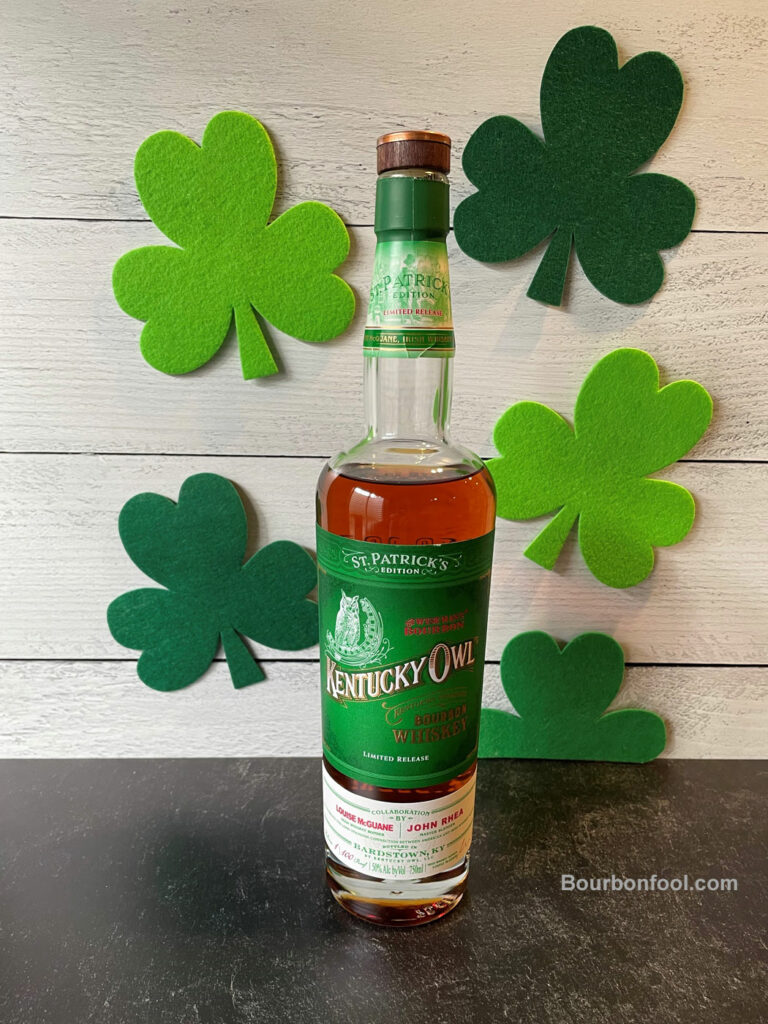 The collaboration
Kentucky Owl Master Blender John Rhea and Louise McGuane, the first modern whiskey bonder in Ireland, have teamed up to produce an excellent whiskey. This Kentucky Owl Bourbon is a delight starting with the festive green label to the unique flavor profile. By selecting different barrels of bourbon aged between four and eight years and combining rye and wheat bourbons to get a fruit-forward profile.
Master blender
John Rhea is the master blender behind Kentucky Owl, and this special edition is his second release. John was the former COO of Four Roses and is a Kentucky Bourbon Hall of Fame member.
Irish Whiskey Bonder
In Ireland, bonder is a term used for a whiskey blender. There are many blended bourbons on the market, and the practice has become widespread. This blend combines the spice of rye bourbon and the mellow sweetness of wheat bourbons. You end up with bourbon with some spice notes and a fruit flavor that provides a hint of Irish Whiskey.
J.J. Corry Irish Whiskey
Louise McGuane is also the founder of J.J. Corry Irish Whiskey, located on the McGuane family farm in the County Clare. Louise has an extensive work history in the spirits business, having worked with Pernod Ricard, Diageo, and Moet Hennessy. She brings a passion for perfecting Irish Whiskey.
More to come
All barrels emptied to create the Kentucky Owl St. Patrick's Edition Bourbon will be transported to Ireland to finish Whiskey and help make new Whiskey to sample and savor. Many Irish whiskeys are aged using ex-bourbon barrels. Using the same bourbon barrels from the St. Patrick's Edition will be an exciting story to follow.
Watch a video review of Kentucky Owl St. Patricks Edition HERE.