Finding Kentucky Owl Bourbon was not on my radar during my most recent trip to Lexington, Kentucky, I was there with two long-time great friends to experience a great Kentucky visit. Making sure they had a quality experience was foremost on my mind,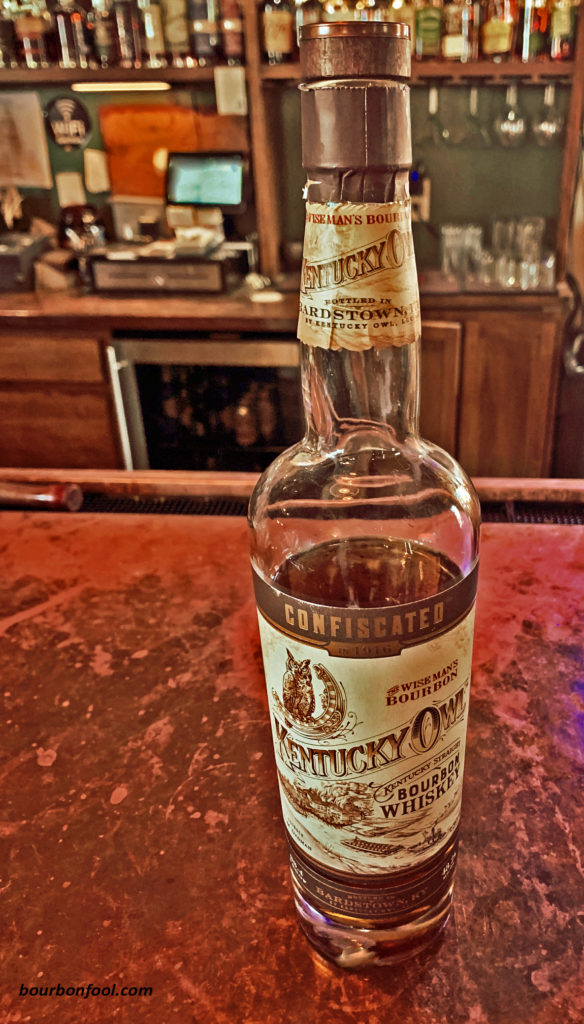 Touring, tasting, and experiencing Kentucky's bourbon hospitality was a big part of the trip, along with good food and a little business. However, sometimes you stumble upon something that you were not looking for but were happy to find.
When we visited the Lexington Distillery District, we ventured into the Elkhorn Tavern which is a cool bar with a great bourbon vibe. I decided to walk up to the bar and examine the large variety of bourbons on display and ready to sample. I did not notice the bottle, but the bartender suggested I try Kentucky Owl Confiscated. My goal is always sample something new when in Kentucky and this was a great opportunity.
Kentucky Owl Confiscated is a 2018 release from the Kentucky Owl brand and was introduced in April of this year. The bourbon is blended and sourced from unnamed Kentucky distilleries. Kentucky Owl Bourbon was founded in 1879 by C.M. Dedman, and members of his family are still involved with the brand. The C. M. Dedman Distillery has a long history and carried the DSP 16 designation. DSP stands for Distilled Spirits Plant.
The Kentucky Owl Confiscated is a 96.4 proof small batch bourbon that is a blend of sourced bourbons from Kentucky.  The distilleries of origin are unknown except that they are in Kentucky. I thoroughly enjoyed this bourbon neat, and it was an interesting sipper.  Truly, one of the better bourbons I have sampled in a while. To me, this was not a sweet bourbon but satisfying with hints of tobacco and spice.  It had a longer finish, which I enjoy.
Finding Kentucky Owl Bourbon is not easy, and it is not inexpensive. Bottles from 2018 are hard to find in the three hundred dollar price range. The current release of Confiscated has a list price of $125 per bottle. If you have the opportunity do not hesitate to try it, I am confident you will not be disappointed.
Kentucky Owl was sold to the Stoli Group but will continue to be overseen by Dixon Dedman. There are plans for a 420 acre Kentucky Owl Park in Bardstown, Kentucky featuring unique architecture, distilling, warehousing, and even a visiting dinner train. See more about Kentucky Owl Park here.
My recent trip reminded me of something Freddie Johnson often says: "Bourbon is best experienced with friends" Thank you for subscribing!