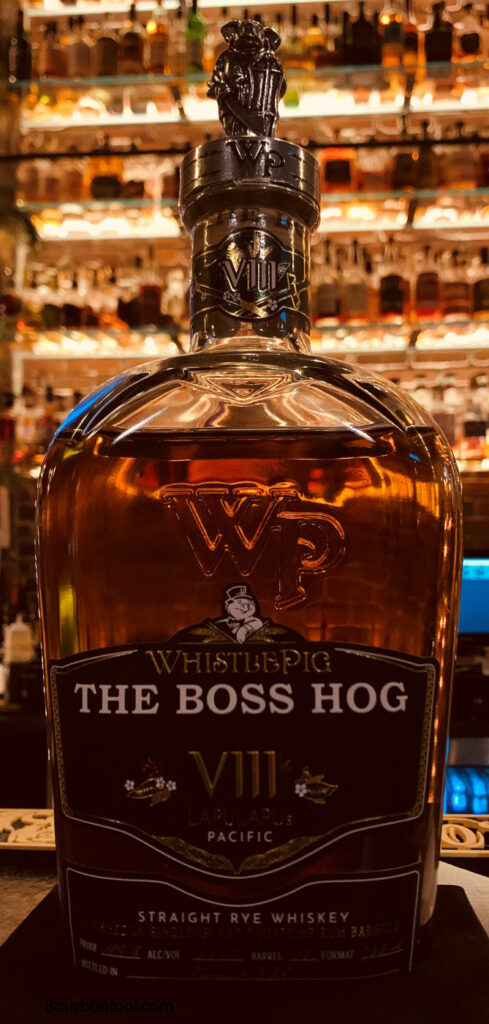 Whistlepig the Boss Hog VIII is the latest rendition of this much sought
after whiskey. Titled Lapulapu's Pacific is a barrel-strength single barrel rye
whiskey aged in used rum casks. You will quickly see that the tropical flavors
instantly make their presence known.
Cask finishing
Whistlepig, the Boss Hog VIII, is bottled at barrel strength between 104.8
and 106.6 proof. This rye whiskey is barrel finished in high toast, small-batch
single island rum casks.
The presentation
Boss Hog VIII comes packaged in an elegant box with a pewter stopper. A
local pewter company created these pewter bottle stoppers in Vermont. In this
case, the stopper is a regal pig dressed as a Philippine warrior. Lapulapu was
a legendary Philippine warrior that held off the Spanish from invading the Philippine
Islands. Each bottle of Boss Hog is presented in packaging to reflect the unique
contents of the bottle.
The entire series
Boss Hog 1  – 12-year-old straight rye whiskey 24 of the unique
barrels.
Boss Hog 2 – a 13-year-old spirit of Mortimer Flying pig stopper by Danforth
Pewter Works in Vermont
Boss Hog 3 – 14-year-old Rye whiskey finished in 250 liter Scotch Casks.
Large barrels with new American Oak heads
Boss Hog 4 – 14-year-old The Black Prince finished in Armagnac casks.
Boss Hog 5 –  13 year old finished in Calvados Casks. The Spirit of
Mauve is another celebrity pet pig.
Boss Hog 6 –  The Samurai Scientist finished using Japanese Umeshu. Ume
plum liquor. A collaboration of Kitaya Brewery on Japan's Kyushu island.
Boss Hog 7 – Magellan's Atlantic 17 years in American Oak. New Spanish staves
to create a South American Teakwood finish.
Available now
Boss Hog VIII is available now and is very hard to find. Whiskey
lovers look for this release, and the bottles do not last long. Look for this
whiskey if you want to try a rye whiskey with a tropical taste profile. Watch
our review HERE.