Located on the second floor of the Buffalo Trace visitor center across from the private tasting rooms, are large photographs of influential men in the distillery's storied history. Colonel E. H. Taylor, Albert Blanton, Pappy Van Winkle, Elmer T. Lee, William Larue Weller, and even George T. Stagg wearing his union army uniform. Each of these distinguished gentlemen has made indelible marks in the bourbon world. However, Colonel Taylor made a considerable impression in many ways, especially with his support of The Bottled in Bond Act and his attention to detail in building the OFC Distillery.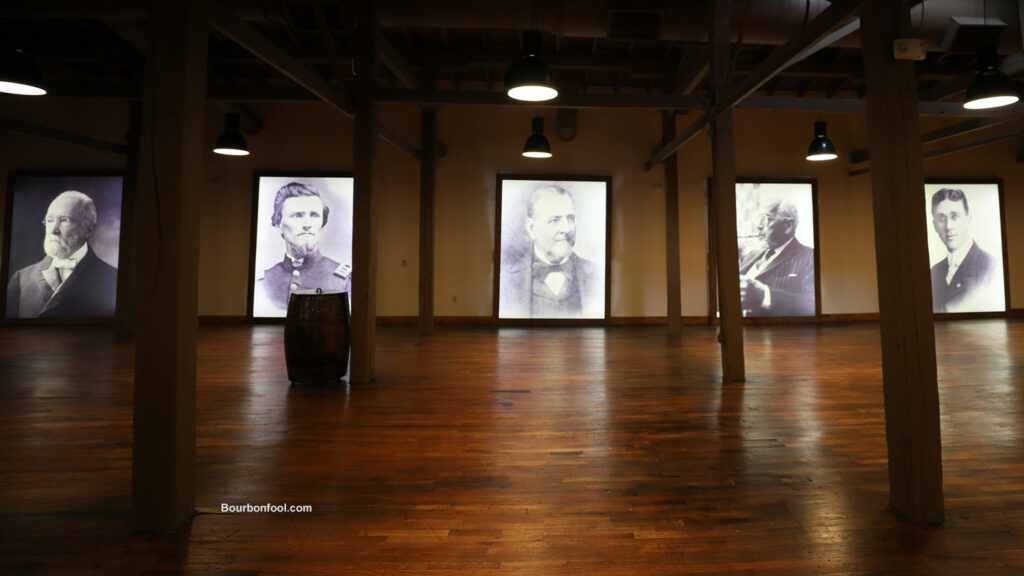 Fine whiskey vs. snake oil
Taylor made fine whiskey and despised the rectifiers and the snake oil salesman that were adulterating whiskey for a quick profit. He spent a significant amount of time lobbying for the passage of the Bottled in Bond Act of 1897. He wanted fine whiskey to be recognized and understood as free of foreign substances. However, a rectifier with a notorious history would come back to haunt Colonel Taylor and his beloved OFC Distillery. Was a successful rectifier a whiskey genius or whiskey fraud?
OFC and George T. Stagg
The 1869 purchase of the distillery in Leestown was E. H. Taylor Jr.'s first entry into the distilling business and made an impact with state-of-the-art equipment and copper fermentation tanks. Unfortunately, financial struggles forced Taylor to sell his OFC Distillery to George T. Stagg just ten years later. There are many stories of innovators having financial stress in the search for perfecting a product. Colonel Taylor struggled while one of the great con-men and rectifiers was about to create a whiskey juggernaut based on a hoax. How would the man who fought for pure whiskey standards connect to a whiskey fraud?
Enter Walter B. Duffy
Walter entered the whiskey business by taking over his family's cider mill in Rochester, New York. He created the Rochester Distilling Company, quickly expanded, and began the process of creative rebranding. W.B. Duffy then entered the world of patent medicines featuring secret ingredients and miracle cures. Interestingly, Duffy made no secret of his active ingredient, whiskey. Being created by the world's outstanding scientists was a claim to manufacture a medicinal following. The therapeutic quality of his product was expanded by including a measured dosing spoon with every purchase. Was Walter Duffy a whiskey genius or whiskey fraud?
Duffy's Pure Malt Whiskey
This medicinal elixir promoted the cure of pneumonia, consumption, the" grip," and even repeated drunkenness. Despite fantastic sales, Duffy's marketing would eventually lead to his downfall, but not quite yet. The War Revenue Act imposed a new set of liquor taxes because of the Spanish-American War. A deputy commissioner of Internal Revenue ruled that Duffy's would qualify as medicine and helped the company avoid thousands of dollars in whiskey taxes. Profits continued to roll in.
The eventual demise
It took a determined investigative reporter from Collier's Magazine to uncover and expose the falsehoods in many of Duffy's advertising pieces. It was an advertisement featuring clergy that proved to be a fraud. Duffy's Pure Malt Whiskey was determined to be nothing more than whiskey sweetened by additives. The articles in Collier's helped create the 1906 Food and Drug Act, which helped clean up the patent medicine industry. Walter Duffy passed away in 1911, and his business continued under the supervision of his son. However, the impending onslaught of Prohibition effectively ended the company.
What about Colonel Taylor and Walter Duffy?
When you visit Buffalo Trace and look at the dramatic, larger-than-life photos of the true legends of whiskey, you should visualize an image that will never appear on that wall. Walter B. Duffy purchased the George T. Stagg Distillery, the same O.F.C. Distillery created by E. H. Taylor Jr.
When George T. Stagg retired from the board of directors, his replacement was Walter B. Duffy. One can only imagine how Colonel Taylor felt about his original distillery in the hands of the most significant whiskey fraud in history.
What's new at Charlie's
On August 31 at 8 p.m. EDST, What's New At Charlie's will premiere one of my favorite videos that Charlie and I have ever done. Be sure to tune in on the 31st for an informative and fun video review. Single Rack Black Calumet sixteen-year-old bourbon! Watch it right HERE!