As you read this, we will be getting ready to celebrate Thanksgiving, and it really Tis the season for bourbon cream. These bottles are available all year round but are immensely enjoyable during the holiday season. For our comparison, we will feature three different bottles of bourbon cream produced by three distinct distilleries. If you have not sampled bourbon cream, I hope this story will encourage you to try it.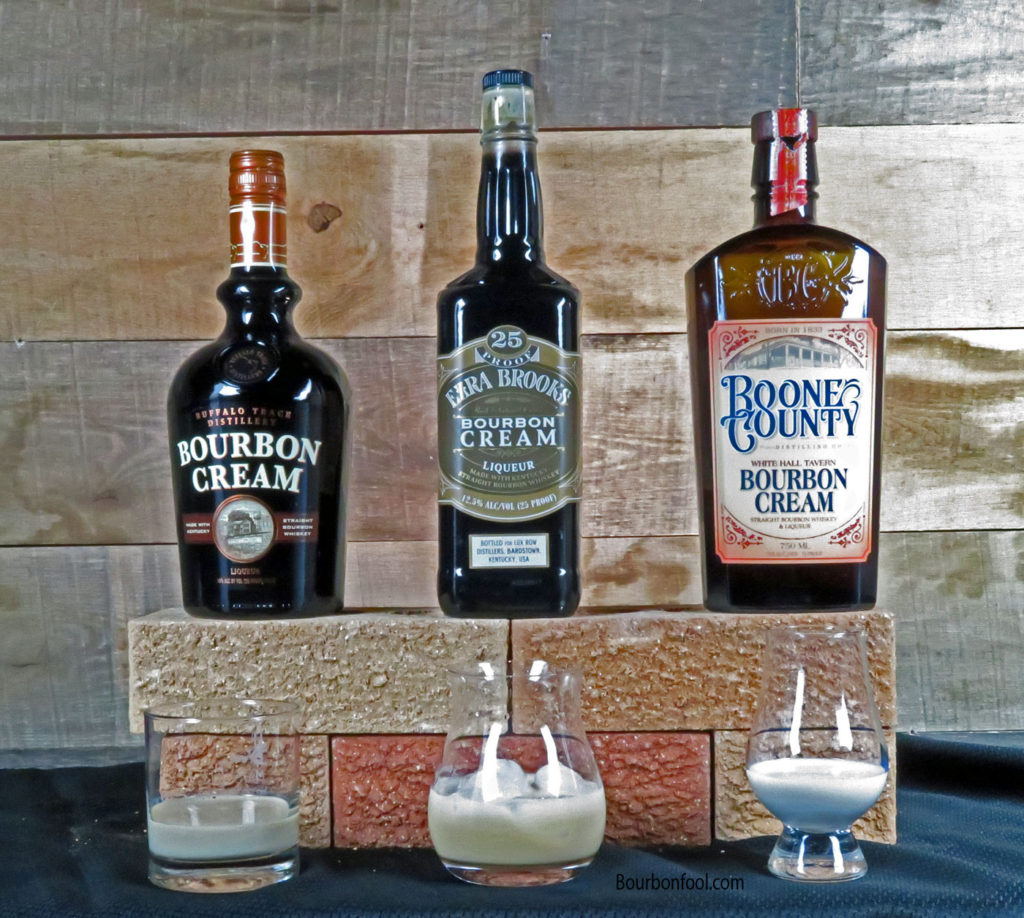 Buffalo Trace Bourbon Cream
Buffalo Trace is the very first bourbon cream I ever tried. It is part of the tours and tastings offered by Buffalo Trace. At the end of each tasting, your guide deftly announces it is time for dessert. They are not wrong as it is a decadent treat. They start by having you sample it neat, saving enough for an adult root beer float. Topping off your root beer with Buffalo Trace Bourbon Cream is a flavorful experience. I like it on the rocks, but you can also add it to a scoop of vanilla ice cream or add it to your coffee.
Buffalo Trace Bourbon Cream is slightly darker than the other two in our taste test. It is 30 proof, and those who enjoy a more potent drink can enhance it with a shot of Buffalo Trace Bourbon. It must be refrigerated after opening and will last six months in the refrigerator. In our home, it may last six days.
Ezra Brooks Bourbon Cream
Our friends at Lux Row Distillers produce a delicious bourbon cream. It consists of corn, rye, malt, and natural cream. Ezra Brooks may be slightly harder to find and purchase than Buffalo Trace, but it is worth seeking out. Ezra Brooks bourbon cream is another very smooth and sweet drink that is wonderful on the rocks. This product is excellent in coffee and would enhance an ice cream dish. They recommend a cocktail named Bourbon Cream Caffe'.
3 ounces of Ezra Brooks Bourbon Cream
3 ounces of cold press espresso
Dash of bitters
Nutmeg
Add to a shaker filled with ice and shake. Strain into a rocks glass with fresh ice and garnish with nutmeg.
Ezra Brooks is 25 proof and must be refrigerated after opening. The bottle will last six months in the refrigerator after opening, but in my home, you are not drinking it correctly if it lasts that long.
Boone County Bourbon Cream
Boone County bourbon cream is a newcomer to my taste test, and it is a unique product. Their story is that a saloon keeper would serve his bourbon over homemade hand-turned ice cream. Farmers and workers from all over would appreciate a sweet treat at the end of the day. Until recently, this product would be the most difficult to find outside of Kentucky. However, they have recently announced that their distribution has expanded and will even be available in Michigan soon.
Boone County is the only one of the three that does not have to be refrigerated after opening. It is also the strongest of the three at 32 proof. Boone County blends alabaster cream with the aged bourbon. I did not enjoy this product neat, but it improved once poured over ice.
Which one is the winner?
I will tell you that I thoroughly enjoy the Buffalo Trace Bourbon Cream. It has a slightly darker color, and it allows you to taste the bourbon. I could be the victim of many Buffalo Trace tastings and tours where this product is excitably featured. It is my winner.
A very close second is Ezra Brooks, a creamy, tasteful bourbon cream that does not disappoint. If my first choice were not available, I would be happy to locate a bottle of Ezra Brooks Bourbon Cream.
Finishing third is the newcomer Boone County Bourbon Cream. Even though it was the highest proof, the cream overwhelmed the bourbon. This one may benefit from adding some straight Kentucky bourbon to the mix.
I know many of my readers enjoy their bourbon straight and neat. However, this is a pleasant diversion, and it fits well in both the holidays and colder weather. Tis the season for bourbon cream, and despite trying times, I hope all of you have a very enjoyable Thanksgiving.