We often get to talk about two of our favorite passions, whiskey, and Classic Rock. However, Three Chord Whiskey Drummer is the perfect combination of perfectly tuned taste and rock and roll. Three Chord makes a handcrafted whiskey that is flavorful, powerful, and memorable. Whiskey Drummer hits delicate flavor notes and then impacts you with a barrel proof of 117.9.
Guitarist Neil Giraldo
Neil Giraldo is a renowned lead guitarist, producer, and husband of Pat Benatar, who also appreciates good bourbon. Neil created Three Chord to produce bourbon with the same passion and excellence that he also brought to his music. Not only did Neil play on every one of Pat Benatar's albums but he also worked with Rick Derringer, Rick Springfield, John Waite, and Kenny Loggins. Be sure to watch the video below because we will present you with a rock and roll trivia question that is sure to win you a few drinks at your local tavern. Did you know that Pat Benatar's video for You Better Run was the second video ever shown on the brand new MTV network?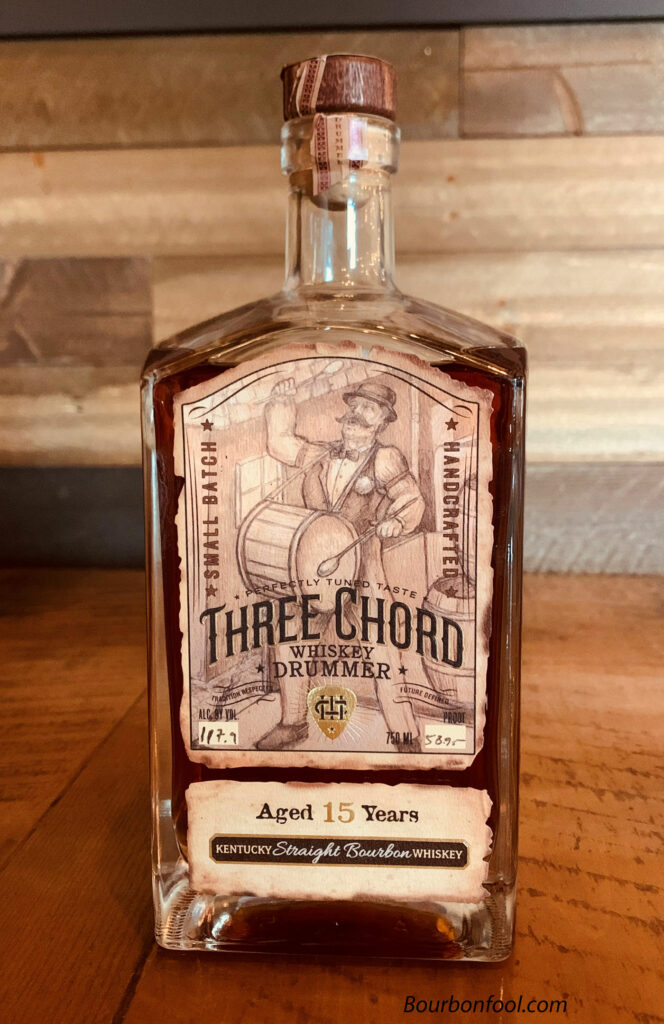 More than Whiskey Drummer
Perfectly tuned taste and rock and roll is a reoccurring theme of Three Chord whiskeys. Here is a list of products to satisfy most palates and provides variations to challenge most whiskey drinkers.
Three Chord Blended Bourbon Whiskey – 81 proof made up of a blend of Kentucky, Indiana, and Tennessee spirits. Three Chord uses secondary oak charring to create a masterful flavor profile.
Three Chord Twelve Bar Reserve – is another barrel-proof offering. This whiskey is not cut with water and bottled between 93 and 107 proof.
Three Chord Amplify Rye Whiskey – is bottled at a satisfying 95 proof. An exciting blend of Kentucky and Indiana rye whiskey's with a secondary barrel finishing makes this rye whiskey worth trying.
Three Chord Strange Collaboration – is a unique blend of 2 to 6-year-old bourbon finished in French Oak pinot noir casks. The resulting 99 proof bottle is a true collaboration of flavor.
Three Chord Tennessee Straight Whiskey – is a small batch of authentic Tennessee whiskey using maple charcoal to filter the three-year-old spirit.
Whiskey Drummer and Rock and Roll Trivia
This post also announces the video release of a review of Three Chord Whiskey Drummer. Our series What's New at Charlie's features not only this exciting Kentucky Straight Bourbon but also gives you the answer to that Classic Rock trivia question I promised you. Be sure to try Whiskey Drummer if you want a perfectly tuned taste and rock and roll barrel proof. It will be memorable.