A Celebrity Whiskey List Worth Reviewing
In today's whiskey mad world, there are a lot of celebrity brands in the marketplace. If you were to include tequila and vodka, the list would be a lot longer. Today, we are going to talk about celebrity-owned or endorsed whiskies. There is no particular order to these whiskey's, and several of them contain links to a video review of the product. I hope you will find this a celebrity whiskey list worth reviewing.
Heaven's Door Tennessee Bourbon – Bob Dylan
Distilled and aged in Tennessee is a non-chill filtered product at 92 proof. One offering of a larger family of spirits. Downtown Nashville will be the home of Heaven's Door Distillery.
Wild Turkey's Longbranch – Matthew McConaughey
Longbranch is an eight-year-old Wild Turkey refined by using only Texas sourced mesquite charcoal. It is 86 proof, and each bottle features the signatures of Eddie Russell and Matthew McConaughey.
Three Chord Bourbon – Neil Giraldo
I just had the opportunity to review this bourbon. At 15 years old and 117.9 proof, it is a serious bourbon. Founded by Neil Giraldo, a producer, lead guitarist, and husband of Pat Benatar, Chelsea, Michigan, is home to Three Chord.
Redneck Riviera Whiskey – John Rich
Redneck Riviera is a small batch blend of two whiskeys offered at 80 proof. It combines a spicier whiskey with a sweet corn-forward whiskey. Ten percent of sales profits go to the Folds of Honor organization.
Old Whiskey River Kentucky Straight Bourbon – Willie Nelson
Discontinued and now considered a collector's item. The neck tag was in the shape of a guitar pick. Old Whiskey River is 86 proof whiskey and was made by Heaven Hill and aged six years.
Backstage Southern Whiskey – Darius Rucker
A founding member of the band Hootie and the Blowfish is now a respected country music star. No age statement, 84.3 proof, and bottled in South Carolina.
Blackened American Whiskey – Metallica
Blackened is a tribute to Metallica's Black album. This whiskey is aged and finished using a "Black Noise" sonic-enhancement process. Available in gift sets and bottled at 90 proof.
BSB Brown Sugar Bourbon – Jamie Foxx
Distributed by Southern Glazer's Wine and Spirits.
Wolf Moon Bourbon – Jason Aldean
Wolf Moon is a compilation between Jason Aldean and Florida Georgia Line. 4 years old and sourced from MGP and produced by Old Camp, the whiskey label for Florida Georgia Line's own Peach Pecan Whiskey.
Old Camp Whiskey – Florida Georgia Line
Old Camp is two-year-old whiskey infused with the rich flavors of southern peaches and pecans. It is an easy-drinking 70 proof whiskey.
Virginia Black Whiskey – Drake
Decadent American Whiskey co-created with Brent Hocking of Deleon Tequila fame.
Bradshaw Bourbon – Terry Bradshaw
For a complete video review of Bradshaw Bourbon, Click HERE.
Belfour Bourbon – Ed Belfour
For a complete video review of Belfour Bourbon, Click HERE.
Woodson Bourbon Whiskey – Charles Woodson
Fast aged using ultrasonic waves for six months and finished in Cabernet barrels. 80 proof
I hope you enjoyed this list of celebrity-owned and endorsed whiskies. It is a celebrity whiskey list worth reviewing.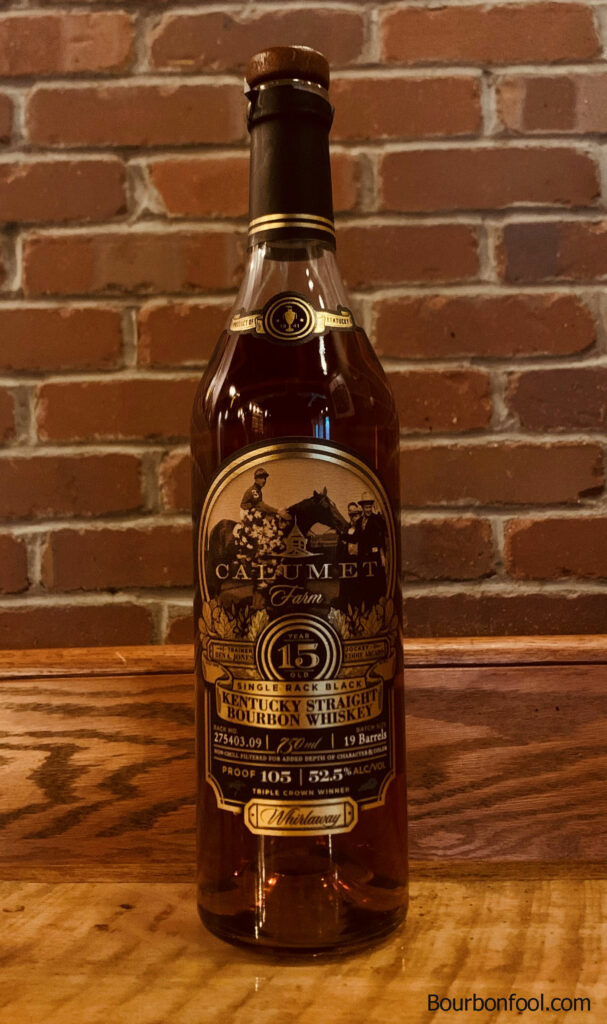 Calumet's fifteen-year-old bourbon
Calumet's fifteen-year-old bourbon does not have a celebrity attached unless you count the Triple Crown Winning horse Whirlaway. Find out more about this great bourbon in this week's video of What's New at Charlie's. You can watch it HERE.
For additional information on Calumet Farms history and selection of bourbons, select this POST.