I have sampled many bourbons in my lifetime, including some exciting bottles from outside Kentucky. This week, I had the opportunity to sample a great bourbon from outside Kentucky.
A wide variety of bourbon whiskey
I tried to think of every bourbon I have sampled from outside the bluegrass state. I have sampled bourbons from Tennessee, Michigan, Virginia, Indiana, New York, Wyoming, North Carolina, West Virginia, Texas, and likely a few more states that escape me. Bourbons from large operations and micro-distillery just beginning were tried; some are unique. A few stand out among the many.
Best bourbon from a different state
I genuinely love Kentucky bourbon and relish many of my experiences. You do not forget meeting many of the giants of the industry and sharing bourbon with them. You also enjoy meeting many other folks along the journey and enjoying the tasting experience. I have sampled whiskeys unavailable to the general public and had the good fortune to sample fantastic bourbon with great friends. This week, I also enjoyed a great bourbon from outside of Kentucky. Maybe, the best bourbon I have ever tasted from outside the Commonwealth.
Garrison Brothers Bourbon
My first introduction to Garrison Brothers Bourbon was a tasting I experienced with my good friend Charlie Berry in September of 2021. We tried the small batch and the single barrel, and I was impressed and intrigued by these whiskeys. Locally sourced grains, along with a dedication to making good whiskey. Whiskey made by Texans in Texas. Founded in 2005 and first introduced in 2010. These folks use soft winter wheat to make a smooth sweet whiskey with an excellent finish. I had heard stories of their locally released Cowboy Bourbon and the accompanying excitement. I noted that I would try to taste some in the future.
The release of Balmorhea
This week we sampled a bottle of Garrison Brothers Balmorhea. This whiskey is the best bourbon whiskey I have tried from outside Kentucky. That is a big statement, but I am very impressed by this bottle. The Balmorhea release matures four years in a new charred oak barrel and then transferred to another new oak barrel for an additional year. The color, mouthfeel, and taste are extraordinary. Chocolate tones along with walnut and pecans. A mature finish makes this a really enjoyable sipper. Watch our review of this excellent bourbon HERE.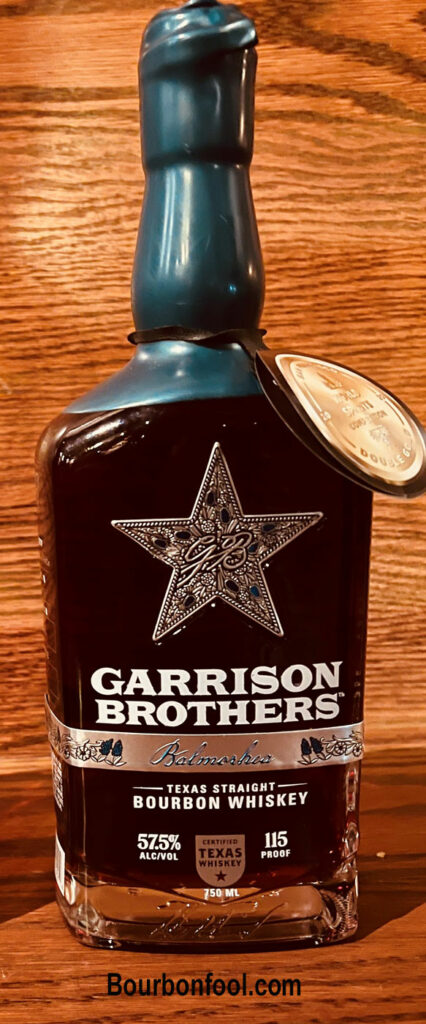 Find it fast
It is not often that this happens, but I immediately started searching for a bottle of Garrison Brothers Balmorhea for my collection. I have not found it yet, but I may reach out to a cousin in Texas to see if he can hunt one down. The Balmorhea bourbon release is an outstanding whiskey, and I appreciate being able to sample it.