Before I explain why you should buy this Heaven Hill Bourbon, I want to give you the colorful background of one of America's great distilleries. In the 1930s, the foundation of a great company was about to be built. Prohibition officially ended on December 5, 1933, and what we know today as Heaven Hill Distillery began with the name Old Heavenhill Springs. The Shapira brothers, David, Ed, Gary, George, and Mose, along with outside investors, were the founders. Heaven Hill is still owned and operated by the Shapira family today.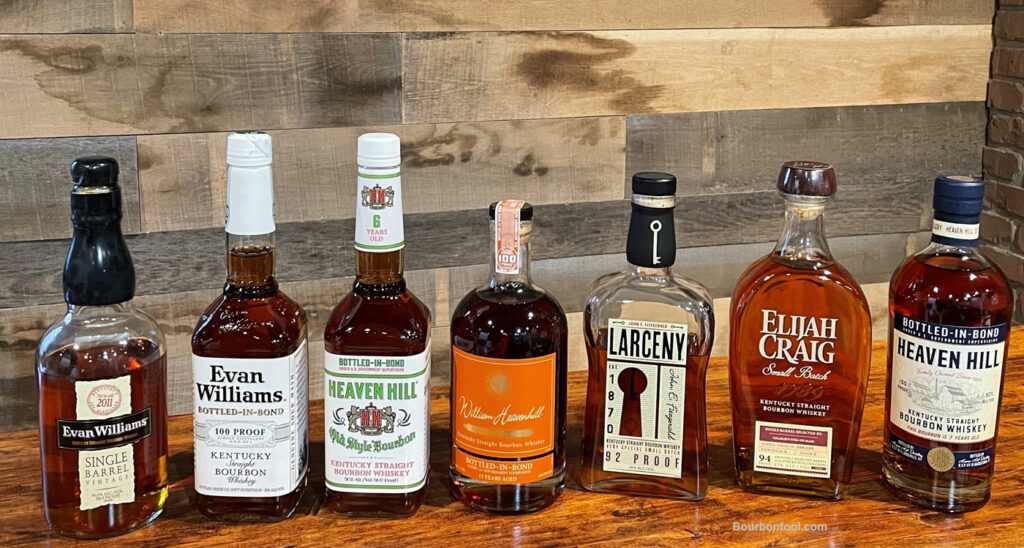 Bourbon Falls Whiskey
After a couple of years in business, the distillery released a whiskey-branded Bourbon Falls. This whiskey is not only released as a Kentucky Straight Bourbon but also as a blend and a bottled-in-bond. The Shapira family buys out the remaining nonfamily investors.
1943 Shapira family buys out remaining nonfamily investors In the 1940s. The distillery hired Park Beam to help with distilling, starting a long-standing association between members of the Beam family and Heaven Hill Distillery. In 1946, Park Beam's son Earl was named master distiller.
A Historic Distillery Fire
A devastating fire destroyed the Heaven Hill Distillery in November of 1996. Not only did it bring down the distillery itself, but seven additional rickhouses. Ninety thousand barrels were lost, and the fire was so intense and hot that firefighters could not get within three hundred yards of the fire. The loss in 1996 represented two percent of the world's existing whiskey stocks. However, thirty-seven rickhouses were not damaged, and the whiskey continued to age in the surviving buildings undisturbed.
Brown Forman and Jim Beam were competitors that stepped up to help Heaven Hill with new whiskey production. Both distilleries had the capacity and began making whiskey, filling barrels, and shipping them to Heaven Hill for aging. Can you imagine another industry where brand rivals would step up and assist a competitor? It is these types of relationships that define the history of Kentucky bourbon.
Distilling Again
In 1999, Heaven Hill purchased the Bernheim Distillery in Louisville to begin distilling their liquor again. Distilling would occur in Louisville, with aging and bottling handled in Bardstown. The purchase included several brick rickhouses, the Old Fitzgerald bourbon brand, and Christian Brothers Brandy. Bardstown continued to be the face of the company, and they began a commitment to bourbon tourism with the opening of the Bourbon Heritage Center in 2004. Later, in 2013 the Evan Williams Bourbon Experience opened on Whiskey Row in Louisville.
Heaven Hill Springs Distillery
With an expected operational target of 2024, Heaven Hill Springs Distillery is scheduled to open in Bardstown; This new distilling center will provide an additional distilling capacity of four hundred fifty thousand barrels annually for the company.
Buy this Heaven Hill Bourbon
Heaven Hill has released one of the best bourbons I have sampled this year. It is an affordably priced release of 7-year-old Bottled in Bond Bourbon. Distilled at Bernheim and bottled at the Bardstown plant. You will like this authentic and traditional bottle of Kentucky bourbon. Watch our video description of this excellent whiskey HERE. This is a bottle I recommend you purchase.