Bardstown Bourbon Company and Founders KBS beer combine to be one of my favorite barrel-finished bourbons I have tried. This collaboration works to perfection. Before we examine this bourbon, we must look at the members of this unique partnership.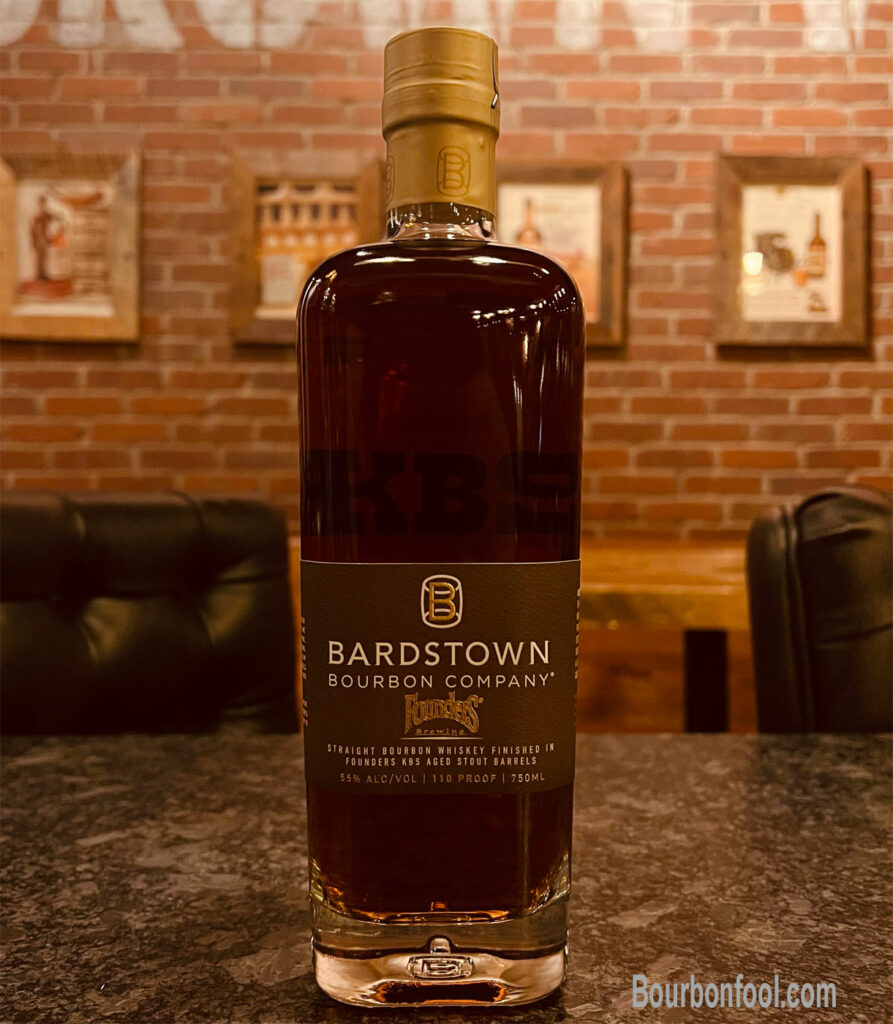 Founders Brewery
Founders Brewery began in 1997 in Grand Rapids, Michigan. 1997 was before Grand Rapids became known as Beer City. Mike Stevens and Dave Engbers started their brewery when there were only 1396 breweries total in the United States. After struggling for several years, the company released Dirty Bastard and began to change the trajectory of their company. In 2003, Founders took a leading position in the seasoning of their beer in ex-bourbon barrels, resulting in KBS first being released in their taproom and then eventually packaged for retail sales.
Founders KBS
Founders KBS is Bourbon barrel-aged chocolate coffee stout that reached a cult-like status in the craft-brewing world. KBS was initially known as Kentucky Breakfast Stout. The annual release of KBS would create lines around the building waiting to secure a case of the coveted brew. Eventually, this exuberance required a lottery system allowing people to purchase the hard to get beer. In 2004, Beer Advocate named KBS the second-best beer in the world.
Founders now
After phenomenal growth, Founders partnered with Spanish brewer Mahou San Miguel in 2014. At the time of this partnership, there are 3785 breweries in the United States. Founders opened a taproom in downtown Detroit in 2017, which was also the year of their 20th anniversary.
Bardstown Bourbon Company
We have often spoken about Bardstown Bourbon Company's unique position and their fast ascent into the Kentucky Bourbon universe. They planned to contract distill for other brands while developing unique whiskey that they could call their own.
Good people make good bourbon
When I first visited Bardstown Bourbon Company, I was impressed not only by the company's vision but also by the scope of their plans and the friendliness of their staff. It remains one of the distilleries I enjoy visiting repeatedly.
Remarkable growth
Bardstown Bourbon Company now contract distills for too many brands to mention here. Jefferson's, Calumet, Hirsch, and Belle Meade are easily recognized. However, their collaboration mindset uses barrel finishing to produce unique and, very often, excellent whiskey. Bardstown Bourbon Company feels like it has been around for a long time. In reality, they opened in Bardstown in 2014, began distilling in 2016, and did not join the Kentucky Bourbon Trail until 2018. They now distill more than seven million proof gallons of whiskey annually. When you have the opportunity, visit their stunning campus, take a tour, and try out their excellent restaurant. Bardstown Bourbon Company is proof that good people make good bourbon.
Bardstown Bourbon Company and Founders KBS Video Review
The verdict on this bourbon is you must try it. It is a beautiful blend of Tennessee Bourbon and Founders Brewing KBS. The finishing for fifteen months in used KBS barrels has created an outstanding bourbon that is unique, flavorful, and complex. Watch our video review HERE.