There are many ways to experience a wonderful Kentucky journey. This post is a little longer than normal but I wanted to explain how we had a journey to remember.
The Campbell House
We chose the Campbell House in Lexington for its incredible history and bourbon vibe. The Rackhouse Tavern is an excellent bar with many seating options. Featuring relaxing couches, bar seating and even an inviting outdoor patio. Add a superb whiskey menu, and you have a hotel worth visiting. Like many other service businesses, the Campbell House is sorting through some staffing issues. However, the existing staff works diligently to make your stay as comfortable as possible.
Buffalo Trace Distillery
For those of you who have followed my blog, there is no doubt you know my great passion for visiting the Buffalo Trace Distillery. It is an equal blend of history, great whiskey, a wonderful campus, and a group of really good people. If you do not have a good time at Buffalo Trace, you are not trying very hard. Our tour guide Eugene, and his friendly, unhurried personality, paired with a lot of historical knowledge, made for a great tour. Somehow, Buffalo Trace continues to produce tour guides that set the bar very high, and I would be happy to have Eugene lead a tour again. No matter how many times I have visited, there is always something new and unique to see at Buffalo Trace. If you have not visited this historic landmark, make time. Plan early as tours and tastings fill up fast.
The amazing Freddie Johnson
There has been a lot written about Buffalo Trace's great ambassador Freddie Johnson. He is a very deserving member of the Bourbon Hall of Fame, but more importantly, he is a friend to everyone he meets. I have had the honor to have had several tours with Freddie as our guide, and each one was an experience to treasure. On this trip, schedules did not allow him to guide us, but fortunately, we could still spend a little time with him. For those who have not had the luxury of meeting Freddie in person, I suggest you buy or rent the bourbon video NEAT. This well-done story of bourbon did not intend to have a star, but there is no doubt that Freddie takes center stage. You will see a portion of this gentlemen's character while watching the video. Freddie, you are a true gentleman, and I thank you for your time.
Bourbon on Main
We were lucky to find this location a few years ago and enjoyed it very much. Bourbon on Main is a good Kentucky restaurant with an above-average bourbon selection. Luckily, we were encouraged to dine on the patio during this visit. The location is on the shore of the Kentucky River, and the deck offers riverside dining. This Frankfort location is just minutes from Buffalo Trace and is a great stop while on your bourbon adventure. Good food, good bourbon, and friendly staff make this a must-stop for every bourbon fan. Thank you, Jaime, for all of your hard work scheduling our group. Bourbon on Main was a great lunch stop for a wonderful Kentucky journey.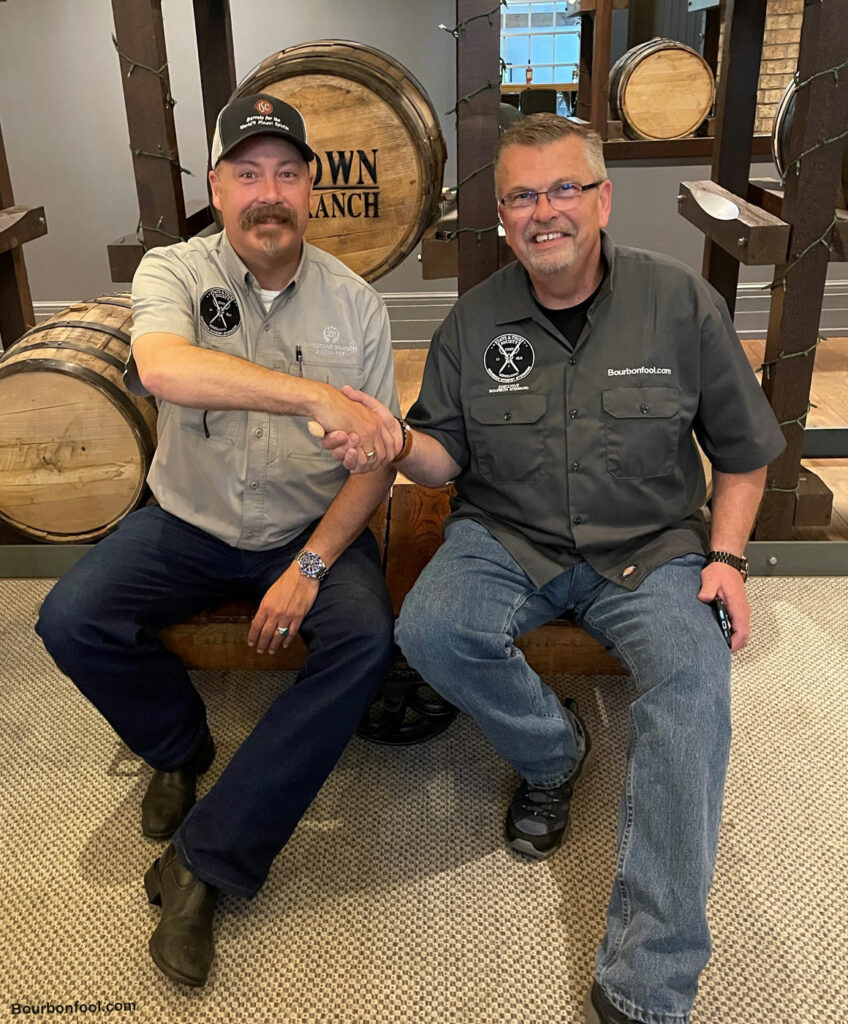 Tasting Whiskey with Stephen Fante
If you visit Limestone Branch Distillery in Lebanon, Kentucky, you will have a great experience in an intimate setting. If you are fortunate, you will spend some time with Executive Bourbon Steward and Limestone Branch Ambassador Stephen Fante. Stephen was gracious enough to come and host a tasting with me that included Minor Case Rye, Yellowstone Select Bourbon, and a unique Campbell House barrel selection. Stephen knows the spirit industry and is one of the great characters in the world of Kentucky Bourbon. He is one of a small group of people in the industry, including Freddie, who took my interest in bourbon to another level. Stephen, everyone loved your presentation and the attendees that were meeting you for the first time became fans. Thank you for taking the time to make the Bourbonfool group feel special.
Bardstown Bourbon Company
This fast-growing destination in Bardstown is quickly becoming a distillery on everyone's top ten list. Known for contract distilling for many recognized brands, BBC is also making an impact with its labels and collaborations with unique partners. Try a taste of Bardstown's the Prisoner or their recent collaboration with Founders Brewery, and you will taste magic. From the awesome bourbon slushes to filling our bottles in the rick house, this was a top-shelf experience. I cannot thank our guide and host, Andrew, enough for taking us through a memorable visit. For those of you that visit this very worthwhile destination, I hope Andrew leads your tour as you will not be disappointed. We also had the opportunity to dine at Bardstown Bourbon Company which is another level of enjoyment beyond the bourbon. Be sure to visit this location when you can and remember dining reservations are a must!
The Real Reason for a successful trip
I cannot express what it means to have a group along for the ride that enjoys bourbon and fun and enjoy each other's company. I do not take many things for granted in life, so I had the group sign my bottle at Bardstown before everyone departed. I truly wanted a remembrance of a great trip. Thank you all for your patience, your understanding, and your friendship. You are a great group, and I hope you enjoyed the journey as much as I did. A special thank you to my wife who continues to put up with my bourbon foolery. Thank you.