Master's Keep One
Wild Turkey Masters Keep One is the sixth release in the series. It is a unique bourbon created by bourbon hall of Famers Jimmy and Eddie Russell. A combination of 14-year-old bourbon blended with younger 8 to 10-year-old bourbon. Jimmy favors the younger whiskey, while Eddie is a fan of the 14-year-old. Add this blend to a second barrel that was toasted and charred, and you create Masters Keep One. I enjoyed this bourbon, and I think you will also. You can watch our video review HERE.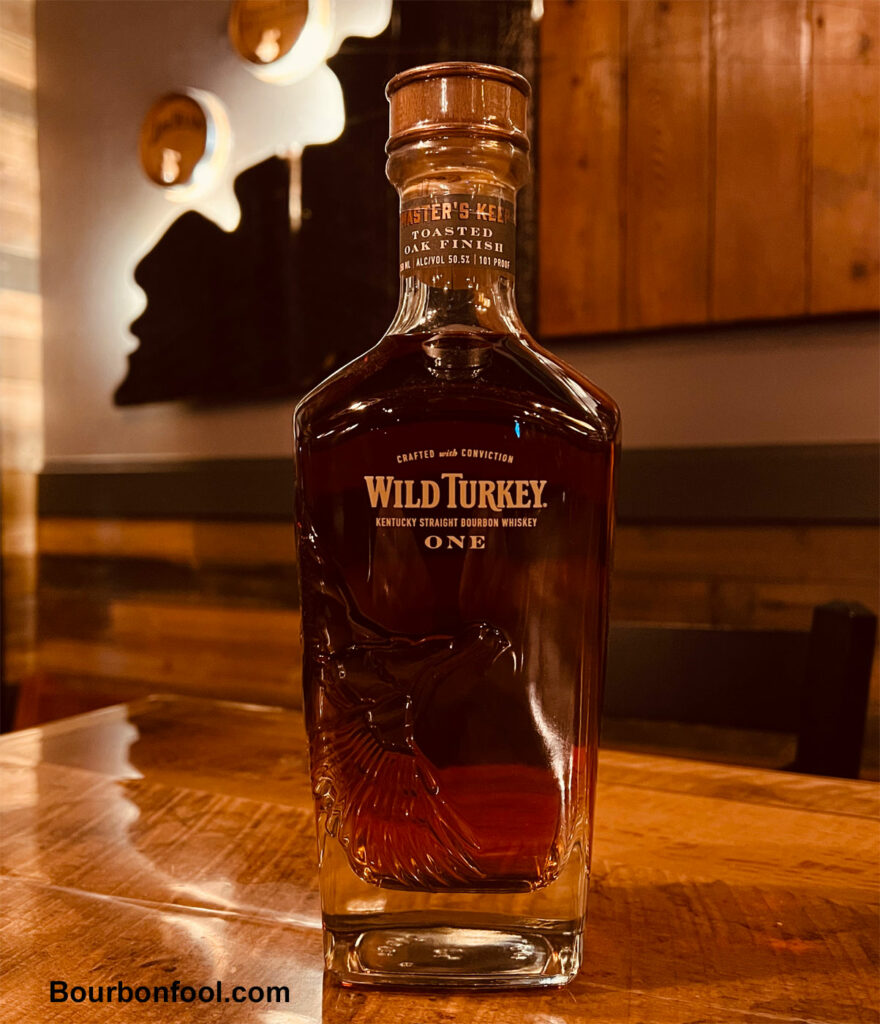 Created by bourbon royalty, The Master's Keep Series
Master's Keep 17 Year
Eddie Russell hand-selected 17-year-old barrels aged in wood and brick rickhouses for the introductory bottle. The original bottle of Master's Keep is a low-proof release at just 86.8 proof. Wild Turkey introduced this lower-proof bottle in 2015.
Master's Keep Decades
This second release of Master's Keep is 104 proof and a blend of barrels aged from ten to twenty years. These barrels were some of the special barrels in the Wild Turkey rickhouses. Indeed, an exceptional bottle that entered the market in 2017.
Master's Keep Revival
Revival changed the dynamic of previous releases. Twelve and Fifteen-year-old bourbon is blended and then aged in secondary casks. The casks chosen were 20-year-old Oloroso Sherry casks. This bottle is 101 proof and became available in 2018.
Master's Keep Cornerstone Rye
This fourth release of the series is a unique blend of 9 to 11-year-old rye whiskeys. They were chosen for the bold flavor and blended to create this special limited edition. At 109, proof it is a flavorful rye whiskey. Cornerstone Rye, the only rye whiskey in the series, was released in 2019
Master's Keep Bottled in Bond
The bottled-in-bond badge on this 2020 release guaranteed strict production standards, proper aging in a bonded warehouse, and a 100 proof whiskey. This version is also 17-years-old and is a product created by Eddie Russell. The distillery released Master's Keep BIB in 2020.
The Wild Turkey Distillery
Visiting Wild Turkey is a must for anyone interested in bourbon history and/or looking for a little southern hospitality. The setting on the Kentucky River is beautiful, and you will be among friends. On a good day, you just may get Jimmy or Eddie Russell to sign a bottle of Wild Turkey for you. This is a distillery visit I highly recommend.