It began when a Vermont farm was purchased in 2007 and sold its first bottle of rye whiskey three years later. Whistle Pig began by using sourced whiskey and then barrel finishing the product using secondary barrels or casks. Approximately five years after releasing that first bottle of rye, the distillery can now mash whiskey using rye grown on their land. The Vermont climate is ideal for harvesting rye and their home-grown distilled whiskey blends with acquired Canadian whisky stocks.
The total package
Not only is a percentage of the Whistle Pig whiskey now distilled on-site using grain grown on their property, but that rye whiskey is aged in Vermont sourced oak barrels. Dave Pickerell, a former master distiller at Maker's Mark, influenced the success of Whistle Pig. His presence is evident on their company website, and his pedigree includes Blackened, Hillrock Estate, and Belle Meade whiskeys.
Innovation
Begin by transporting your whiskey in a semi-trailer turned into a rolling rickhouse across the country. Then barrel finishes that spirit in a combination of used beer and wine casks to create a one-of-a-kind flavor profile. That is innovation, and it has resulted in Roadstock Rye Whiskey. Using Jordan wine casks and barrels from the Firestone Walker Brewery does not hurt your cause. Did the six thousand-mile journeys change the flavor of their whiskey? I cannot tell you for sure, but I recommend you try this Whistle Pig Whiskey with attitude. When was the last time you tried an innovative blended whiskey that has traveled the highways of America in barrels and not bottles?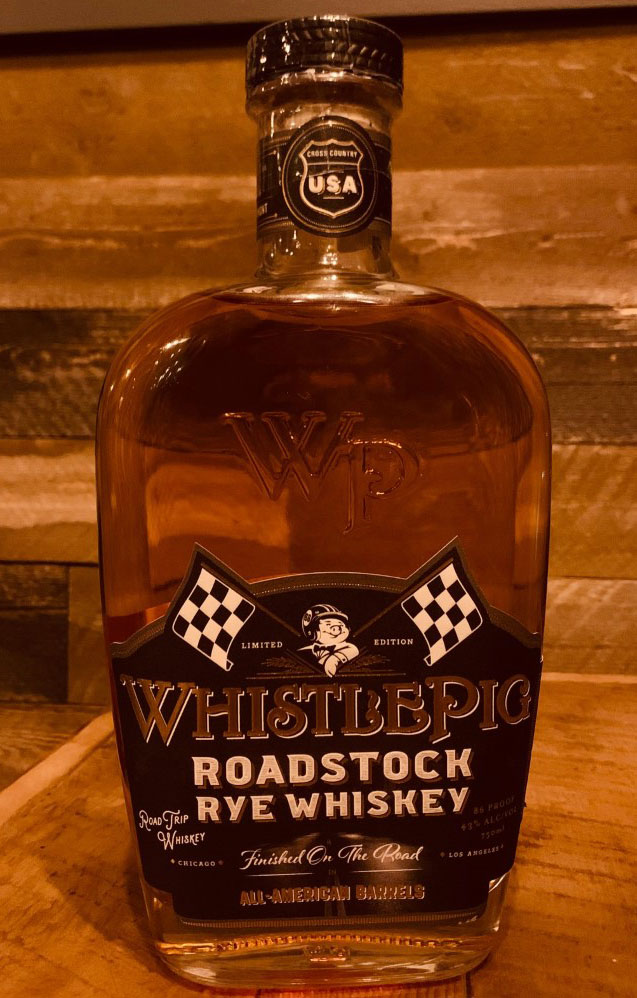 Roadstock Rye Whiskey
86 Proof
They were finished on the road in a rolling 18 wheel rickhouse while Experiencing a 50-degree temperature variation throughout the trip.
Secondary maturation occurred in used Bordeaux casks from the Jordan winery. Additional whiskey on this trip was barrel finished in Firestone Walker Brewery used barrels. This custom blend has a tire-themed bottle top.