The first thing you notice when visiting Iron Fish Distillery is the setting in Michigan's north woods. It is an area of rivers, forests, and sections of fertile farmland carved out of the soil for generations. Chief Spirit Guide Tyler HIgley introduced us to the property while telling us the story of Iron Fish.
Iron Fish Distillery
Iron Fish is about a twenty-minute drive due east from Lake Michigan. It sits near Thompsonville, Michigan, a short drive from Crystal Mountain Resort. The location is a little out of the way and secluded, but it still feels like a perfect setting. It is peaceful, from the grain silo visitor center to the converted cattle barn that serves as an event space.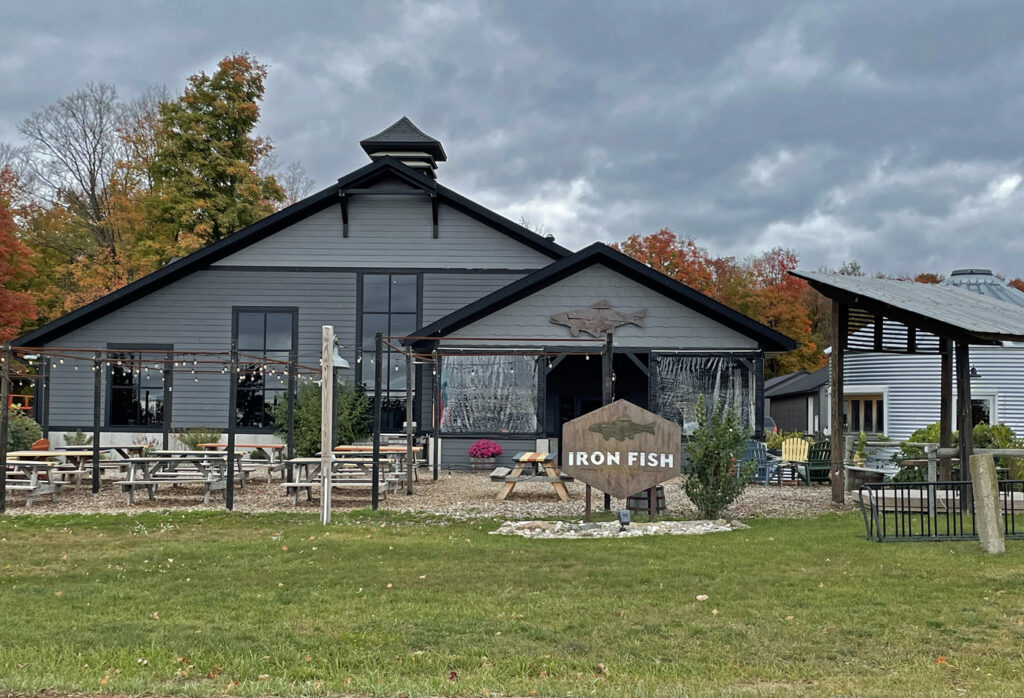 The origins
Iron Fish Distillery was a vision of two couples whose family ties, friendship, and multiple talents enabled them to realize a dream. A CPA, Veterinarian, and background in sales and marketing created a team with a shared vision. Begin with a historic farm dating back to 1876 and a shared commitment to making great spirits. Iron Fish has a relaxed vibe incorporating many fishing images, from their Mad Angler line of whiskey to their labels emulating vintage Michigan fishing licenses to the name Iron Fish itself. Iron Fish is a nickname for the steelhead trout found in the nearby Betsie River.
A Napa Valley connection
Iron Fish opened in 2016 and partners with various cooperages, including Seguin Moreau based in Napa, California. In addition, the distillery has also utilized local Michigan Cooper Joe Smith at Croze Nest Barrels in western Michigan. The outdoor space at the distillery has an easygoing ambiance that you can see throughout the facility. Spending time around the fire, fowling, or even corn hole matches with a cocktail or neat pour will relax you in good weather. If you want to purchase bottles or some Iron Fish merch, you can do it here.
Whiskey
The Mad Angler series includes a bottled-in-bond wheat whiskey, a bourbon, and a rye whiskey. Inspired by Michigan poet, Michael Delp. The Mad Angler releases are aged at least four years and feature a northern Michigan elegance.
Barrel finishing is also prevalent in the whiskey offerings at Iron Fish. Bourbon, finished in used maple syrup, cognac, sherry, Caribbean rum, mezcal, and Islay scotch barrels, provides flavor profiles for everyone. The maple syrup finish is a favorite.
Arctic Grayling Whiskey
Iron Fish has introduced two farm-distilled whiskeys to benefit the movement to reintroduce arctic grayling to Michigan rivers. A bourbon and rye whiskey farm distilled in Michigan is a tribute to the fish that have been virtually extinct from Michigan waterways for over one hundred years.
Be sure to visit.
Unfortunately, we toured Iron Fish on a slightly cold and rainy afternoon. It would be great to experience the outdoor spaces under better circumstances. Iron Fish has on-premise food service and talented staff to make your favorite cocktail. What better way to experience northern Michigan than with a Cherry Whiskey-Rita? Iron Fish is much more than a distillery. It is a destination that is worth visiting and is one of the best distillery experiences in Michigan. Where else will you pass farm fields indicating how much whiskey will be made by the crops in those same fields?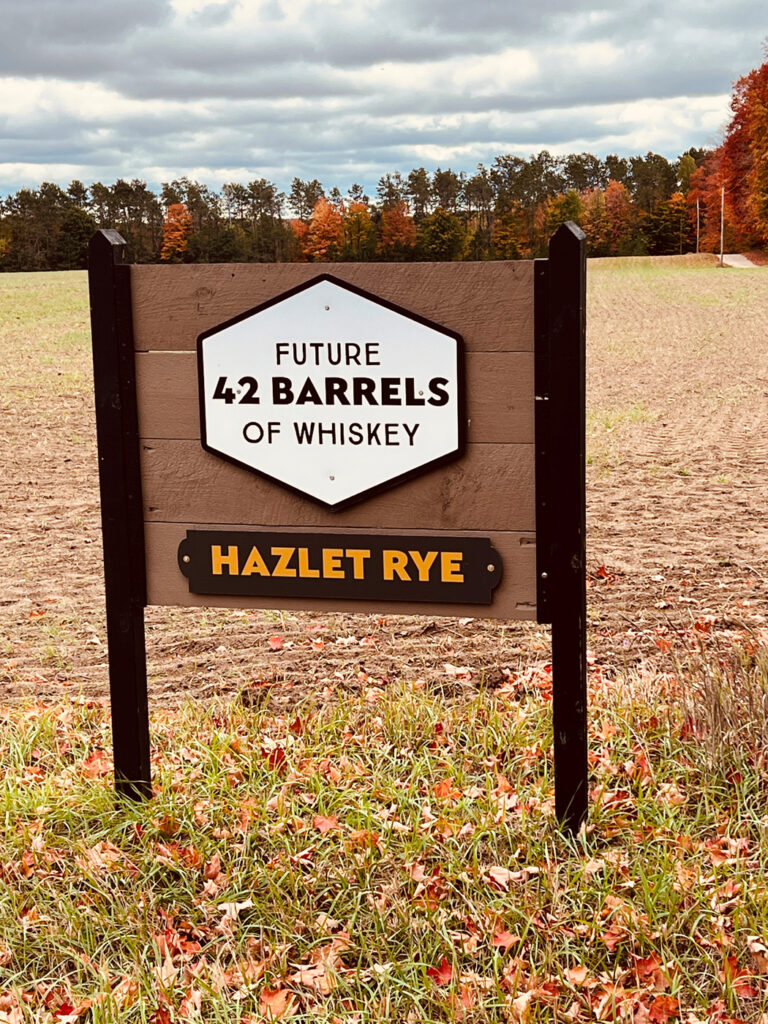 Insider Tip
Visiting Iron Fish Distillery includes purchasing a bottle of their maple syrup. Words cannot describe how good this syrup is. It is interesting to find something that you never expected that is truly amazing. Take my word for it.