The search for vintage bourbon is something that has excited me for some time. Typically, I have tasted vintage bourbon that was part of a private collection. There is now a must-stop in Kentucky to buy or sample vintage bourbon.
When you have tasted more than three hundred different whiskeys, including some of the rarest and most expensive in the world, it is hard to get excited about new releases appearing every day. However, sampling a taste of bourbon history is exciting, and sampling bottles that predate the current bourbon craze can be exceptional. Where do you go if you want to sample or purchase a bottle that is very hard to locate or has a unique meaning to you or your family?
Neat Bourbon Bar & Bottle Shop
Heaven Hill National Brand Ambassador Bernie Lubbers introduced me to the Neat Bourbon Bar & Bottle Shop. I was impressed during my visit to the Neat Bar in December of 2022, but unfortunately, the bottle shop was not open yet. I did get a sneak preview of some of the rarities and "dusti's" that are very hard to find. However, I saw enough to know I had to return once it opened.
Five minutes from downtown Louisville
Located in the "Highlands District" of Louisville, Kentucky, only about five minutes from Downtown, this is an excellent stop for any bourbon fan. Attentive and knowledgeable bartenders can answer questions, make suggestions, and mix a fabulous cocktail. Want to sample a pre-fire Heaven Hill bourbon? Neat is the place. Looking for a bottle of Wild Turkey 12-year, not available in America? They have it. I enjoyed sampling the 1991 release of Blanton's, known and sought after for its dramatic red color.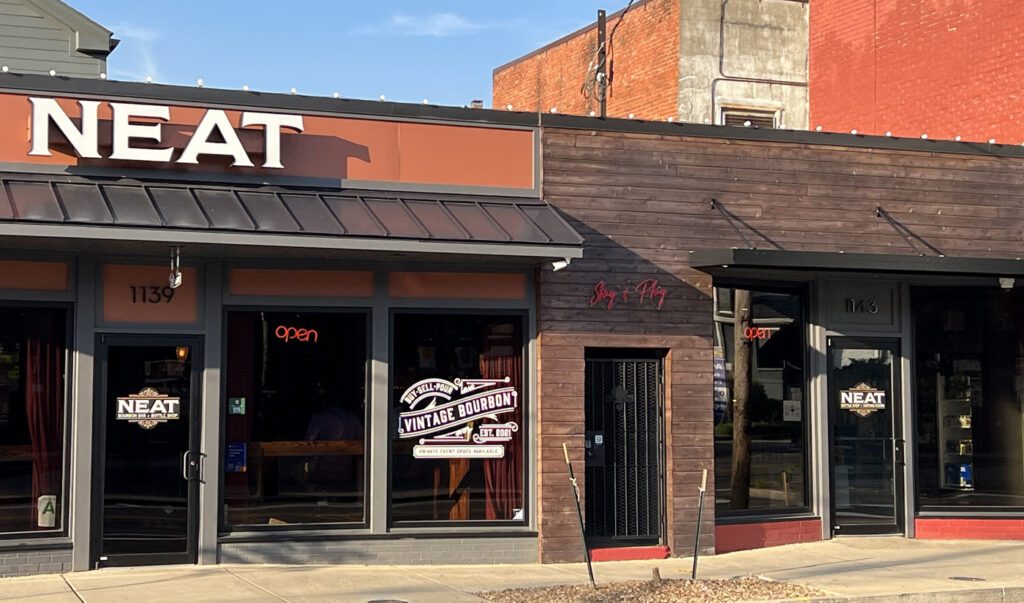 The vision of Owen Powell
Owen is the co-founder and curator with his co-owner, Danielle Elder. A business partnership that recently expanded into marriage. Owen's knowledge of vintage bottles is impressive, and he can tell you the backstory of most featured bottles. The staff working in the bottle shop know their bourbon and can provide bottle history and provenance.
Owen began with a Facebook group that specialized in secondary-market whiskey. His group at one time grew to more than fifty thousand members and was an active area for all things relating to vintage bourbon. Unfortunately, his Facebook group disbanded, but now, Owen has created a brick-and-mortar location where you can try something so unique it could be the highlight of your Kentucky visit.
Not limited to rare bourbon
Want to sample something modern but so different that Neat Bourbon Bar is the only place in America to have it? Owen has created his version of JTS Brown that is double oaked. That is correct; Double Oaked JTS Brown is available by the pour at Neat. I love the concept of doing something outside of the box and, in this case, inside of the secondary barrel.
Expanding the Neat Bourbon Bar experience
Another location will be coming soon to Kentucky that is sure to be a must-stop during your Kentucky bourbon travels. A second location in downtown Bardstown is in the works and scheduled to open in Spring 2024. This will be a great addition to the bourbon experience in Bardstown and will be another location for bourbon enthusiasts to explore in the search for vintage bourbon.
Visiting Information
If you want a bar with a relaxed vibe and the opportunity to taste a bourbon you have never experienced before, you should visit Neat Bourbon Bar and Bottle Shop. After a day visiting Louisville distilleries and attractions, the Neat Bourbon Bar and Bottle Shop is a great place to unwind and sample something so unique you may never see it again.
Neat Bourbon Bar and Bottle Shop is at 1139 Bardstown Road, Louisville, Kentucky 40204. Or visit their website HERE.
Neat Bourbon Bar and Bottle Shop is a place to experience "History by the Pour" and satisfy the search for vintage bourbon that so many of us enjoy.
Lodging
Another hidden gem to this location is the Bungalou Suites, located discreetly behind the Neat Bourbon Bar. These are very cool lodging options for your stay in Louisville. For more information, you can visit their website here: https://www.bungalou.com/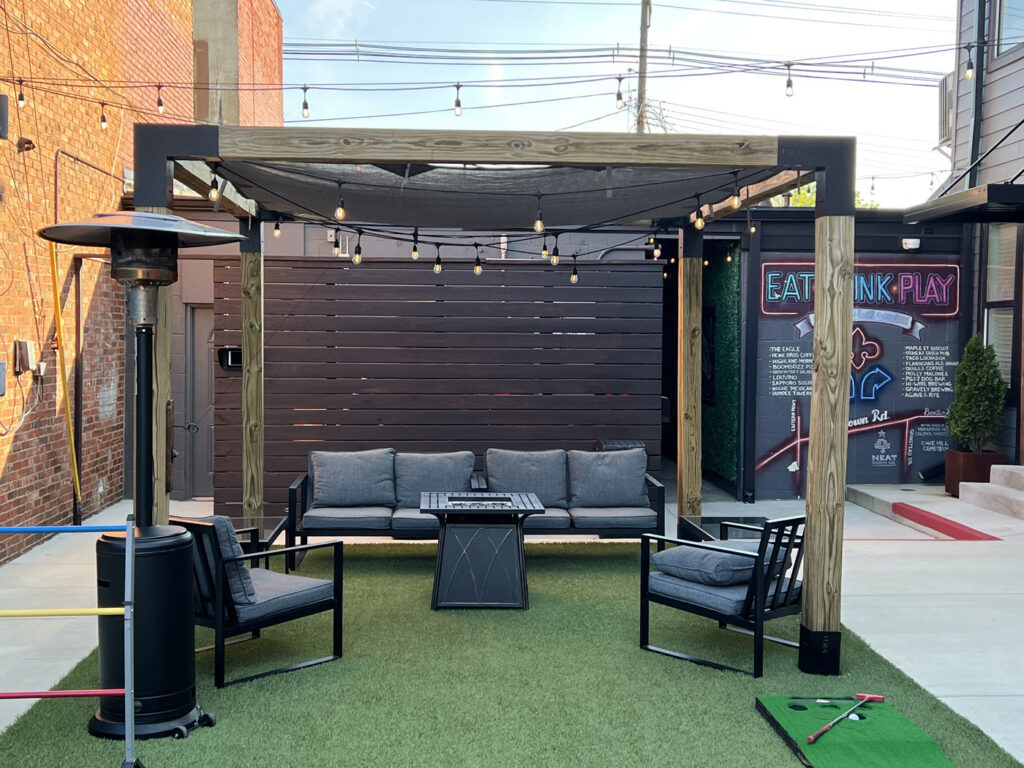 Part of the outside area available when staying at Bungalou Suites