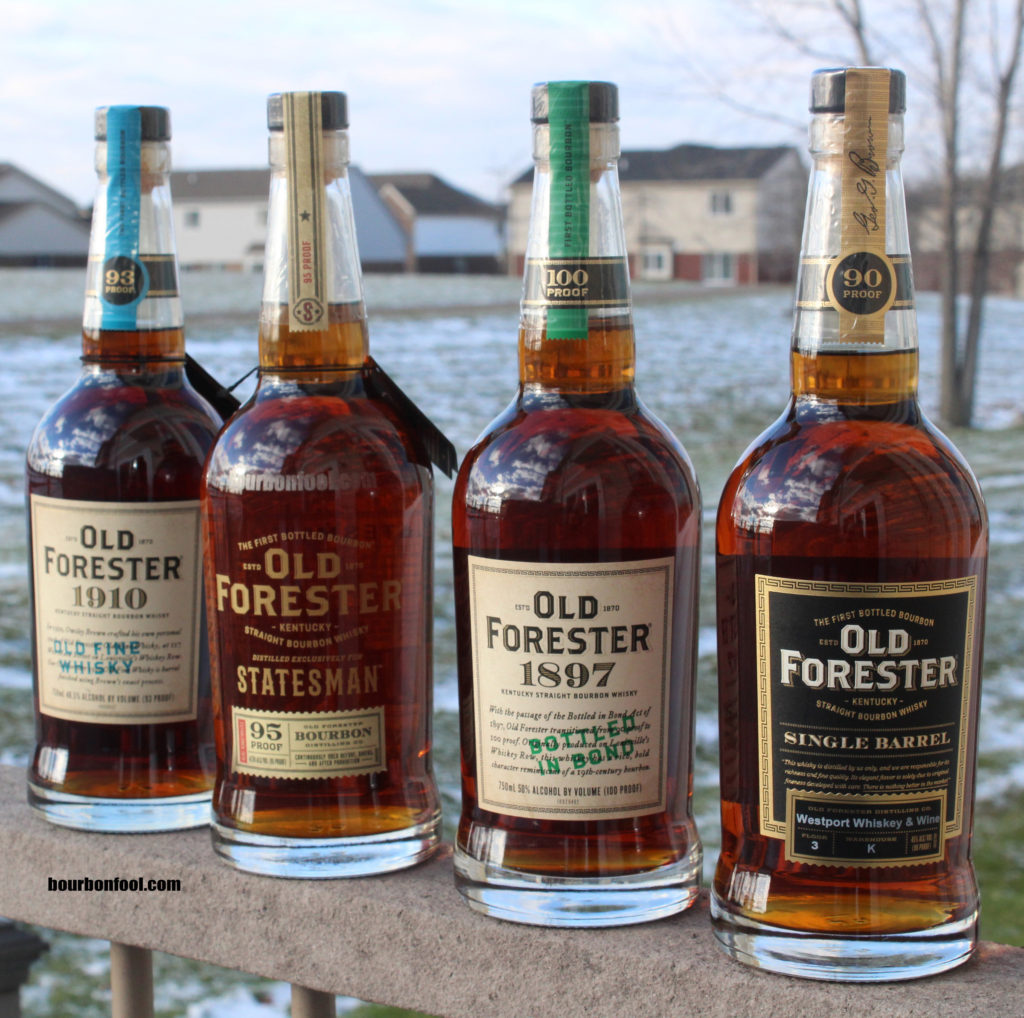 Recently I was asked where to find Old Forester 1910 Old Fine Whiskey, which is a member of the Old Forester family of very good bourbons.  You see, 1910 has become very hard to find, and people were searching for it. However, there are multiple versions of Old Forester, and many of them are very good representatives of a bold high rye bourbon. They share a common mash bill of 72% Corn, 18% Rye, and 10% barley.  What sets them apart is their approach to creating great flavor and recreating traditional whiskey styles.
Old Forester 1897
Old Forester 1897 bottled in bond is designed to commemorate the U.S. Bottled in Bond Act of 1897. This robust bourbon follows the standards created to set bottled in bond whiskey apart from others. This whiskey is aged in a federally bonded warehouse for at least four years and comes from one distillery in one distilling season. The regulations also mandate bottling at 100 proof. Old Forester Bottled in Bond is a go-to bourbon, and it should be a cornerstone of any collection.
Old Forester Statesman
You will probably recognize the branding of this bourbon from the film "Kingsman: The Golden Circle" These barrels are hand-picked from the warmest areas of various rickhouses. The concept is to create a balanced bourbon at 95 proof. Gifting one of these gives you bonus points because you can talk up the movie connection.
Old Forester Single Barrel
For those of you that understand single barrels, you fully understand that one can be quite different from another.  No two barrels are identical so that you can find a bottle from a honey barrel and one from a more pedestrian barrel. The example shown in the image above is a barrel pick from one of the great spirits retailers in America, Westport Whiskey and Wine. Not only are Old Forester Single Barrels hand-picked by an Old Forester Master Taster, but when you purchase a barrel pick, you also can depend on someone with a discriminating palate choosing a barrel. The people selecting these are putting their name on it, so I have found many of these are exceptional.  A single barrel will usually produce 200 to 240 bottles of bourbon.
Old Forester 1910
Like many bourbons today, you may have to spend some time searching for a bottle of Old Forester 1910. Recently, despite these being sold out in many areas of Kentucky, several were located in a Kentucky Kroger. The secret behind the wonderful flavor of the 1910 expression is a second barreling. This whiskey is smooth and is best enjoyed neat or with a single piece of large ice. When barreled a second time, it is at 100 proof, which provides the opportunity to become sweeter. At 93 proof, the words Old Fine Whiskey is on the label and it is. If you find a bottle, buy it.
Old Forester is a product of the Brown Forman Company whose selection of brands includes Woodford Reserve and Jack Daniels.  Their distillery experience in Louisville is the total experience that you will want to visit. The Old Forester family of very good bourbons includes several other variations, including the very hard to find Birthday Bourbon. However, the group listed here will not disappoint, and any of the bottles would make great additions to your home collection or great gifts during the upcoming holidays.  Enjoy!