As a whiskey enthusiast, I have always sought unique, high-quality spirits. Recently, I had the pleasure of trying several bottles of Blue Run Whiskey, a brand that has been making waves in the industry for its exceptional taste and elegant presentation. In this article, I will share my experience with Blue Run Whiskey, its brand story, the innovators behind it, and a link to a review of three different versions of Blue Run. Watch our video review of the elegant Blue Run Whiskeys HERE.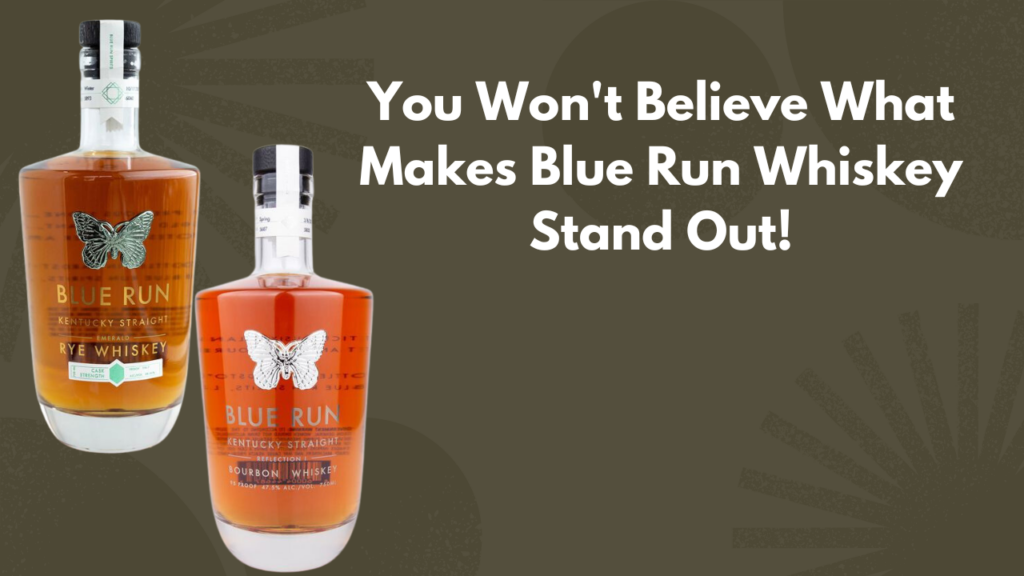 Introduction to Blue Run Whiskey
Blue Run Whiskey is a relatively new brand in the whiskey industry, having been founded in 2019 by a group of whiskey enthusiasts who shared a passion for creating exceptional spirits. This group includes a Nike designer (McKinney), Facebook's first director-level employee, a hospitality executive, a political advisor, and a philanthropist.  
Blue Run Whiskey Brand Story
Blue Run Whiskey's founders, including Mike Montgomery and Ken Lee, shared a vision of creating a brand that would produce some of the best whiskeys in the world. They set out to create a unique brand that would embody their values of authenticity, craftsmanship, and elegance. They sourced established stocks of whiskey and also contract distilled. Working with esteemed whiskey expert Jim Rutledge and later with Blue Run Whiskey Director Shaylyn Gammon, they have built a team with tremendous whiskey knowledge. 
The brand's name, Blue Run Whiskey, was inspired by a spring in Georgetown, where the founders spent many memorable moments. Georgetown will also be the site of the planned Blue Run Distillery. The renderings look more like a museum than a distillery but will be a testament to the innovation of this new arrival on the whiskey scene.
A Very Elegant Bottle
The Blue Run bottle and its signature butterfly medallion were designed by Devon McKinney, a former Nike designer and creator of some of the most iconic sneakers ever produced.
Blue Run Whiskey Awards and Recognitions
Two Bourbons from Blue Run Spirits snagged top honors at the prestigious 2021 San Francisco World Spirits Competition – before they were launched to the public.
Blue Run 13.5-Year-Old Single Barrel Bourbon was awarded Best Single Barrel Bourbon – 11 Years & Older and a Double Gold Medal. Blue Run 14-Year-Old Bourbon won Best Small Batch Bourbon – 11 Years & Older and a Double Gold Medal. In addition, Blue Run Rye Whiskey received a Gold Medal.
"A great whiskey brand always starts with a great liquid, and we couldn't be prouder that our Bourbons are being recognized as best in class," said Mike Montgomery, CEO of Blue Run Spirits. "Our vision to pair whiskey icon Jim Rutledge with Devon McKinney's modernized approach to design has proven to be a winning combination as we continue to broaden today's audience of Bourbon drinkers."
Blue Runs' team is focused on creating fine products for the modern whiskey fan. Understanding that could never happen without exceptional whiskies, they teamed with Jim Rutledge, a 50+ year whiskey veteran who serves as the brand's liquid advisor and is now mentoring Whiskey Director Shaylyn Gammon.
Conclusion
In conclusion, the elegant Blue Run Whiskeys are worth trying for any whiskey enthusiast. There are varieties for different palates, with an elegant presentation crafted by seasoned whiskey stewards to make it stand out in a crowded field. Whether you prefer Bourbon or Rye, Blue Run Whiskey has a whiskey that will impress. So why not try it and experience a taste of elegance for yourself?