There are multiple hotels to stay in while you visit the Kentucky Bourbon Trail; however, there are only a choice few that have bars and bourbon selections worth discussing. The Campbell House in Lexington, Kentucky, is an excellent fit for your bourbon trip. This location is part of the Hilton Curio portfolio of hotels. The hotel features an equine statue near the entrance that reminds you that you are in horse country
We will start with the newly opened Rackhouse Tavern, which is home to 300 bourbons, including multiple barrel selections. The room features bourbon memorabilia along with unique equestrian art. During warmer weather, a moveable wall raises to create an open-air patio complete with a fireplace. The Rackhouse Tavern is a comfortable bar with a bourbon selection that will satisfy everyone from the first-time Kentucky Bourbon Trail attendee to the seasoned veteran.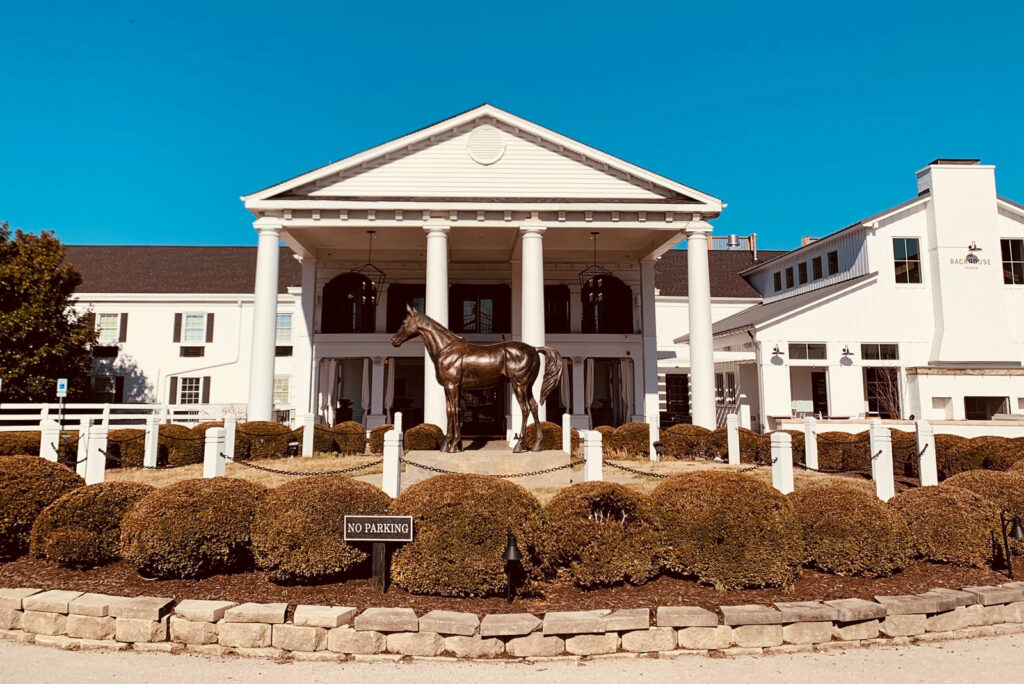 The history
This former equestrian farm is not far from the historic Keeneland Racetrack. It is a landmark hotel that is also close to the Blue Grass Airport. There are well-appointed guest rooms with a selection of suites. There is a grand event space along with 241 total guest rooms. Despite the large size, there is a friendly ambiance in the hotel.
The Rackhouse Tavern
This hotel lounge area is large, comfortable, and well-appointed. It is a natural gathering place adorned with bourbon barrels, equestrian art, and comfortable furniture. During my first visit, the Rackhouse Tavern was closed by 10 p.m. each night. Unfortunately, because of our tight schedule, we could not take advantage of their substantial bourbon list. We were told by management that the hours would expand based on seasonality and safety.
Following up
Next week we will be traveling to Kentucky again and will be based at The Campbell House for the duration of our visit. We will be sure to spend some time in the Rackhouse Tavern and report back to you. We cannot wait to sit back, enjoy bourbon with friends, and experience Southern hospitality at its best.
The address for the Campbell House is 1375 South Broadway Road, Lexington, Kentucky 40504. The Campbell House is 2 miles from the Town Branch Distillery, 3 miles from the James E. Pepper Distillery, 19 Miles to Woodford Reserve, 22 miles to Wild Turkey, 25 miles to Castle and Key Distillery, 26 miles from Buffalo Trace, along with Bluegrass Distillers, and Barrel House Distilling Company.