The Bulleit Distilling Company visitor experience is open and welcoming visitors. Another adventure on the Kentucky Bourbon Trail that you need to add to your list of must-visit locations. This facility blends a state of the art distillery with a warm and welcoming visitor center. Open to visitors in 2019, it is a campus of modern technology on beautiful Kentucky farmland.
Bulleit the brand
As I wrote a short time ago, Bulleit has been moving the needle and gaining market share. This Frontier Whiskey has a dedicated following, especially among bourbon drinkers that enjoy a high rye recipe. Thomas Bulleit Jr. revised a family recipe in 1987 and created a whiskey that he sold through old fashioned hard work. He created a frontier whiskey with a spicy rye mash bill that exploded into today's brand popularity. The timeless style of the Bulleit whiskey bottle is a classic example of old-time whiskey containers.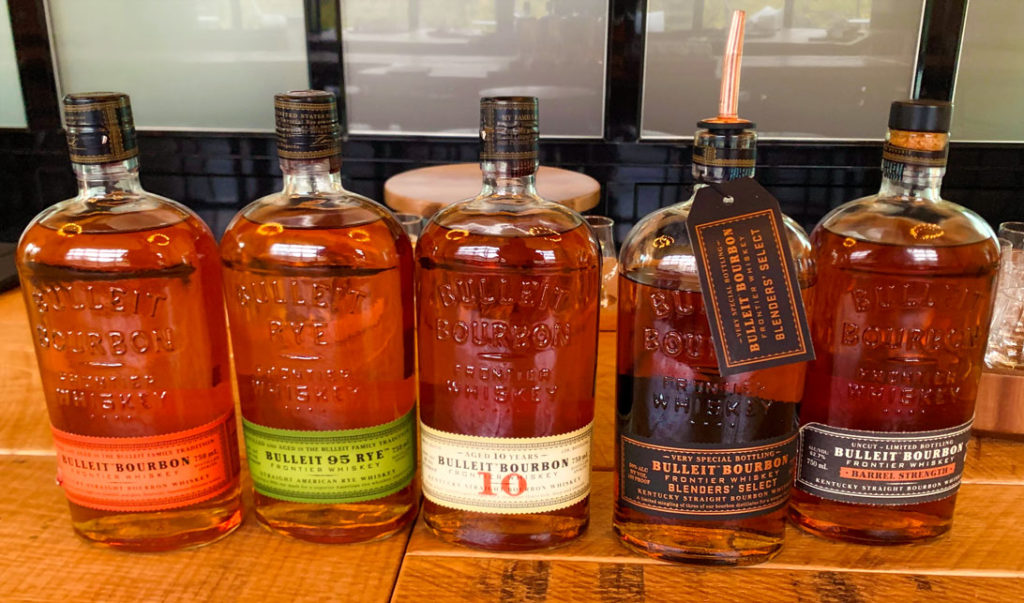 From Kentucky and back
When Bulleit was looking for an identity, Tom Bulleit spent time in California to help establish a market. He sold Bulleit bourbon there until he was ready to return to Kentucky. My first introduction to a Bulleit experience was at the Stitzel-Weller distillery in Shively, Kentucky. Stitzel-Weller is a historical location, and the Bulleit staff did a fine job telling their brand story. You can stop by and see a replica of Tom Bulleit's office after your tour in Shelbyville.
Bulleit in Shelbyville, Kentucky
The Bulleit Distilling Company is located on an old tobacco farm in Shelbyville. Buildings such as a tobacco drying barn are still standing on the property providing a contrast of old and new. However, understand that this is a modern production facility built to create bourbon. While on tour, you will see the various aspects of their production process. Despite the pastoral setting, a lot of thought has been put into the facility being green, including the tour bus running on propane. During the tour, there is a great learning opportunity with a cutaway column still. This display allows you to walk up and view the internal plates of the still, and it gives you a better understanding of the distilling process. Please note the image below.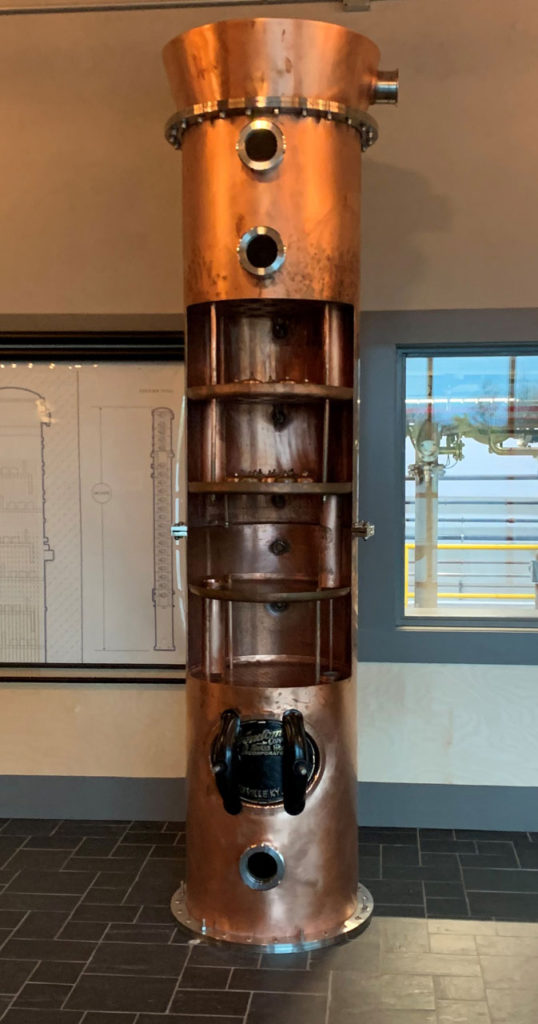 Tour enthusiasm is everything
After experiencing dozens of distillery tours, there are two things to look for in every tour. Is your guide knowledgeable, and are they enthusiastic? At Bulleit, we were lucky to have Annie as our guide. She knows the Bulleit story, and she knows her whiskey. Moreover, her enthusiasm was great and made for a high-quality experience. If you are lucky enough to have Annie guide your tour, be sure to ask her about the perfect wedding and funeral bourbon.
A different style of barrel storage
Bulleit does some things differently. All of their barrel storage facilities are two stories tall. Since there can be a wide range of aging differential in a five, six, or seven-story rickhouse, Bulleit believes they can better control their maturation because there is not a high degree of difference between two levels. Besides, their barrels are stored upright on pallets and not horizontally in barrel ricks as in traditional rickhouses.
Bulleit products
After our tour, Annie professionally hosted our tasting featuring four distinct Bulleit products. The sampling is both enjoyable and educational, with a sensory training component included. The whiskey featured included the traditional Bulleit bourbon at 90 proof in the orange label, Bulleit 10-year-old at 91.2 proof, 90 proof Bulleit Rye, and Bulleit Barrel Strength. The barrel strength was a robust 125.4 proof.  Each one of these highlighted their spicy high rye recipes. However, we were also able to sample the Bulleit Blenders Select, which was an unexpected pleasure. This bourbon at 100 proof was one of the most enjoyable bourbons I have tasted in some time. It was very smooth and flavorful, with a lot of honey, molasses, and citrus notes. This bottle impressed me.
Planning your visit
Shelbyville is just west of Frankfort, which was a comfortable 25-minute ride from Buffalo Trace. The Bulleit brands continue to gain a following, and this location will increase their Kentucky presence considerably. Be sure to include the Bulleit Distilling Company visitor experience on your bourbon travel list. With a combination of good bourbon, great people, and a stunning location, there is a lot to enjoy!
The Diageo Beverage Group owns Bulleit Bourbon.