My recommendations
Over the next few weeks, I will be listing my ten bourbons everyone should have. This list includes bottles that you can purchase. The bourbons that will make up this list are available and they will not break the bank. There are a lot of lists of extremely expensive and rare bourbons that no one can buy unless you know someone. For the average bourbon drinker, those are not practical to purchase.
Whether you are new to bourbon or have been sampling America's Native Spirit for a long time, you will appreciate this lineup. There is no doubt that there will be people that disagree with some of my choices. However, I believe this list would make a substantial home collection. Or, in the case of a bourbonfool, it would make a great start to a bourbon collection.
This group comes from different distilleries. Some distilleries have more than one bottle represented on the list. Many other bourbons could have made this list, but for some of them, the inability to purchase them in the marketplace was a disqualification.
The first bourbon I am going to review is an old favorite of mine. The only negative is that I know this bourbon is not available in every state. However, it is possible to purchase at a fair price. You might need that friend in Kentucky to save a bottle for you, or you may find one during your future travels. The following list is not in any specific order.
It will take multiple blog posts to review the entire list. For this week, we will begin with the first one.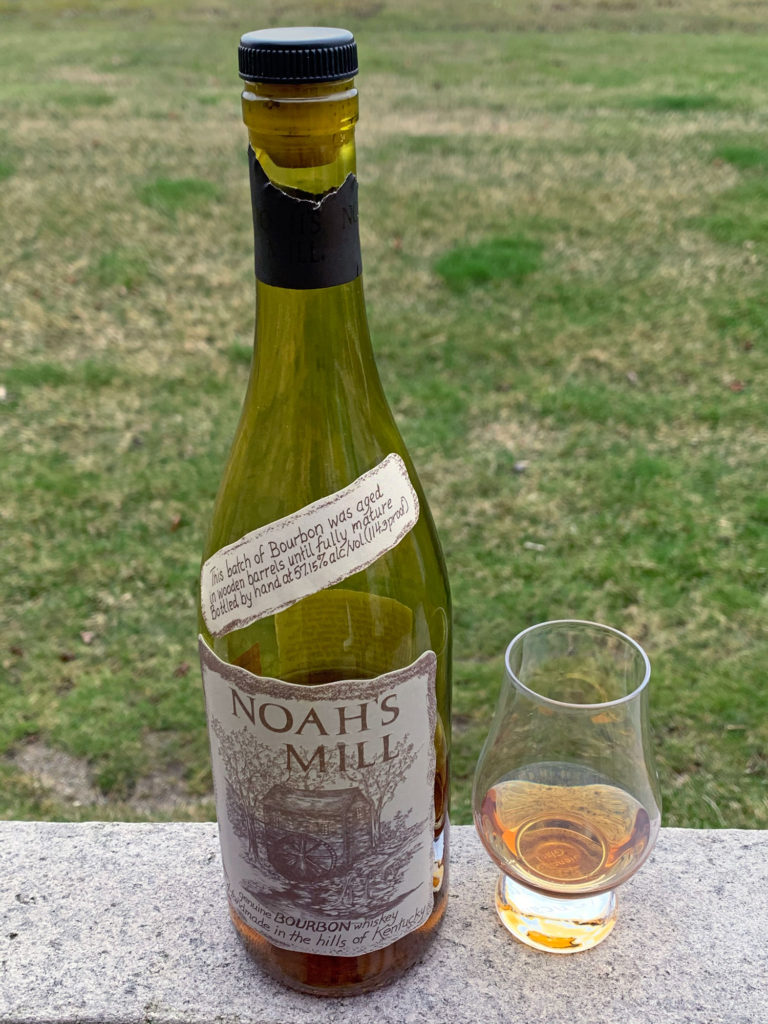 Noah's Mill Bourbon
Noah' Mill is a product of the Willett Distillery in Bardstown, Kentucky. Some of their whiskey is sourced from other distilleries and bottled on site. The Willett Distillery is responsible for creating excellent bourbons. Notice that Noah's is packaged in a unique wine bottle. Second, this bourbon is a robust 114.3 Proof, which is 57.15% ABV.
I first tried Noah's Mill many years ago.  Willett was bottling this bourbon using sourced whiskey chosen for Willett's flavor profile. No age statement on the bottle indicates it has aged at least four years.  Because of the complex and exciting flavor profile, this is a blend of bourbons including some older than four years. Many of the Willett bourbons are very good, and Noah's Mill is no exception. It has a delicate aroma and unique flavor profile. I taste some orange citrus with some spice elements. Noah's Mill is a very enjoyable bourbon that you will enjoy. It is a bold bourbon that would fit well in any bourbon collection.
Next week we will present three more additions to the ten bourbons everyone should have! One each from Wild Turkey, Maker's Mark, and Michters.