Tasting whiskey with the founder of Luca Mariano Bourbon provides a first-person history about the origins of Luca Mariano, including old Italian recipes perfected in Kentucky. However, after meeting Francesco Viola, the owner and originator, I will tell you that there is a substantial amount of midwestern values that go into every bottle.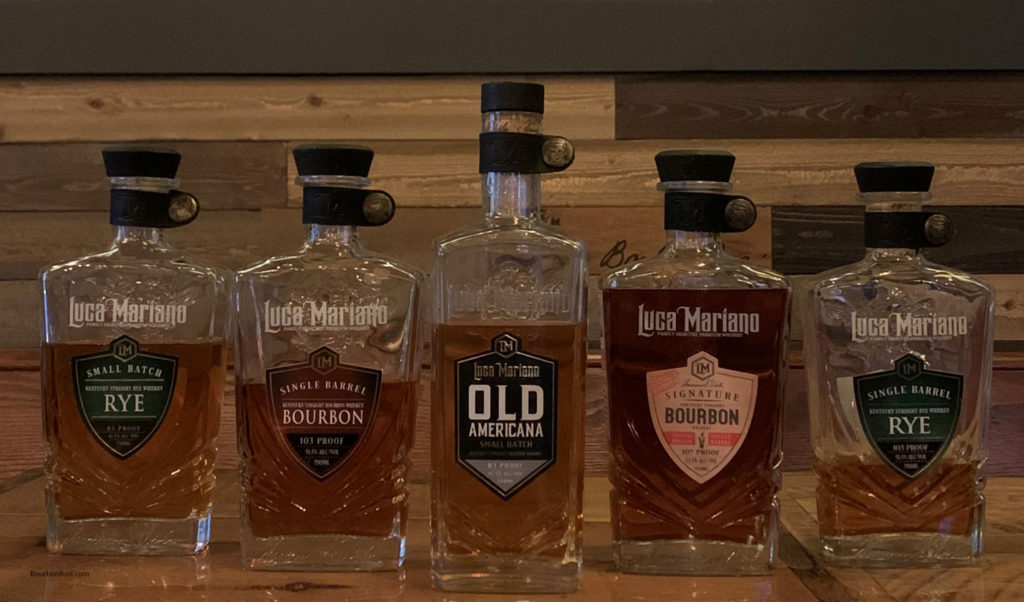 A hobby distiller
Francesco was a hobby distiller who had an idea. Once he decided to distill professionally, he quickly decided to go all-in and only create top-shelf products. Just before our latest bar and restaurant shut down, I had the opportunity to speak with Francesco and sample his distilled spirits portfolio. I firmly believe that his passion will drive him to continue to make excellent whiskey well into the future. When you include your family's names on your products, it is personal, and it is passion.
Many newcomers have a good backstory but do not want to wait for their whiskey to age gracefully. Instead, they often source whiskey from a producer like MGP in Indiana, slap a creative label on the bottle, and then rush to market. Francesco went in another direction; he partnered with an established distillery in Danville, Kentucky, and then waited for his products to mature. Not for one or two years, but a minimum of four years, which produced a yield of mature and flavorful spirits. These were the products that I was able to sample. Born in Italy, perfected in Kentucky, with a helping of midwestern determination.
Luca Mariano Old Americana Rye bourbon aged 4+ years at 83 proof
It is an example of a flavorful, young bourbon. At four-plus years it has a smooth sweet vanilla profile. This bourbon did not disappoint and surprised me with its flavor profile. Not overly complicated, but a good, solid bourbon.
Luca Mariano Single Barrel Bourbon at 103 proof
The single barrel bourbon delivers a mellow mouthfeel with hints of brown sugar and caramel. There is always a vanilla note in most bourbons, but this one provides a blend of sensory flavors, including some baking spice. It is slightly more mature than the Old Americana Bourbon.
Luca Mariano Kentucky Straight Rye Whiskey – small batch 83 proof
This rye whiskey is very drinkable. Those who have not tried or previously enjoyed rye whiskey should sample this product. Smooth, sweet, and spicy in a muted style. An excellent four-plus-year-old rye choice for anyone deciding to venture into rye whiskey.
Luca Mariano Kentucky Straight Rye Whiskey Single Barrel
Similar to the small-batch product but sampled at a robust 103 proof. Spicier with a long finish that does not lose the sweetness. At 103 proof, you have a peppery finish but smooth and very drinkable rye. This single barrel is aged for more than five years.
Francesco S. Viola Signature Bourbon
A proprietary mash bill featuring smoked malted barley creates a different flavor profile from every bourbon you have ever tasted. Smokey and sweet flavors will make you want to taste again because you want to verify what you just sampled. Light fruits, with a sweetness like molasses or brown sugar. Once you taste this product, you will want to add it to your collection. It will be available in limited releases every year.
Building the future in Danville Kentucky
Francesco has decided to go all-in with his plans for the future. The future home of Luca Mariano whiskey will be on a more than four hundred and fifty-acre farm in Danville. The property will not only be a production facility but will include shopping, dining, and entertainment. The property has historical significance and features the oldest stone house in the State of Kentucky. After spending time with Francesco, there is no doubt that the future home of Luca Mariano will be top-shelf, just like his whiskeys.
I look forward to the future and visiting the distillery in Danville to see the result of Francesco's vision. I look forward to tasting whiskey with the founder of Luca Mariano Bourbon at their new home in Danville.