Mary Dowling a Distiller, Bootlegger, and Philanthropist
Mary Dowling is a fascinating woman in bourbon history. She was a wife, mother, business owner, bootlegger, civic leader, and philanthropist. Before Prohibition, she owned and operated a distillery and was determined not to let Prohibition get in her way.
The beginning
John Dowling was an Irish immigrant that formed Dowling Brothers Distillery. He married Mary Murphy when she was seventeen years old. Mary was also Irish but had been born in Kentucky. John was approximately twice her age when they married.
Waterfill and Frazier Distillery
Mary and John Dowling moved to Lawrenceburg and invested in the Waterfill and Frazier Distilling Company. John Dowling purchased the distillery outright in 1903 before a fire destroyed the distillery in 1904. After John's death, the distillery was rebuilt and was operated by his widow Mary and their son William Dowling. John had made Mary his business partner before his untimely death. The distillery operated until it was closed due to the onset of Prohibition.
No Medicinal Whiskey Permit
Mary Dowling could not secure a medicinal permit to sell or make whiskey during Prohibition. She did sell some whiskey stock to other distillers that had obtained a medicinal license, including Pappy Van Winkle. However, Mary had some additional ideas on surviving in the whiskey world during this difficult time.
Plan A
Mary moved a large quantity of her whiskey into the basement of a home she owned. It became evident that bootlegging was her plan A. Ultimately, through determined revenue agents or entrapment, she was caught. Mary continued fighting, and when she could not beat the indictment of the District Court, she then appealed to the appellate court. She lost her appeal and was ready to bring her fight to the Supreme Court. However, through a twist of fate, the charges were dismissed. Mary continued to file suit to get her confiscated whiskey returned by the government. She was never successful.
Time for Plan B
Joe Beam and his son Harry were unemployed, and Mary Dowling asked him to dismantle the distillery and freight it to Juarez, Mexico. The D.M. Distilling company was founded in partnership with a Mexican family to meet Mexican law. D.M. stood for Dowling in Mexico. The whiskey was sold in Central and South America and smuggled across the Rio Grande river into the United States. Several American distillers selling medicinal whiskey complained that the inexpensive bourbon coming from Mexico was challenging competition.
Return to the USA
After Prohibition, Mary's company returned to Kentucky, still owned and operated by the Dowling family. The Dowling family built a new distillery in Anchorage, located near Louisville. Later it was sold and moved to another distillery in Bardstown.
Mary Dowling was a devout Catholic and helped build the Catholic Church in Lawrenceburg. She was philanthropic and put her women's club on a path to build a hospital in Lawrenceburg. She worked diligently to rent a house and make it a hospital. It was so successful that people came to this hospital from neighboring counties.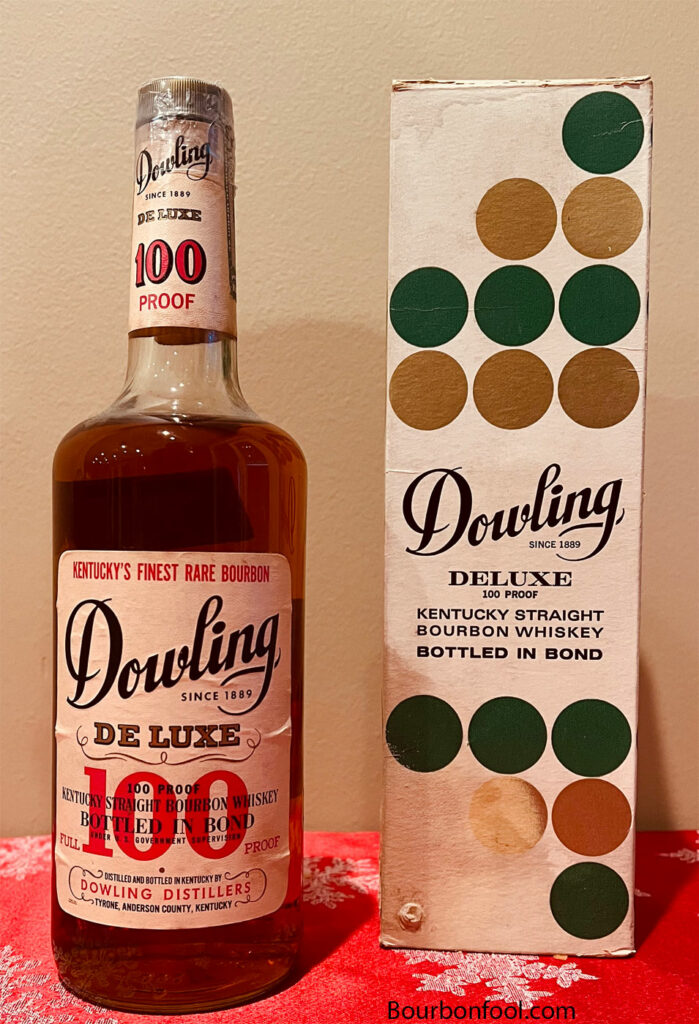 A Valentines Tribute to Strong Women and Mary Dowling
Please watch our Valentine's Day Video release HERE for more on this fascinating story. Not only do we expand on Mary's incredible story, but my good friend Raj Patel opens a vintage bottle of Dowling Deluxe Bourbon. Please look for the video release this Valentine's Day for more on Mary Dowling, a distiller, bootlegger, and philanthropist.