This phrase, make mine with rye, has been heard by barkeeps throughout the years. American rye whiskey is a close cousin to bourbon and has grown in popularity. Why did a distillery based in Indiana, a former Seagrams plant, become the source of world-class rye whiskey?
Behind the scenes
Midwest Grain Products, also known as MGP and currently using the Ross & Squibb moniker as a nod toward two smaller distilleries originally on the property, is known for rye whiskey. Located in Lawrenceburg, Indiana, near Cincinnati, it is the source of many whiskeys you see daily. Bulleit 95 Rye, James E. Pepper Rye, and George Dickel Rye are just three memorable brands originating here.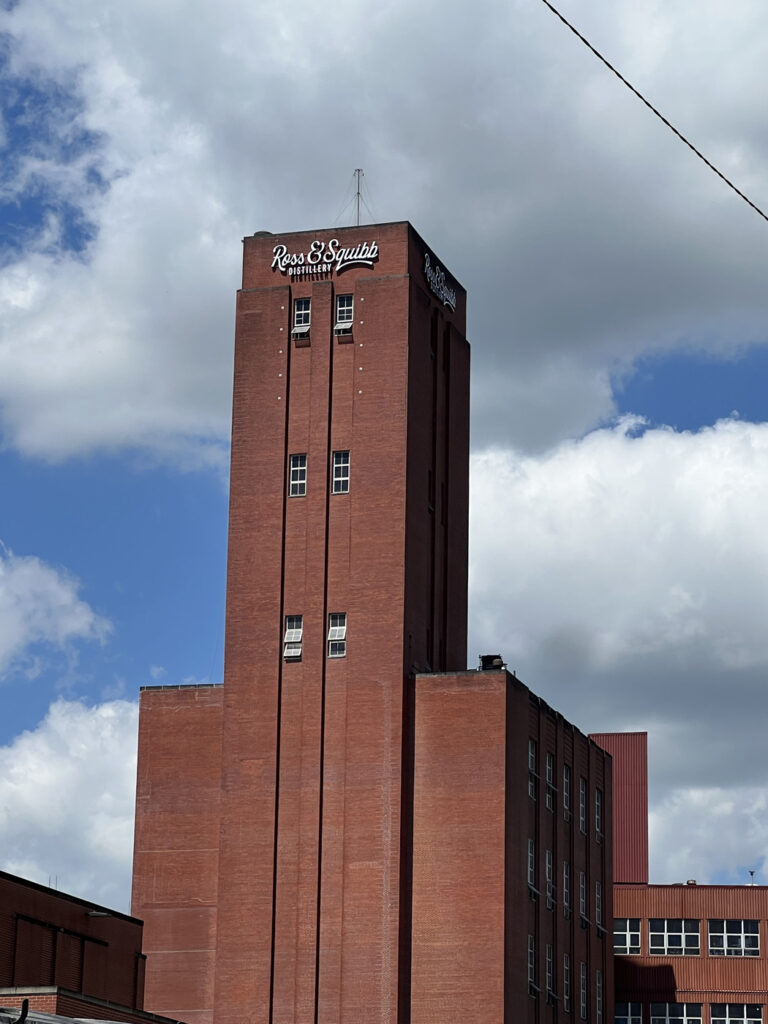 It starts with the water.
Sitting on an aquifer that supplies water high in calcium and low in sulfur and iron because of the natural limestone filtering. This combination of factors may sound familiar as it is the basis for many of the great Kentucky Bourbon Distilleries' success. Rossville Union Distillery started on the current MGP site in 1847. Seagram purchased the property after prohibition. The Seagram Distillery was the home of Seagram's Seven Crown, which became the go-to drink for a generation. "I will have a seven and seven."
The sell-off
Seagrams eventually sold off their beverage division, and two spirits giants, Pernod-Ricard and Diageo, absorbed the assets. In fact, In 2007, the plant was purchased by the parent company of Angostura bitters and became known as Lawrenceburg Distillers Indiana or LDI. Seven Crown was gone, but LDI had inventory that had not been selling due to the downturn in whiskey sales. However, they began selling whiskey, sometimes a barrel at a time, to a newly emergent craft distillery industry.
Enter MGP
Midwest Grain Products is headquartered in Kansas but purchased LDI in 2011. The television show Mad Men had started growing interest in brown water again, and now all those aged whiskey stocks were in demand. Craft distilling was becoming popular, and many distilleries could purchase products from the ample supplies of MGP whiskey.
95 Percent rye mash bill
The mash bill containing 95 percent rye was the signature mash bill of Seagrams Seven Crown and continues to be the signature mash bill of MGP. Templeton Rye and High West were early customers of MGP.
Traverse City Cherry Whiskey
The popular cherry whiskey from Traverse City Whiskey blends MGP whiskey and Michigan cherries. Traverse City is an example of a craft distillery taking advantage of a more significant whiskey-producing partner. MGP is not just a whiskey factory but a hundred years of combined knowledge regarding yeast, equipment, and the art of whiskey making.
Remus Whiskey
George Remus was the king of the bootleggers and had a long legacy in the Cincinnati, Ohio, community. He once owned a lot of whiskey and shares of multiple distilleries during prohibition. MGP has produced  Remus whiskey dedicated to the standards George Remus would have insisted on. Remus straight bourbon whiskey, Remus Repeal Reserve, Remus Single Barrel, and Remus Gatsby Reserve all share a throwback to an earlier whiskey time and place.
Watch as we select a barrel of Remus Whiskey.
Recently, we were able to tour the historic Ross & Squibb Distillery in Lawrenceburg and select a single barrel of Remus Bourbon. For a look at our process and a quick tour around the exciting grounds of MGP, aka Ross & Squibb, please watch our VIDEO HERE.