One of the things that have become really clear being able to sample and review many different whiskeys is the fact that many companies are introducing bourbon sourced from Indiana. This is not a bad thing, just something that every whiskey drinker should be aware of. MGP or Midwest Grain Products is a large distiller that sells products to many different brands. For more information about MGP, you can review an older blog post HERE.
Many different brands
It is very interesting to see some of the established brands that are at least partially sourced from Indiana. Brands like Belle Meade, George Remus, James E. Pepper, Pinhook, Smooth Ambler, Redemption, and Barrell Whiskey from Barrell Craft Spirits. These are just a sample of the bourbon brands and there is a great deal of rye whiskey originating just North of Kentucky.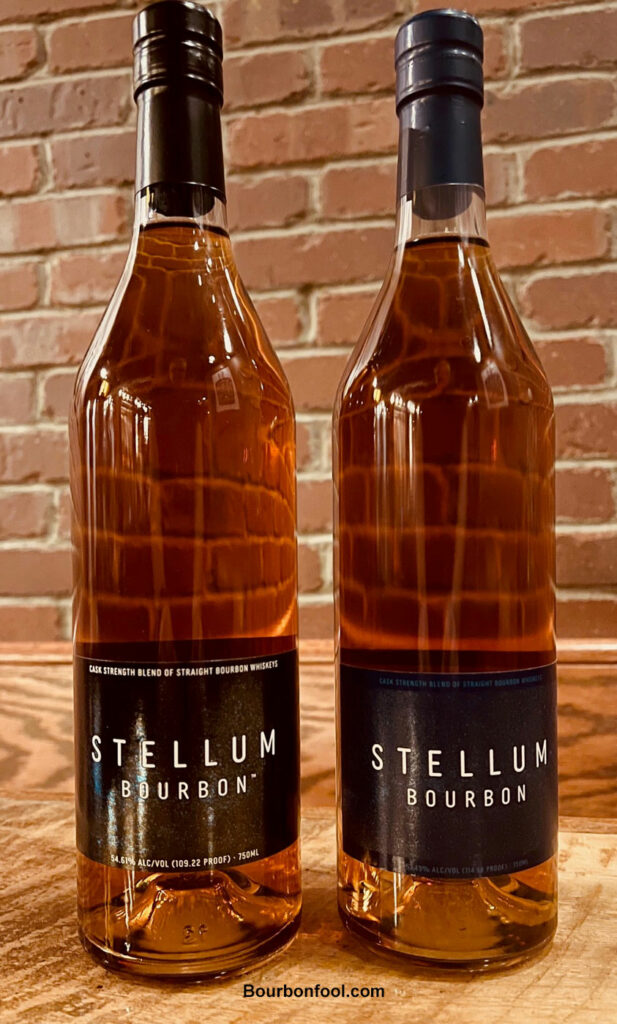 Stellum Bourbon
Stellum Bourbon is a blend created by Barrell Craft Spirits of Louisville, Kentucky. They have become very creative blenders and bottlers of whiskey worth sampling. Stellum is another brand in the marketplace from Barrell Craft and the results are interesting. The bottles of the Blue and Black Bourbons are pretty non-descript but the bourbon inside is worth investigating. Using a blend of Indiana Bourbons enhanced with some Kentucky and Tennessee whiskey gives Stellum Bourbon an interesting flavor profile. The Stellum Blue comes in at 114.98 proof and the Stellum Black is 109.22 proof. The Black has additional complexities brought on by the addition of reserve barrels to the original blend. Watch our video review of Stellum HERE.
Do you have a favorite sourced bourbon?
As more companies are introducing bourbon sourced from Indiana, many of these products are gaining a steady following. Whiskey drinkers should drink what they like and they should not feel bad about their choices. Palates are different and it is okay to enjoy a bourbon that does not necessarily get great reviews. There is really only one rule to follow, bourbon is best when shared with friends.
Next week on Bourbonfool.com
Next week I talk about my very interesting visit to Journeyman Distillery in Three Oaks Michigan. It is a fascinating place with a great story! They also have something no other distillery in the country has. Be sure to look for the story next week! Cheers.