What began as a basic understanding of infinity bottles evolved into a more important story. New information can enhance the original subject matter and result in a much more heartfelt look at life. That is why this post is about the evolution of an infinity bottle and living memories.
What is an infinity bottle?
I first ran into the concept of a living bottle when I was growing up, and my extended family would share a fermented fruit mixture to drizzle on cake or ice cream. Unfortunately, I do not remember this exact story, except that each batch was born from an earlier one. These were transferred from family to family to create their own. For the sake of this discussion, Infinity bottles are also known as living bottles or fractional bottles. They hold fractional amounts of liquors, and I began one for a specific reason. I started my first infinity bottle a couple of years ago. I did this because some of my favorite bourbons were getting low, and once oxygen freely mixes with the spirit, it can begin to lose its luster.
My two-ounce plan
Once a bottle of bourbon was down to approximately two ounces, I would measure out and transfer two ounces of that bourbon into the infinity bottle. In this case, I used a BenShot decanter that I received as a gift for my first infinity bottle. I was cautious to only mix my preferred bourbons in this bottle two ounces at a time. In my case, I kept rye-forward bourbons together and did not mix in any wheat whiskey. I waited to sample the blend, but I was pleasantly surprised at the taste quality when I did. It was indeed unique.
Infinity bottle and living memories: The best part of this story
While talking to my friend John and hearing the origin of his infinity bottle actually changed my story's trajectory. His mother gifted him and his brother their grandfather's flask after his grandfather had passed away. The flask still contained a few ounces of his favorite whiskey. The flask itself was a reminder of great memories and a great man. John subsequently poured equal amounts of the remaining spirit into two bottles, one for his brother and one for himself. Each new whiskey added to those bottles is mixed with his grandfather's original whiskey and has become a living heirloom. John remembers his grandfather carrying the flask at deer camp, and it is obvious the memory is special for him. The flask is prominently displayed next to the American Flag from his grandfather's military burial, and his infinity bottle proudly features his grandfather's last name. Every so often, you run across a story that is heartfelt and memorable. John's infinity bottle continues to elicit memories for him and his family.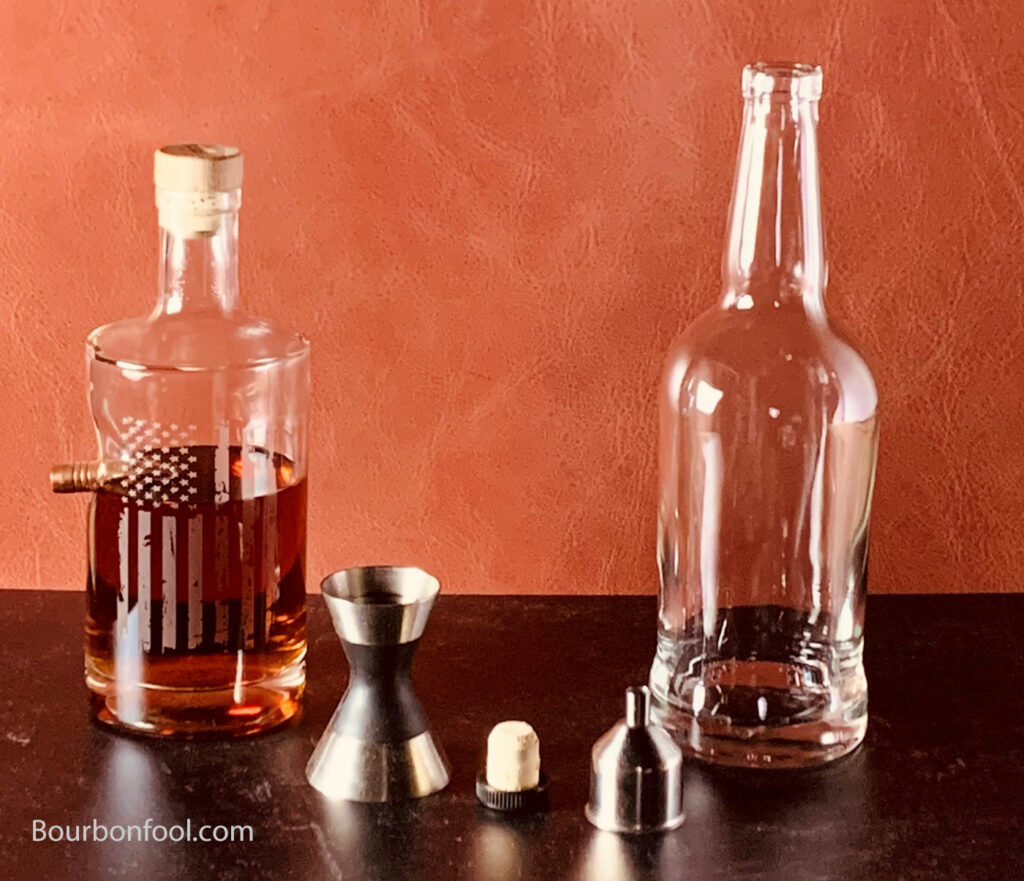 How to start your bottle
You do not need a fancy decanter, although some decanters can be pretty cool. For my second infinity bottle, I am using a reclaimed Old Forester bottle. I like the traditional look of the bottle, and empties were easy to find. First, I removed the labels to have a clean, clear bottle. Removing the label was a little more work than anticipated, but soaking it worked best. Next, I thoroughly cleaned the inside and allowed it to dry. To make sure it was clean, I added some neutral spirits (vodka), made sure it coated the inside of the bottle, and then dumped it. After air drying, the bottle was ready.
How to start your bottle part two
I did purchase new stoppers to make sure I was starting with a secure bottle top. I then began to add bourbon to it again, in 2-ounce portions. Remember, you do not have to balance out what you put into the bottle; however, I like to keep track of how the bottle develops. You can print your label or use painter's tape and a marker, your choice. Another friend of mine told me about an app that he uses to track his infinity bottle. It is a free app, but there were additional features at an additional cost. For this new infinity bottle, I will be monitoring and archiving with the app. I will update you all on this project in about 90 days.
Many thanks to John and Scott for their friendship and their contributions to my research. Cheers gentlemen!
This week at What's New at Charlie's
Basil Hayden Toasted
Released in 1992, Basil Hayden has been part of the small-batch series of Jim Beam.
Today's video review of Basil Hayden Toasted is a departure from the typical Basil Hayden mash bill and will show you what innovation can do. Watch the details of this very different bourbon HERE.