After being asked multiple times if I had an infinity bottle going, I decided to take the plunge from bourbon to infinity.
I tried to research the origins of infinity bottles and found a lot of varied information. The theory of the infinity bottle is to gather a variety of bourbons (or any combination of spirit) in your container of choice. You are blending spirits to get a preferred flavor profile. You can do this by theme, such as combining a variety of only bottled-in-bond selections. Or you can mix various wheat bourbons or all rye bourbons, etc. As you can see, the options are endless.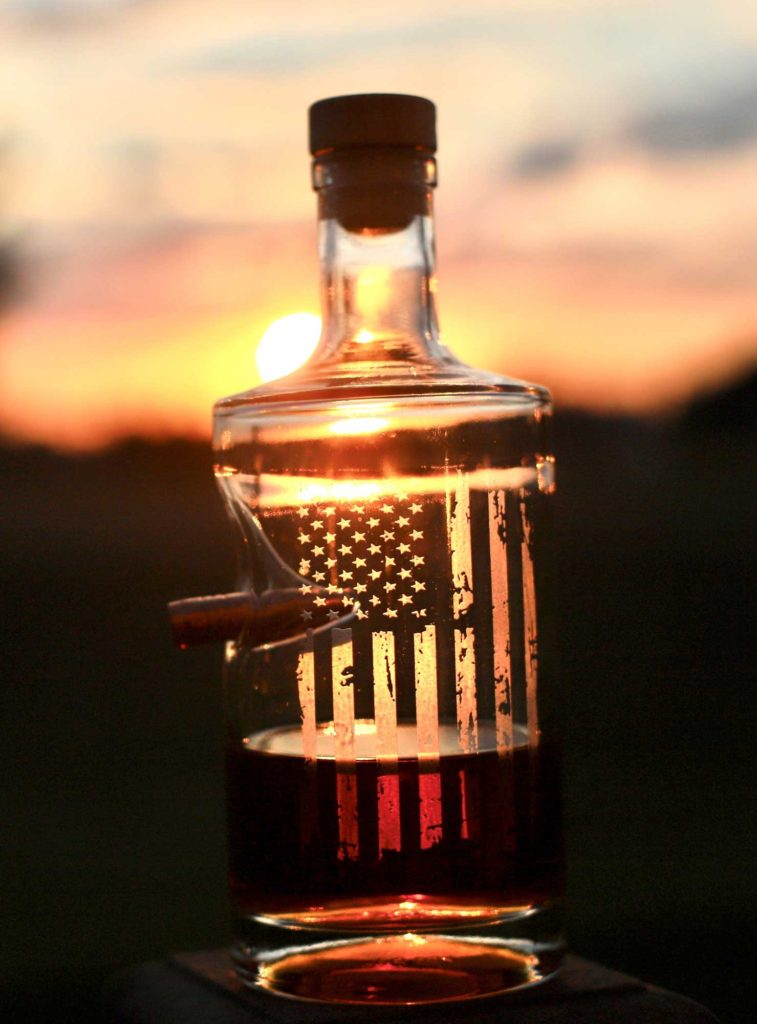 Choosing the bottle
I wanted to display the decanter as a showpiece in my bar, and I did not want to use an empty branded bottle. I decided to research a variety of decanters to satisfy my stylistic preferences. During my travels, many distilleries sold branded decanters, but again, I did not want this to use a branded product. I found a great company called BenShot, operating in Wisconsin. They combine bullets and glassware to make exceptional items. I chose one of their very affordable bottles to be my infinity bottle. The father and son team at BenShot create truly unique glassware that is 100% made in the USA.
Beginning the process
I decided to do this by starting the bottle with any bourbon bottle that I had containing about three ounces or less. Once I began the process, I added exactly one and one-half ounces of each bourbon to my infinity bottle. For my first attempt at this, I decided to only go with bourbons. Remember that you could blend any type of whiskey to create your ideal blend. Combining Irish, Scotch, American, Rye, etc. would be another way to find a flavor profile. However, for this version, it will be only bourbons.
Filling with bourbon
For this bottle, I have included the following: Maker's 46, Knob Creek Small Batch, Four Roses Single Barrel, Old Ezra 7, Noah"s Mill, Belle Meade, Henry McKenna, and Michter's Small Batch. After adding these equally to the bottle, I realized that there was a lot of room left in the bottle. I decided to stop and sample what I started. The amazing aroma of this blend was eye-opening. A lot of vanilla and caramel with some cherry and chocolate notes were prevalent. It was very smooth and not harsh at all. I believe I am onto something extraordinary.
Using my infinity bottle
I plan to fill the bottle up gradually. To do this may involve using some bottles that are not almost empty; however, we will see how that goes. Right now, if I pour an ounce, I will replace it with two. Therefore, I will gradually get to a full bottle. Some people taste their infinity bottle and like the blend so much that they cork it and leave it as it is. Right now, I am enjoying the experience of creating my very own super blend by going from bourbon to infinity.