Talking about pre–1960 America is a foreign concept for many people. However, please take a moment to experience what it was like in the bourbon year 1958. I picked this year because it has a lot of meaning to me personally.
A Historic Bourbon Introduction
The first bourbon marketed as premium came in a unique year in many ways. Yes, the first bourbon marketed as a premium was Maker's Mark. It had special red wax that made the bottle stand out and a wheat mash bill that made the flavor different from many other bourbons. As Maker's Mark grew, one of their marketing slogans was "It tastes expensive and is"—bottles sold for about seven dollars when typical bourbons would fetch around three dollars and fifty cents.
1958 was an exciting year for sports
Golfers will appreciate that Arnold Palmer won his first Master's Tournament in 1958 and pocketed the grand amount of $11,250.00 when the average home in America cost $12,750 and the median income of American families was $5100.00. Arnie would win four Master's titles and become a legendary player universally known as the "king." It was also the first year the term "Amen Corner" was used for holes eleven through thirteen at Augusta National.
In the World Series, the Yankees defeated the Braves in seven games. The Milwaukee Braves, that is.
I.W. Harper Bourbon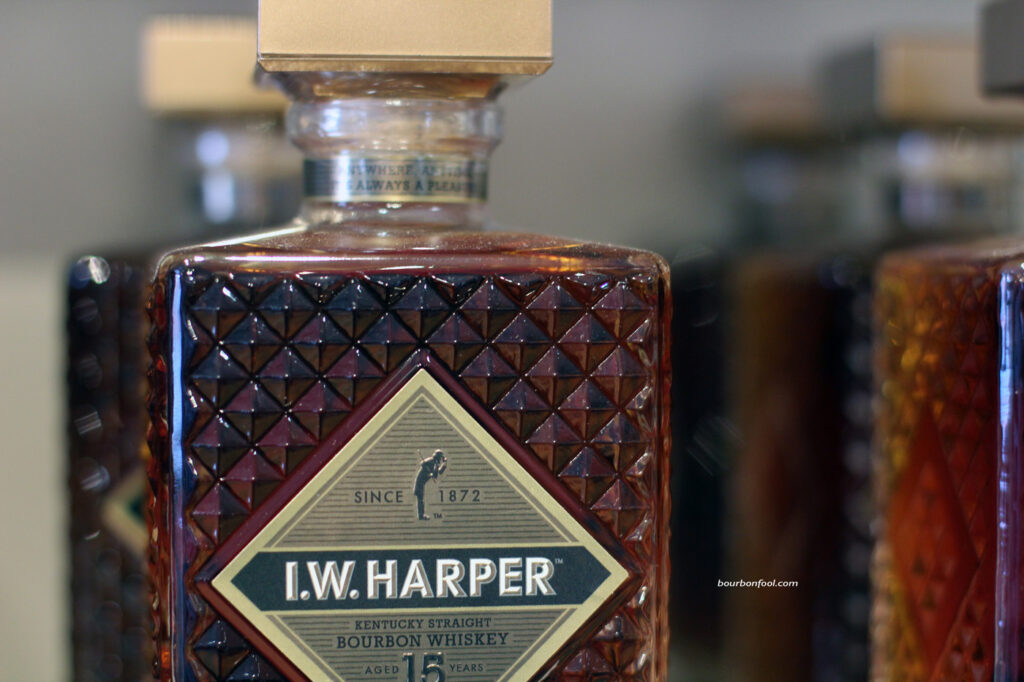 While watching the Master's Tournament or the World Series, it was likely that most men would be drinking a Schlitz, a prominent beer at the time. They were number one before Anheuser Busch took over that mantle. However, for whiskey drinkers, I. W. Harper, made by the Bernheim Distillery, was a fashionable bourbon brand. If you drank bourbon in 1958, you knew the I.W. Harper brand. It was a bourbon featured on cruise ships and advertised in men's magazines.
What about Old Crow or Schenley's
In the bourbon year 1958, there was a chance you were drinking Schenley 8-year-old Champion Straight Bourbon. This 86-proof bottle had a back label advertising, "Elegance begins where quality can go no further." Schenley was one of many brands distilled in Lawrenceburg, Indiana. However, it was readily available if you wanted to purchase a 4/5-quart bottle of Old Crow. Old Crow was only bottled at four years old but still popular with many whiskey drinkers. Old Crow was a product of National Distillers and sold at 86-proof.
More about Lawrenceburg, Indiana
Next week, we will select a Remus Bourbon barrel that carries the name of George Remus, king of the bootleggers, at the historic Ross & Squibb Distillery in Lawrenceburg. That is correct; the distillery, also known as MGP, has been the source of many craft labels for years. While we anticipate selecting a great barrel of Remus whiskey, look at the newly released Remus Highest Rye Bourbon Whiskey. Our video review shows what happens with a bourbon mash bill of 51% corn, 39% rye, and 10% malted rye. This "Highest Rye" bourbon comes in at a respectable 109 proof and is exceptional. It is as close as possible to a fifty-fifty split of corn and rye. Please take a look at our tasting VIDEO HERE.