Many are familiar with the very popular Eagle Rare Bourbon produced by Buffalo Trace Distillery in Frankfort Kentucky. However, many are not aware of the history of this brand. How well do you know Eagle Rare?
The first bottles of Eagle Rare did not come from Buffalo Trace but were products of the Seagram Corporation. This brand was introduced by Seagram in 1975 and released under the guidance of master distiller Charles L. Beam. Long time master distiller Jim Rutledge was a protégé of Charles Beam at Four Roses. This original version was a ten-year-old 101 proof batch made bourbon. It was not a single barrel product.
Purchased by the Sazerac Company
The owner of Buffalo Trace, Sazerac, purchased this brand in March of 1989 to be produced in the George T. Stagg Distillery. Buffalo Trace was formerly known as the George T. Stagg Distillery. In March of 2005, Eagle Rare . in favor of today's release.
In 1910, JTS Brown built a distillery in Lawrenceburg with Spanish style mission architecture known as Old Prentice. You would see this distillery today as Four Roses. Seagram purchased the brand and distillery in 1943. However, around 1950, Seagram stopped distributing Four Roses in the United States.
For almost 40 years, you could not purchase Four Roses Straight Bourbon in the U.S. Seagram was focusing on blended whiskey and marketed a low-cost blended version of Four Roses that was considered a bottom shelf product. However, they did create straight bourbons during the sixties and seventies, which resulted in Benchmark Bourbon in1969 and Eagle Rare Bourbon in 1975.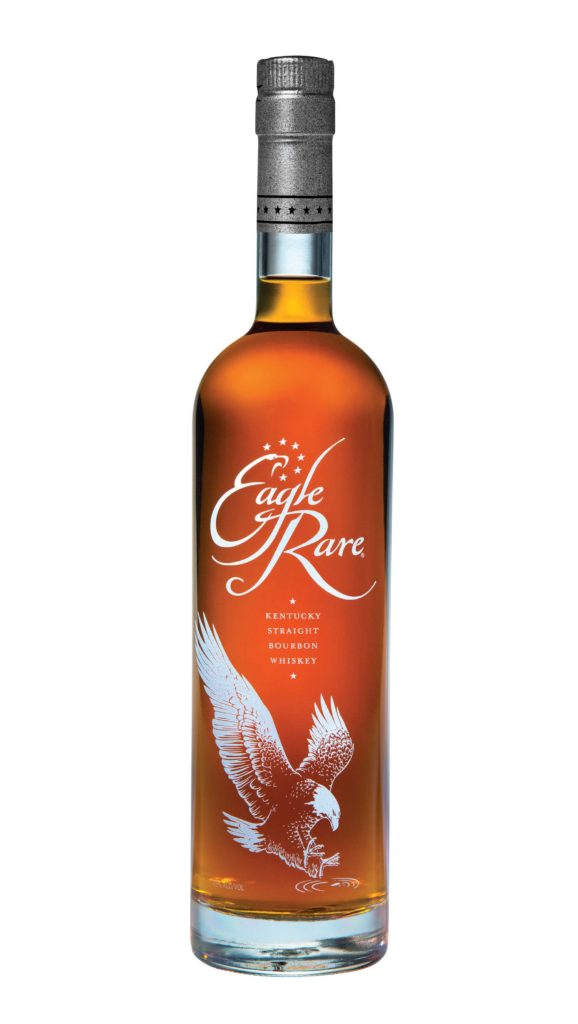 Eagle Rare Variations
Double Eagle Very Rare is a twenty-year-old bourbon presented in a crystal decanter with sculpted eagles on the bottle. The silver presentation box, along with the individually numbered letter of authenticity, shows you this is a genuine collector's item.
Eagle Rare 17 Year Old is part of the Buffalo Trace Antique Collection. They are challenging to find but are considered exquisite whiskey.
Eagle Rare 10 Year Old is both available and affordable. This ninety proof bottle of Kentucky Straight Bourbon is one of Buffalo Trace's most successful brands. It has won the double gold medal at the San Francisco World Spirits Competition five times.
Eagle Rare is an excellent low rye bourbon. It does not matter how well you know Eagle Rare you should still try it. This ten-year-old is a quality bourbon available at a fair price. Be sure to take the opportunity to sample some or pick up a bottle for your collection. You will not be disappointed. Occasionally, Eagle Rare prices will be inflated during out of stock shortages. I would suggest not paying over retail for this bourbon.