During my travels to all points, bourbon related, I was always looking for unique, bourbon related merchandise or finding a custom bourbon gift. Often, I was able to find branded merchandise at specific distilleries, but much of it was alike.
Many of the same logoed items, such as flasks, keychains, coasters, ice cube molds, travel mugs, coffee cups, etc., were available. What was difficult to find was unique, one of a kind bourbon items that were not specific to a brand but would identify your American bourbon affinity.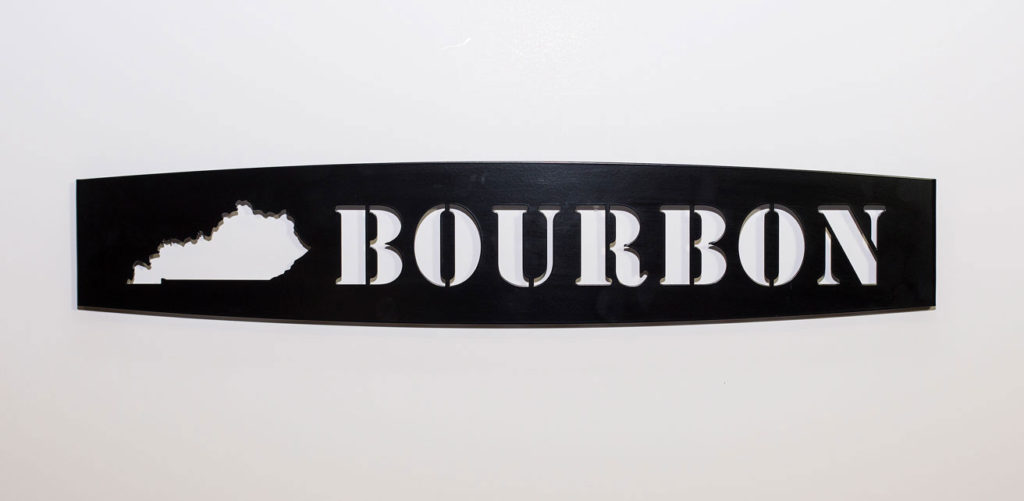 Perfect for a Man Cave
After many years I felt that it was possible to create some unique, custom items that would look good in any bourbon bar, man cave, office, game room, etc. During the design process, they had to meet the following criteria.
Unique, custom, or one of a kind objects not available anywhere else.
100% Made in the USA of American materials.
Each item would have a bourbon connection.
All would be long-lasting, durable products.
Our signature item is an authentic bourbonfool design piece. We call it our Kentucky Bourbon steel stave, and it will complement any room, bar, man cave, or office.
American Steel
We use American steel similar to the steel used for bourbon barrel hoops, and it is precision-cut to replicate the shape of a wooden barrel stave. It features a cut out of the state of Kentucky, followed by the word BOURBON.
Even the finish is a black powder coat vs. paint. It is designed to look good and will last forever. A natural steel finish is also available for that industrial look. Each Kentucky Bourbon steel stave has two mounting slots that will fit easily on the provided wall hooks.
These pieces are being offered to Bourbonfool.com subscribers first before being released to the general public. Not only will you get an original Bourbonfool authentic steel stave, but we will include a complimentary surprise gift worth $20 with your order. This offer is limited to orders placed before November 21, 2020.
Order your Kentucky Bourbon Steel Stave HERE.
Finding a custom bourbon gift has never been easier. New items will be added daily. If you know someone that might want to purchase a bourbon gift tell them about our store. Refer us to your favorite bourbon bar. We appreciate all of your support.