This is a simple guide to creating a bourbon tasting at home
I get a lot of questions about which bottles of bourbon should be used for a tasting. Many people get together regularly and have informal bourbon tastings and often, they are tasting bourbon at home. Some of these events are coordinated with a unique theme and include a discussion about flavor and aroma. Others are loosely put-together events where guests bring a favorite bottle to share. There is nothing wrong with either of these approaches because, ultimately, getting together over a bourbon is a worthwhile endeavor. Here are my simple suggestions to create a meaningful event.
Create a profile for your event
I like to create a specific profile for any tasting that I host. Mix it up and go beyond what you would typically drink on your own. This tasting is a chance to compare and experiment with different brands, mash bills, proof levels, flavoring grains, and even historical significance. Every bottle of bourbon tells a story; you should factor that into your selections.
Start with a low-proof bottle
Many bourbon lovers brag about how they are high-proof drinkers, and they scoff at 80-proof whiskey. Remember, taste buds can be easily overwhelmed with strong liquor, especially those who drink less often. Starting your tasting with a lower-proof bourbon prepares you to taste and enjoy the ones that follow. One example of a good eighty-proof bottle is Basil Hayden. Basil Hayden is a product of Beam Suntory and is part of their small-batch offering. Basil Hayden is popular because it is considered an entry-level bourbon with a significant pedigree.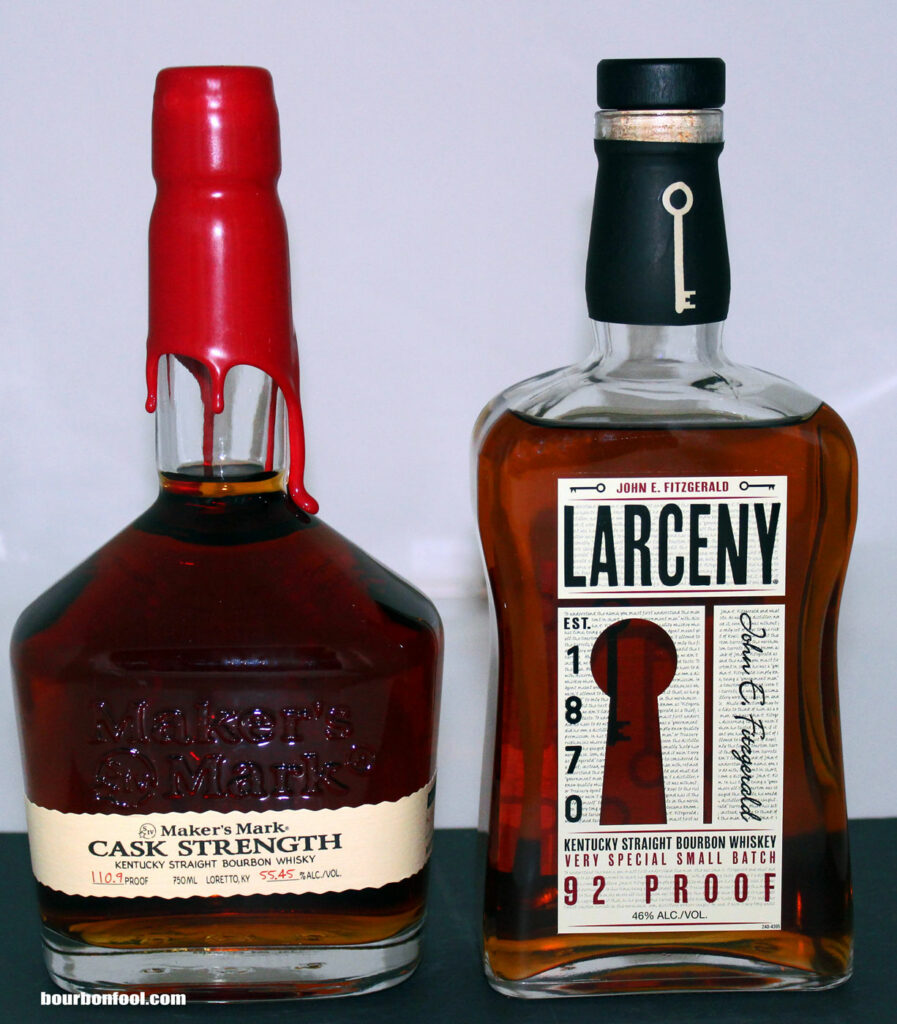 Include a wheated bourbon
I always like to include at least one bottle of bourbon, where wheat is the dominant flavoring grain. There are a lot of expensive choices in this category. However, you can find some exciting selections that will not break your budget. Larceny from Heaven Hill is a great value and an excellent example of a wheat bourbon that has a growing following. If you are a Maker's Mark fan, why not try their Maker's 46 to expand your tasting horizon. You can undoubtedly include other great wheat whiskeys such as Weller, Old Fitzgerald, and even a Pappy Van Winkle if you are inclined. You do not have to spend a fortune to create different flavor profiles.
Kick it up a notch
Now you can experiment with a higher-proof bottle that is also a high rye mash bill. Many bottles will fit in this category and are still affordable. Try to locate a cask strength bottle with a higher than average rye content. The high-rye mash bill will bring out the spice, heat, and of course, that Kentucky hug. An excellent example of a recent offering would be Bulleit Barrel Strength Bourbon. Using 28% rye and bottling in the 120 to 125 proof range will get your attention. This higher proof selection is also an excellent opportunity to add a splash of water or a cube. Watch how the flavor and aroma change right in front of you.
Complete it with a special bottle
I feel that bourbon mania is raging out of control. Not every bourbon commands a $150 and up price tag, and many sell for more than they are worth. I am convinced that people often do not know what they are buying but buy the bottle anyway because the distillery or the storekeeper tells a good story. A personal favorite of mine is E. H. Taylor's small batch. This bottle is not exempt from the craziness of overpriced products, but if you can find one for retail, it is a great bottle to include. Other examples of a particular bottle could be a Blanton's or one of several secondary barrel collaborations like Bardstown Bourbon Companies Prisoner or Founders KBS blends.
The most important part of enjoying a bourbon tasting at home is to include friends. Discuss the differences between bottles and understand that many will not agree on a favorite. Understanding what you enjoy comes with practice. Step out of your box, and try something new……..with friends. Recently, I have been invited to guide some great tastings at private homes. They have been fun, informative, and memorable. If you are interested in having me lead a tasting for you, please contact me at info@bourbonfool.com.