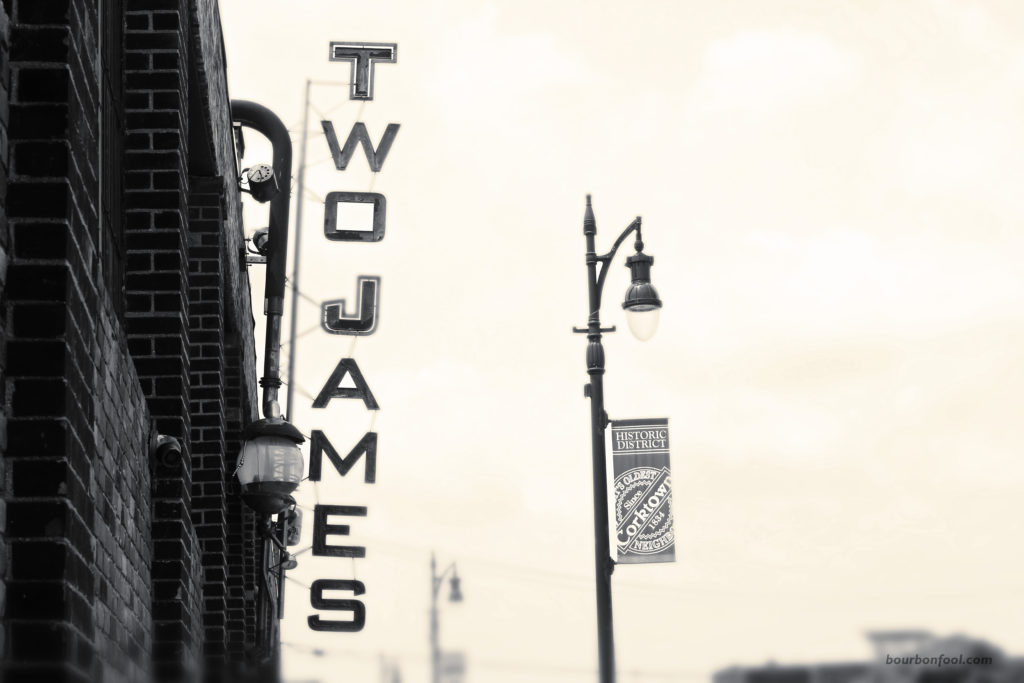 Two James Spirits Company offers Bourbon with a Detroit Vibe. This operating distillery is located in the Corktown neighborhood just blocks from the Michigan Central Train station. The building has undergone a transformation and was previously abandoned, housed a taxi repair company, and was a donut factory. That history does not indicate that a true visionary with Detroit area roots would transform the building into Detroit's first operating distillery since prohibition. Two James Spirits screams Detroit.
David Landrum is the founder of Two James and is passionate about creating excellent spirits and equally enthusiastic about the city of Detroit. The company is named after Davids father and grandfather and features an ambitious variety of distilled spirits.
We were lucky to get space in their 1:30 p.m. tour and tasting as the 3:00 p.m. tour was at capacity. Nicole was our guide for the day and did not let the excessive heat dampen her enthusiasm for her job or for telling the story of the distillery and its varied menu of spirits. The distillery is not large but contains a copper still, fermenting tanks, and a bottling line. Nicole deftly answered questions and walked us through the day to day functions of the distillery. She explained that there are two nearby climate controlled warehouses used for barrel aging.
The tasting began with the clear Two James Rye Dog and two versions of gin. Old Cockney Gin and Barrel Reserve Old Cockney Gin. Two James 28 Island Vodka has an interesting prohibition story as the name originates from the islands in the Detroit River used by whiskey runners.
Following the Catchers Rye Whiskey was the very interesting Johnny Smoking Gun Whiskey. This corn and young rye whiskey are specially processed to infuse a proprietary Asian tea into the whiskey. There is a surprising smoke finish that makes Johnny Smoking Gun very special. One final Two James product that is interesting is their Nain Rouge Absinthe Verte.
Back to Bourbon.
With so many intriguing offerings it felt like I was drifting away from the ultimate goal of trying the bourbons offered. The first sample was the Two James Grass Widow bourbon. This 91 proof high rye bourbon is finished in used Madiera casks to create a unique flavor profile. Many young distilleries such as Two James outsource their bourbon from select barrels to meet aging specifications. The finished product is produced and bottled at the Detroit distillery.
While sampling finished bourbons from other distilleries, I was often disappointed with an overpowering of the bourbon. In the case of Grass Widow, I felt the finishing was subtle and let the bourbon stand on its own. I enjoyed the nutty finish with the subtle essence of Madiera. Grass Widow is the bottle that I purchased for my collection.
The second bourbon offered is the J. Riddle Peated Bourbon. I will tell you that if you enjoy Scotch J. Riddle will get your attention. The high corn and Scottish barley mash bill have created a blending of flavors that when sampled will give you the essence of a single malt whiskey. While not a traditional bourbon, J. Riddle will appeal to many whiskey drinkers.
Once you complete your tour, you will find a complete selection of the spirits for sale in the tasting room. A small selection of shirts, glassware, and other branded merchandise is also available.
The tasting room at Two James features a circular bar that is friendly and inviting. It offers a custom cocktail menu featuring each of the spirits produced at the distillery. Several sets of tables with chairs give patrons another seating option. Two James does not offer food but has Food trucks visit on different days of the week.
There are multiple reasons to visit Two James. You can taste and sample a varied group of spirits in a Detroit location. Not only do you have the opportunity to tour a working distillery, but you will also see a business fully committed to the city of Detroit. You usually have to travel to Kentucky to see a fermenting tank in action, so this is an opportunity closer to home.
When you decide to visit Two James, you can register online for a tour. Be sure to ask for Nicole. Tell her the Bourbon fool recommended that she be your guide. For more information or to schedule a tour, please select this link.