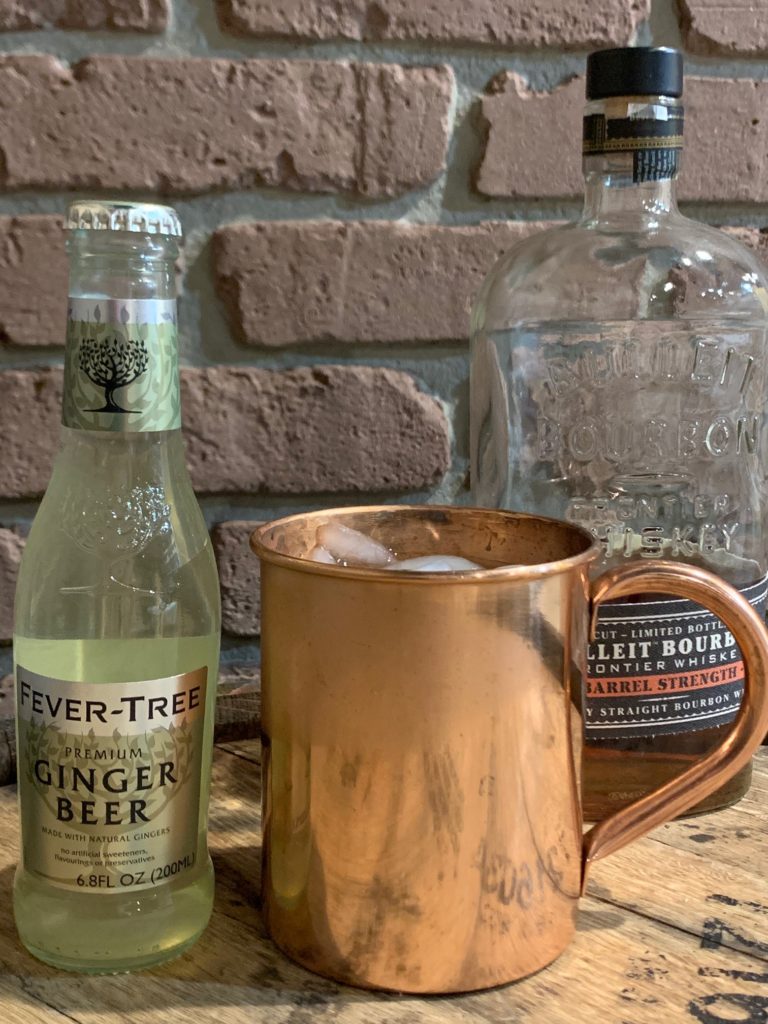 I have spent some time in numerous bars, taverns, speakeasies, and quite frankly never heard the expression bartender I will have a Horsefeather. You see, I normally drink my bourbon neat and do not mix it very often. Not that I haven't in the past, I was a real Beam and Coke guy when I was younger and also dabbled in Jack and Coke. But there is one bourbon cocktail that I enjoy and that is a Kentucky Mule.
Kentucky Mule is a Horsefeather?
While researching Kentucky Mule's, I was astounded to find out some people referred to it as a Horsefeather. That immediately made me curious and I wanted to find out as much as I could. You see, I had the best Kentucky Mule I have ever had at the Blind Pig Bourbon Speakeasy in Bardstown, Kentucky. The bar operated under a different name back then, but the dedication to quality bourbon and great drinks lives on as the speakeasy.
It is a simple cocktail, bourbon, ginger beer, and fresh lime juice. There are some variations, but this is the basic cocktail. There is no doubt that this cocktail was an offspring of the legendary Moscow Mule. The Moscow Mule originated in Los Angeles and reportedly was created by a bartender who had an abundance of vodka and ginger beer in his inventory. We cannot identify the person who originally took a local approach to this drink and substituted bourbon for the vodka. If I knew who he or she was, I would like to buy them a drink.
The Correct Ginger Beer
I wondered why the Blind Pig Bourbon Speakeasy made such a great Kentucky Mule and the secret was using the correct ginger beer. They use Fever-Tree premium ginger beer. Traditionalist's tell me that Cock N Bull Ginger Beer is the original, but I prefer the Fever-Tree.
So as I followed the historical significance of this cocktail, I realized that there is localization to this drink and realized that there is a Southern Mule made with Southern Comfort, a Mexican Mule with Tequila, and a Carribean Mule made with Rum to name a few variations. What I did learn was that a Horsefeather was created in Kansas in the 1990s and uses Rye whiskey versus traditional bourbon. It included Angostura bitters and had multiple variations including cherries and substituting ginger ale for ginger beer. Not exactly a Kentucky Mule but is considered one in some local drinking circles.
Anyway, most bars will serve Moscow or Kentucky mules in copper mugs. The idea is that the mug quickly takes on the temperature of the cocktail. However, most of these mugs have a substitute metal on the inside of the mug such as stainless steel or nickel plating. An old-timer told me it is not a true Kentucky Mule unless you use a copper mug. Direct contact with copper can be dangerous with a high PH contact liquid. The concern is that the acidity of the liquid would leach out the 30 milligrams of copper per liter needed to be toxic. I purchased high-quality copper mugs and have experienced no issues.
When making a bourbon cocktail, I always use everyday bourbon and never use bourbon that I enjoy neat. You may never hear the words bartender I will have a Horsefeather, but you might. If you haven't tried a Kentucky Mule, you should. I have been enjoying mine with Bulleit Barrel Strength Bourbon. Even for a traditional drinker like me, an occasional refreshing mule is a tremendous bourbon cocktail.