I did not think I would be doing an Irish whiskey story again until closer to next St. Patrick's Day. However, I was allowed to sample two releases from the Walsh Distillery in Carlow, Ireland. Writers Tears and the Irishman are two of the brands originating from this innovative company.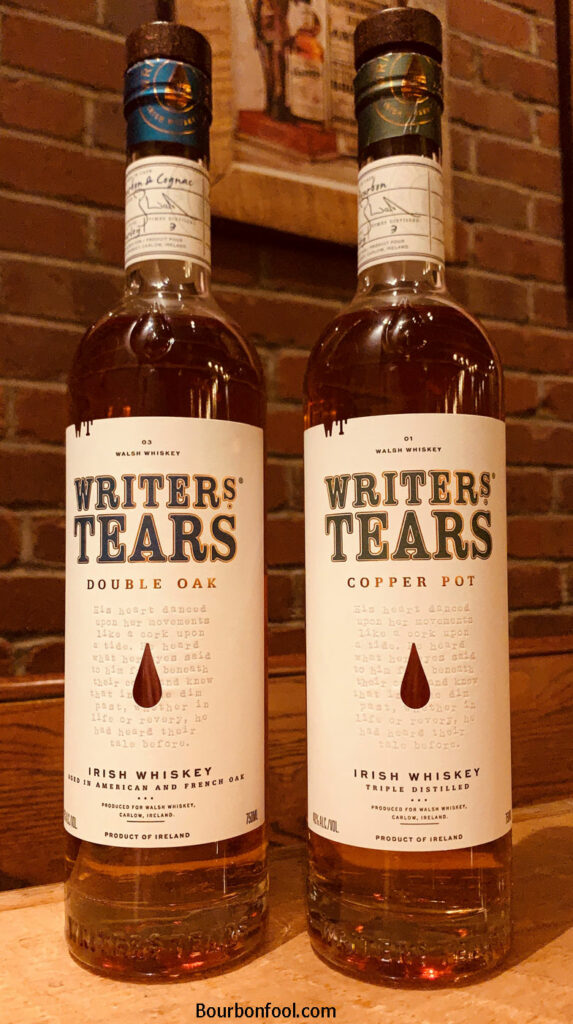 Bernard and Rosemary Walsh
This husband and wife team started Walsh Whiskey in 1999 and has been part of reviving the appreciation of Irish Whiskey. Irish Whiskey was one of the most popular and predominant spirits globally until it suffered a downturn. The drop from 28 distilleries in Ireland to only two shows the extent of the fall.
The return of Irish Whiskey
Beginning in the 1990s, Irish Whiskey started to rebound, and there are now more than 30 distilleries operating in Ireland. The category is strong again, and there is a real connection to American bourbon as many Irish and Scotch whiskeys mature in used bourbon barrels.  Irish Whiskey, by legal definition, must age for at least three years. American bourbon has no minimum aging requirement.
Double Oaked and Copper Pot
We sampled two of their Writers Tears offerings. Using used Kentucky bourbon barrels, Double Oaked is then further barrel finished is used French cognac casks. Both double oaked and copper pot blend Single Malt Irish Whiskey and Single Pot Still Irish Whiskey. Copper Pot is not barrel finished in cognac casks. Both whiskeys are triple distilled and non-chill filtered, providing a smooth, enjoyable drink. I preferred the double oaked, but both whiskeys were fine examples of a robust Irish Whiskey comeback.
Watch the video review
This week Charlie Berry and I reviewed these two exciting offerings of the Walsh Whiskey Company. Not only that, but tune in to see the motivation for sampling Writers Tears. It truly takes a published author to understand the calming inspiration of a quiet whiskey, and what better for a writer than Writers Tears. WATCH THE VIDEO HERE of an Irish Whiskey story.