Even though this story is not specifically about bourbon, it is historically interesting, and finding a rare rye whiskey bottle is a unique experience. Trying to find out additional information has proven to be more difficult than imagined.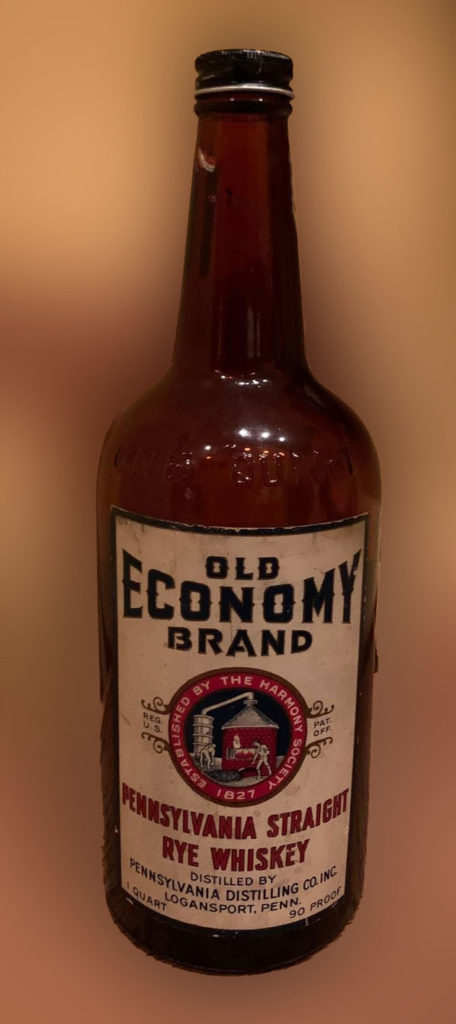 A little backstory
In the late 1700s, a farmer in Germany started a religious separatist movement. Johann George Rapp broke away from the Lutheran church and preached a new evangelical theory to a growing group of followers.
In 1803, he sailed to America and settled in Pennsylvania to establish a home for his followers. More than 500 people moved to western Pennsylvania to develop a community of equality. This new place was called Harmony. The tenant for this community was that all members held goods and property in common. The Harmony Society Cemetery contained no headstones to distinguish graves, so one person was indistinguishable from another.
A hard working society
The people of Harmony were successful farmers and built productive sawmills, grist mills, and other business enterprises. They were proficient at producing whiskey, reaching three thousand gallons annually in1809. Now known as Harmonists or Rappites, the group relocated twice. The Harmonists first relocated to Indiana territory and then back to Pennsylvania, ending up in a valley on the Ohio River. They called this last community Economy.
Rapps group became very prolific and were profitable in many business ventures. Their textile products, especially silk, were award-winning and much sought after. They were one of the first groups to sell whiskey to the U.S. Army and run beer advertisements in newspapers. As their profits grew, they invested in land, oil and even formed the Harmony Society's Farmer's Bank. Rapp was concerned that the outside world would discover his wealth. He kept a hidden cash fund of a half-million dollars in gold and silver under his home in Economy Pennsylvania.
However, the group splintered after Rapp died, and their basic communist ideology did not endure.
Old Economy Brand Rye Whiskey
I was not intent on finding a rare rye whiskey bottle but discovered it by accident. My good friend mentioned that he had a couple of old bottles in his wine cellar. The Old Economy Branded Pennsylvania Straight Rye Whiskey carries a label showing that it was "established by the Harmony Society in 1827". This one-quart bottle is 90 proof and has a metal twist cap.  I am still researching additional background on this rye whiskey and will update my readers as more information comes in. Finding a rare rye whiskey bottle like this is a unique glimpse into whiskey history