I will often run across a bottle that is so unique I have to purchase it for my collection, and 82nd Airborne Bourbon is one unique bottle. Besides pursuing the study of bourbon, I am an American history guy who respects and marvels at the heroism so often found in our military. When I first saw this bottle, I hesitated to purchase it and then subsequently regretted that decision. However, I was fortunate to have new acquaintances Vicki and Jon find one and buy it for me on their recent trip to Tennessee.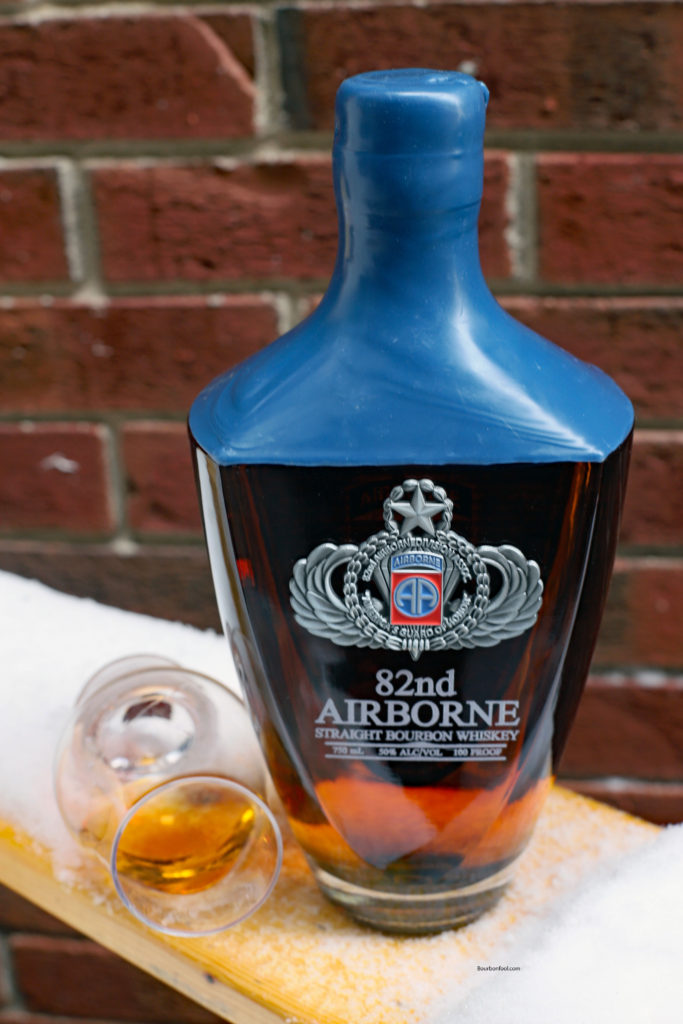 82nd Airborne Bourbon
The bourbon has a unique bottle adorned with a handsome dimensional emblem of the 82nd Airborne Division Association. This prominent crest also features Airborne's word, followed by the statement "Americas Guard of Honor." This bottle's artistry continues with a unique shape that features a blue wax cowl covering the upper third of the bottle. The distinctive AA patch worn on the unit's soldiers' shoulders appears prominently on the bottle. The AA stands for All American because it eventually held members from all 48 states during World War II.
Boundary Oak Distillery
The 82nd Airborne Division Association designed and sponsored this bourbon and worked with Boundary Oak Distillery to produce it. The project was called "operation bourbon." This distillery located in Radcliff, Kentucky, is now a member of the Kentucky Bourbon Trail Craft Tour and is responsible for distilling and bottling 82nd Airborne Bourbon. Boundary Oak is located near the Jim Beam distillery and has brought distilling to Hardin County, Kentucky. They make 82nd Airborne Bourbon, but they also make two types of moonshine, Patton Armored Diesel, a cane sugar spirit aged in used bourbon barrels Blackhorse 1901 American Whiskey, among several others.
Straight bourbon whiskey
By definition, straight bourbon whiskey has aged a minimum of two years, which correlates to the label on the back of 82nd Airborne Bourbon—bottled at 100 proof, with a light amber color. The mash bill consists of twenty-one percent rye, seventy-five percent corn, and four percent malted barley. This 2020 release is available in Kentucky, along with a few additional states. I purchased the bottle for my collection and did not plan on opening it. I have looked at multiple reviews, and many are surprised at the flavor of an approximate two and a half-year-old bourbon.
Final thoughts
82nd Airborne Bourbon is one unique bottle that will look great in any bourbon collection. Many will scoff at the idea of buying only for the bottle design but I enjoy looking at it. Assisting the 82nd's association in some small way is just a bonus. I salute the heroes who have served in the United States Military throughout the years.