Whiskey Green Rivers and Saint Patrick
In honor of St. Patrick's Day which is fast approaching, is a short history lesson on this holiday celebrated by millions. St. Patricks Day has been celebrated by the Irish as a religious holiday for over 1000 years. The Catholic church would wave Lenten requirements and, after attending church in the morning, parties would include—drinking, dancing, and eating the traditional Irish bacon and cabbage.
St. Patrick is the patron saint of Ireland. Kidnapped from Britain as a young man and sent to Ireland as an enslaved person, he escaped but later returned to bring Christianity to Ireland. Historians assume St. Patrick died on March 17, 461, and this saint's legend has only grown over the succeeding years. You can follow this link to find out more about the differences between Bourbon and Irish Whiskey.
St. Patricks Day
Beginning in the ninth or tenth century, the Irish began celebrating the feast day of St. Patrick on March 17. However, on March 17, 1601, a St. Patricks Day parade was held in America. It was held in the Spanish colony now known as St. Augustine, Florida. In 1772, Irish soldiers of the British Army became homesick and marched into New York City on March 17 to honor the patron saint of Ireland. St. Patricks Day parades only grew from there, and New York City and Boston continue to have significant parades to this day. There are more than 100 parades in American cities today.
Irish immigration to America
The influx of Irish immigrants to America really increased due to the potato famine of 1845. Almost one million poor and often starving people began to arrive from Ireland. American protestants despised the uneducated Irish and often made fun of them. It wasn't until the Irish banded together and demonstrated their political strength that others began to take notice. As you can easily imagine, politicians began courting the Irish vote. President Harry Truman attended the annual New York Cities St. Patrick's Parade in 1948, giving pride to many Irish Americans.
The growth of celebrations parades and green rivers
Many traditions connected to this holiday have become part of the American vernacular. They dye the Chicago River Green to add to the festivities in that city. While the Boston and New York parades are internationally known for their size, Savannah, Georgia, has the oldest continuous parade dating back to 1813. There are multiple arguments that Savannah came up with the concept to dye a river green. Whiskey green rivers and Saint Patrick make up a combination of festivities and religious observance throughout America.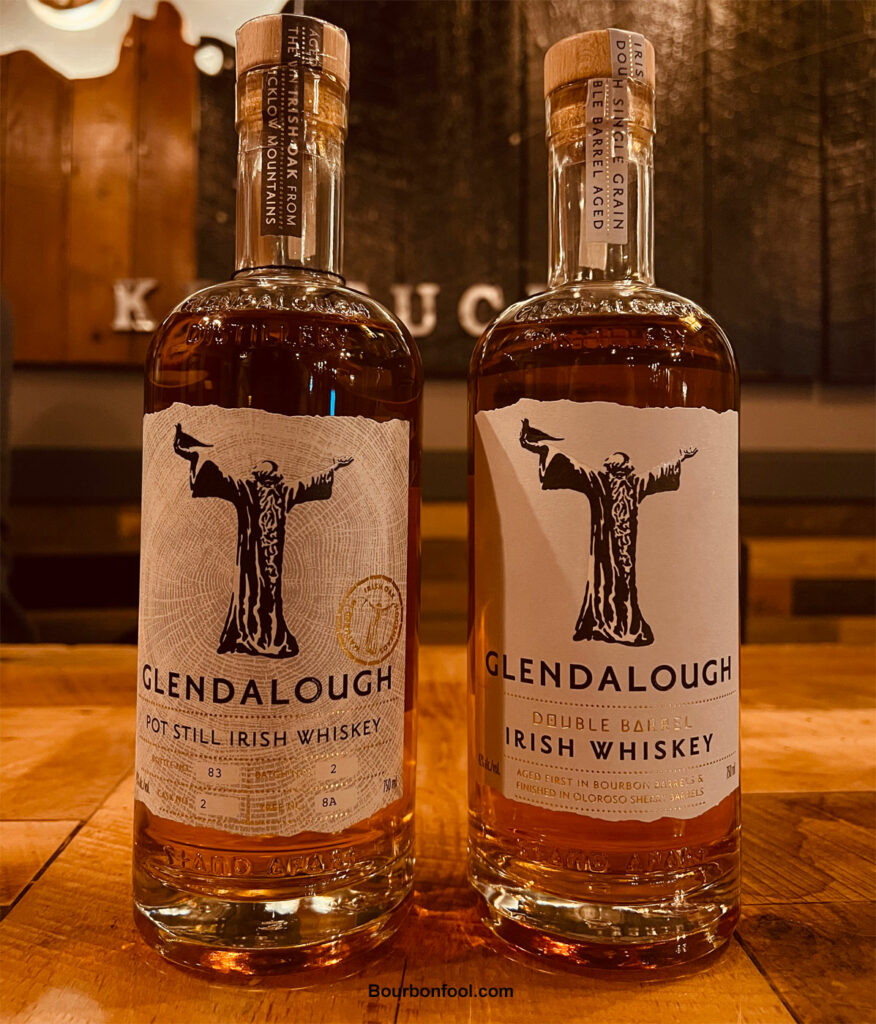 Glendalough Irish Whiskey
The United States is not the only place that honors this historic Irish holiday. Canada, Australia, Singapore, and Japan celebrate March 17 and honor the memory of St. Patrick. Once considered the finest whiskey in the world, and after some setbacks, it continues to come back and grow in popularity. The Glendalough Distillery is a newer Irish Distillery making a name for itself. They honor Saint Kevin, a son of Irish royalty who became a symbol of holy and humble living. He formed a monastery in Glendalough, Ireland. Inspiration of a quieter life abounds in the whiskey of Glendalough.
You can watch a video review of two Glendalough whiskeys HERE.