SONO 1420 Artisan Distillers in South Norwalk, Connecticut have produced a very unique whiskey that is instantly memorable. The whiskey has a grain and nut taste that is truly memorable and different from any other whiskey I have sampled.
Mash Bill
A very handsome bottle holds the 92-proof whiskey with a mash bill that is anything but standard. Seventy-five percent corn, combined with fifteen percent rye, and ten percent milled hemp seed. That is correct, This is the first distillery to incorporate hemp seed in their whiskey mash bills. At first inspection, it would appear very strange to utilize hemp seed while making whiskey. However, hemp seed oil has been used as both food and medicine in China for thousands of years.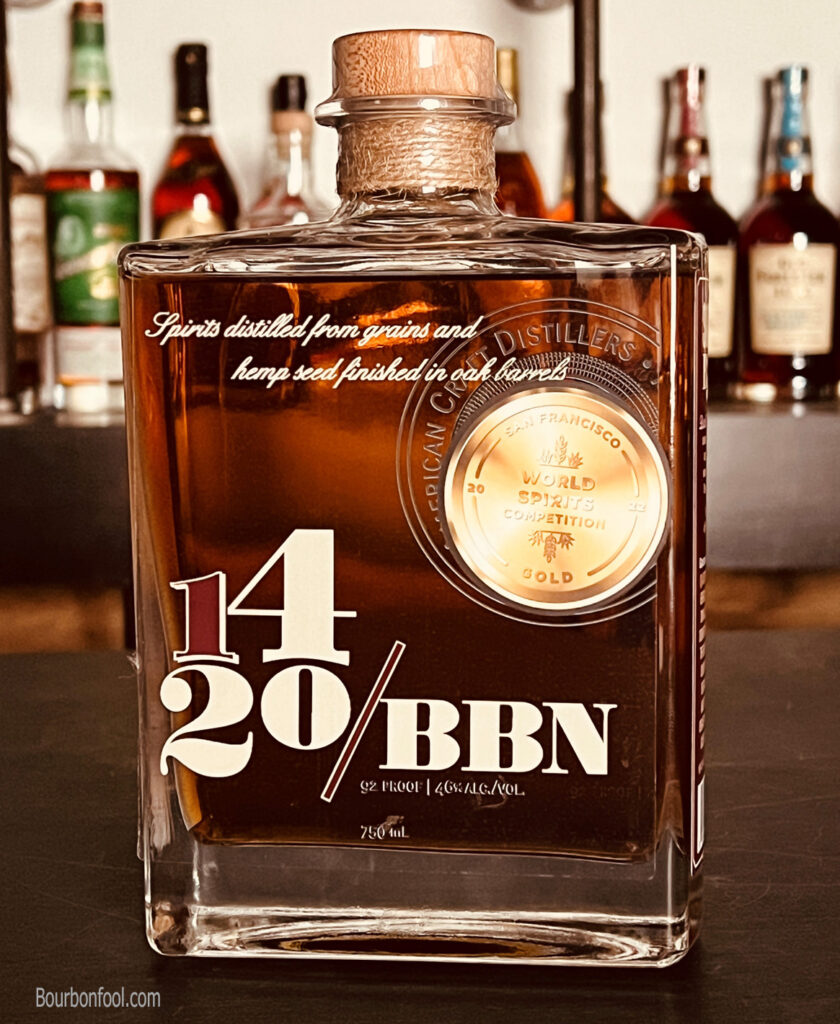 The significance of hemp
Hemp was a very important part of our nation's early history. Early versions of the Declaration of Independence were painstakingly written on sheets of hemp paper. Early shipping made hemp a valuable commodity for farmers because of the need for sailcloth and all types of nautical cordage. This became less important when steamships became more numerous eliminating the need for sails and rigging. Illinois, Missouri, and Kentucky were significant hemp-producing states. Kentucky continued to have a significant hemp industry up to World War One and remained the leading producer of hemp crops. Hemp and marijuana come from the same species of plant. However, by law, hemp must contain less than .03 percent THC which is the psychoactive drug found in marijuana. Therefore, hemp is legal to grow and cultivate.
World War Two
The second world war creates another boon for the hemp industry. Domestic hemp fiber was in great demand which resulted in the construction of new hemp processing plants. When the war ended, many farmers were left with canceled hemp contracts and many of the new processing plants were shuttered. By 1958, the last of the great hemp crops were harvested and the industry grew silent.
SONO 1420 Artisan Distillers
Hemp was illegal to be grown in the United States for almost 70 years until a 2014 farm bill allowed cultivation again. SONO 1420 became the first distillery to actively use hemp seed in their whiskeys. They have multiple expressions including a rye whiskey that utilizes hemp. The bottles will be difficult to find and are most likely to be purchased at the distillery or in limited supply on the East Coast. It is truly a very unique whiskey and I am so very glad I tried it. I doubt they will be the last distiller to experiment with hemp seed.
Did you know?
There were only two states in the union that voted against prohibition. Connecticut was one, and Rhode Island was the second. In fact, the state senate vote in Connecticut was 14 to 20, which resulted in a no-vote regarding prohibition. 1420 was adapted as part of the name for this very enterprising distillery.
Cheers!