To reach a total of ten, here are three bourbons everyone should have. I purposely omitted extremely hard to find, and very expensive bourbons. Listed here are bottles two, three, and four to be included in your eventual group of ten. The bourbons are not in any particular order.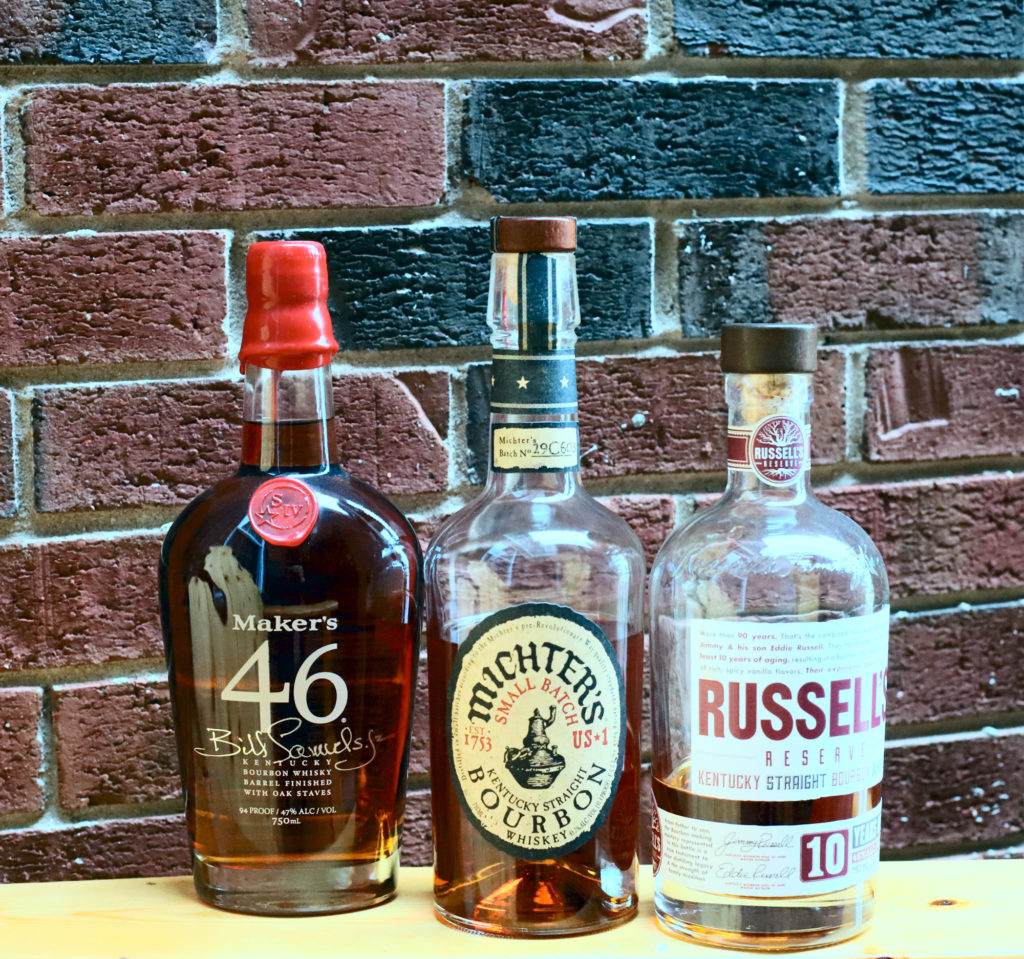 Maker's 46
Introduced in 2010, it was the first new bourbon expression at Maker's Mark since the inception of the brand in 1953. Using seared French Oak Staves, Maker's 46 is aged longer to create a bolder flavor profile. All Maker's Mark products utilize wheat as the flavoring grain.
Owned by Beam Suntory, Maker's Mark Distillery in Loretto, Kentucky, is a fabulous campus loaded with character and history. Bill Samuels Jr. found that French oak provided nuanced flavors and was a part of wood experimentation with bourbon. After testing many different wood combinations, wood profile number 46 created the desired flavor profile and also provided a name for the new bourbon. After inserting toasted staves into a recently emptied Maker's Mark barrel, the bourbon is added back in for an additional nine and a half weeks of barrel finishing.
French Oak is tighter grained and less dense than American Oak. American Oak is considered sweeter and has more vanillin compounds, while French Oak provides subtler flavors. The mash bill is 70% corn, 16% wheat, and 14% malted barley. Makers 46 is sold at 94 proof. Maker's 46 is my preferred Maker's Mark bourbon.
Aroma: Caramel with some toasted aroma.
Flavor: Balanced, bread, cinnamon, and some apple come through.
Finish: Smooth and pleasant. Not harsh at all.
Russell's Reserve 10-year-old Kentucky Straight Bourbon
Russell's Reserve is small-batch bourbon chosen from select barrels, all of which are aged a minimum of 10 years. In 1999, Wild Turkey released Russell's Reserve to celebrate Master Distiller Jimmy Russell's 45 years at Wild Turkey. Mr. Russell joined the distillery when it was still known as JTS Brown. He continues to be a passionate spokesman for Wild Turkey and the bourbon industry.
The Campari Group owns wild Turkey. All Wild Turkey bourbon varieties are produced using a single mash bill. However, they can create many variations through multiple options in aging, barrel char, and rickhouse location. The mash bill is 75% Corn, 13% Rye, 12% malted barley, and is bottled at 90 proof.
Aroma: Vanilla, caramel, and tobacco.
Flavor. Traditional bourbon flavors of vanilla, caramel. Excellent mouthfeel with a sweet foundation from the large percentage of corn.
The finish is a classic Kentucky hug. Some toasted wood flavors mixed with rye spice.
Michters US *1 Bourbon
Michter's Kentucky Straight Bourbon is a small batch product. It has some fascinating history not only for the company but also the way they make whiskey. For example, they toast their barrels before charring them. When filling their barrels, they use a low entry proof of 103 for their products. I have found that lower entry proof often produces a very smooth bourbon. They also heat cycle their barrels by raising and lowering the temperature during aging. Michter's believes this adds flavor to the product even though evaporation occurs at a more rapid pace.
Michter's roots go back to Pennsylvania with connections to the historic Bomberger's Distillery located in Schaefferstown. The brand name of Michter's is more modern; there is a connection to Bomberger's. The original Pennsylvania distillery site has evidence of spirit production dating back to 1753. The mash bill is unknown. Michter's is 91.4 proof. Michter's is a young bourbon. However, this whiskey is a favorite of mine.
Aroma: Honey and spice
Flavor: black pepper and apricot
Finish: is spicy and short.