Cream of Kentucky is enjoying a rebirth at Jim Rutledge's hands, but do you know the artistry behind Cream of Kentucky Bourbon? A company based in Cincinnati, Ohio, introduced the Cream of Kentucky brand in 1888. As prohibition was winding down, the Schenley corporation acquired the brand and reintroduced it in 1934. Cream of Kentucky grew in stature, becoming a famous brand in the 1940s. Interestingly, an American icon drove brand marketing and advertising.
Enter Norman Rockwell
Norman Rockwell illustrated many advertisements in his storied career. Rockwell painted advertisements for various products such as boys hosiery, Mazda brand lamps, and Skippy Peanut Butter. Among the many other recognizable brands featuring Rockwell art were Green Giant, Ford, Aqua Velva, Pan American Airways, Scott Tissue, Arrow Shirts, and Listerine mouthwash. However, what is noteworthy is his artwork advertising Cream of Kentucky Bourbon.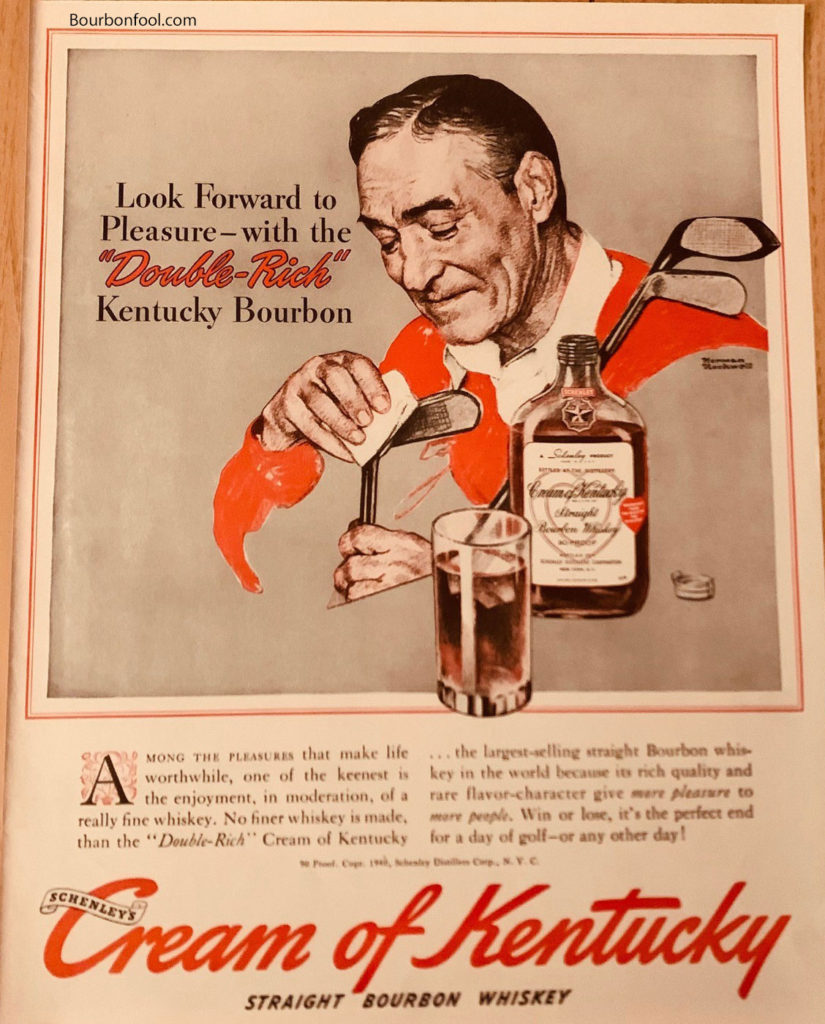 Collier's and Life Magazine
In 1936, Rockwell began painting ads for the Schenley Company. Many were typical Rockwell images of everyday people in ordinary settings. In April of 1940, Collier's and Life Magazine featured full-page ads for Cream of Kentucky featuring a golfer cleaning his clubs. The ad goes on to say;
"No finer whiskey is made than the "Double-Rich" Cream of Kentucky…the largest-selling straight Bourbon whiskey in the world because its rich quality and rare flavor-character give more pleasure to more people. Win or lose. It's the perfect end for a day of golf or any other day! The advertisement artwork features the signature of Norman Rockwell.
Jim Rutledge Master Distiller
Jim Rutledge was the longtime master distiller at Four Roses. Upon his retirement, he has kept busy with contract distilling and launching the J.W. Rutledge Distillery. Using sourced barrels of bourbon, he chose 60 high-quality barrels out of a stock of 150 barrels and bottled them using the historic Cream of Kentucky brand. Getting products into the marketplace was necessary for the startup. These eleven and a half-year-old bourbon bottles entered the market as a premium product that sold briskly.
Cream of Kentucky 13-year-old bourbon
The newest release of Cream of Kentucky is a 13-year-old described by many as "creamy." Jim Rutledge has said that he wants a bourbon with a creamy mouthfeel and a smooth finish. This 13-year-old meets that standard. A vanilla cream taste with some cinnamon and baking spices make this whiskey a pleasure to drink. It is very smooth and ultimately has that unique creamy mouth feel. If you have the opportunity, this is a bottle to purchase and save for a special occasion.
J.W. Rutledge Distillery
The distillery is still on hold because of the ongoing pandemic. New investors are in discussion to replace earlier ones that have had to pull back. There are multiple sites in Kentucky in consideration for the home of J.W. Rutledge Distillery. A secondary brand that will be produced by the distillery is High Plains Whiskey. Jim's conception of the distillery will be midsized with the look of a California winery. He intends to build a sizeable single-story warehouse for aging his bourbon. He considers single-story warehouses to be more consistent than multi-story rickhouses.
More than a boutique brand
Combine the impressive pedigree of Jim Rutledge with a historic bourbon brand, and you have the potential for a great product and good story. Add to this the unique marketing background featuring an American treasure's artwork, and you get a bourbon story that rises above the mainstream. That is the artistry behind Cream of Kentucky Bourbon.