Barrel finishing is now firmly part of the whiskey vernacular. The process of enhancing or changing the flavor profile of bourbon can take many forms. It can be as simple as adding toasted staves to mature whiskey, the process of Maker's Mark Maker's 46. You can use a second new charred oak barrel, dump the mature spirit into a new barrel, and let a second course of new oak enhance your bourbon. A great example of this would be Garrison Brother's Balmorea or even Old Forester 1910. For a video review of Garrison Brothers, please watch HERE.
Used Barrels
By the very definition of bourbon whiskey, you cannot add anything other than water, grain, and yeast. However, many distillers are bringing new products to market that have been secondary aged or finished in a used barrel or cask. The early adopters of barrel finishing in used wine barrels were the most obvious. I have seen whiskey finished in white and red wine barrels with sweet and dry wines. The list of wine varieties is long, but I have sampled whiskey finished in barrels that previously held  Port, Chardonnay, Cabernet, Merlot, Madeira, Sherry, Sauternes, and Margaux wines, to name a few. Thomas S. Moore has issued multiple varieties of barrel-finished bourbon. Four of those are shown below.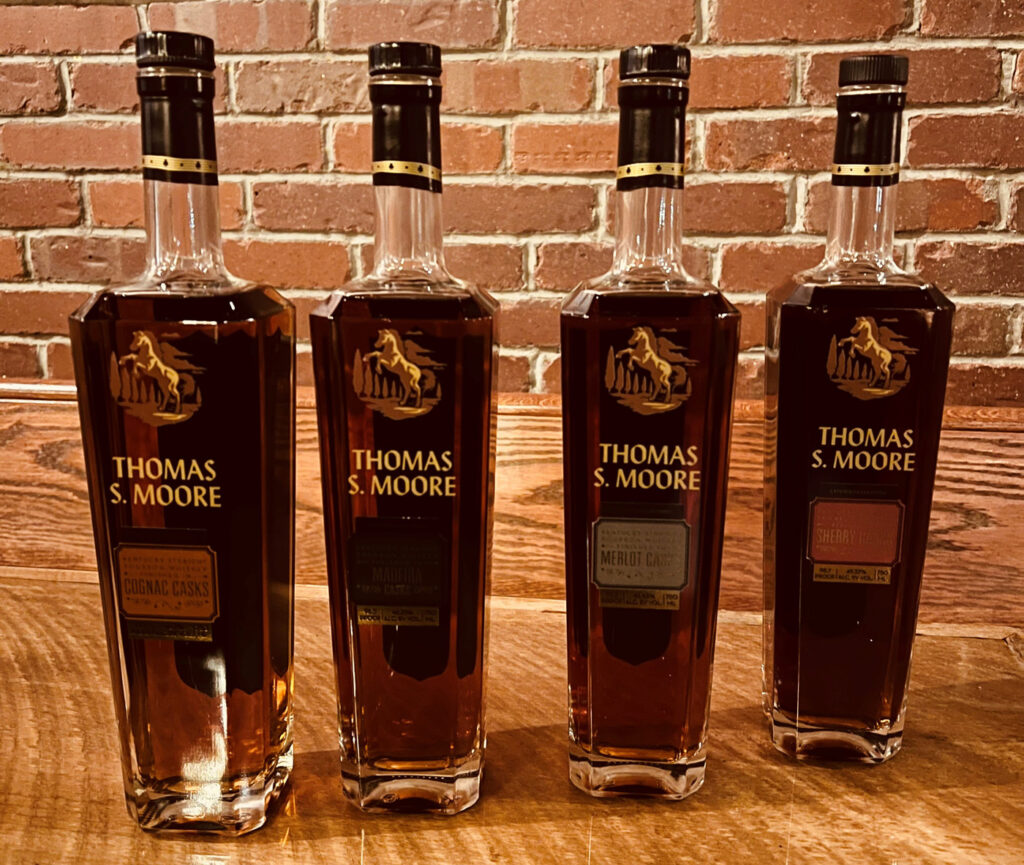 Not only wine
There are many other secondary barrel finishes beyond using emptied wine casks. I have sampled bourbon finished in used barrels that held Tequila, Beer, Cognac, Rum, Calvados, and more. The tequila finish in the new Mary Dowling brand was recently exciting. However, some favorites are Bardstown Bourbon Company Prisoner Wine Finish and Bardstown Bourbon Company finished in used KBS barrels. For a video review of the KBS finish, you can watch HERE.
The trend of secondary barrel maturation
When you consider the whiskey business, there is a lot of logic for a distiller to introduce a barrel-finished product. You can take your everyday bourbon, finish it in a second new charred oak barrel, and then release a double-oaked variety. The same goes for maturing in a used barrel that contained maple syrup, beer, wine, cognac, rum, or any other spirit. It is an avenue to introduce a new product without creating a unique mash bill.
Embrace different flavor profiles.
I resisted whiskey varieties outside of straight bourbon whiskey for a long time. However, I have learned to enjoy secondary finishes unique and complimentary to the original whiskey. There is a lot of product in the market featuring secondary bourbon barrel finishing. This week, I tasted two finished whiskeys from an up-and-coming distillery that astounded me with their flavor—more on those in the coming weeks.