I have written about Lexington and Bardstown, Kentucky's bourbon influences; however, this blog will be about Louisville, Kentucky's whiskey row.
Louisville was founded in 1778 and named in honor of King Louis the XVI, who actively aided the Americans in the war of independence from Britain. The early settlements were primarily people living in fortifications to protect against Indian attacks. Kentucky was not home to Indian tribes but was a bountiful hunting ground for both the Shawnee and Cherokee nations.
Location is everything
Located just northwest of the Falls of the Ohio River made Louisville a perfect river stop for transportation and commerce. The ability to transport goods, including liquor, on the river, benefited the farmers and early distillers. The 1780s brought continued growth to the settlement and construction of a church, hotel, and even a post office. At this time in Kentucky's history, Lexington was still a much larger city than Louisville.
Historical distilleries in Louisville
Evan Williams has had a distillery in the area and was arguably one of the earliest distillers in the whiskey business in Louisville. Distilleries such as the Bernheim, Stitzel Brothers, and Crystal Springs were all based in the city. P.H. Stitzel eventually merged with W.L. Weller and Sons, and you can still visit the Stitzel Weller Distillery in Shively, Kentucky, a suburb of Louisville.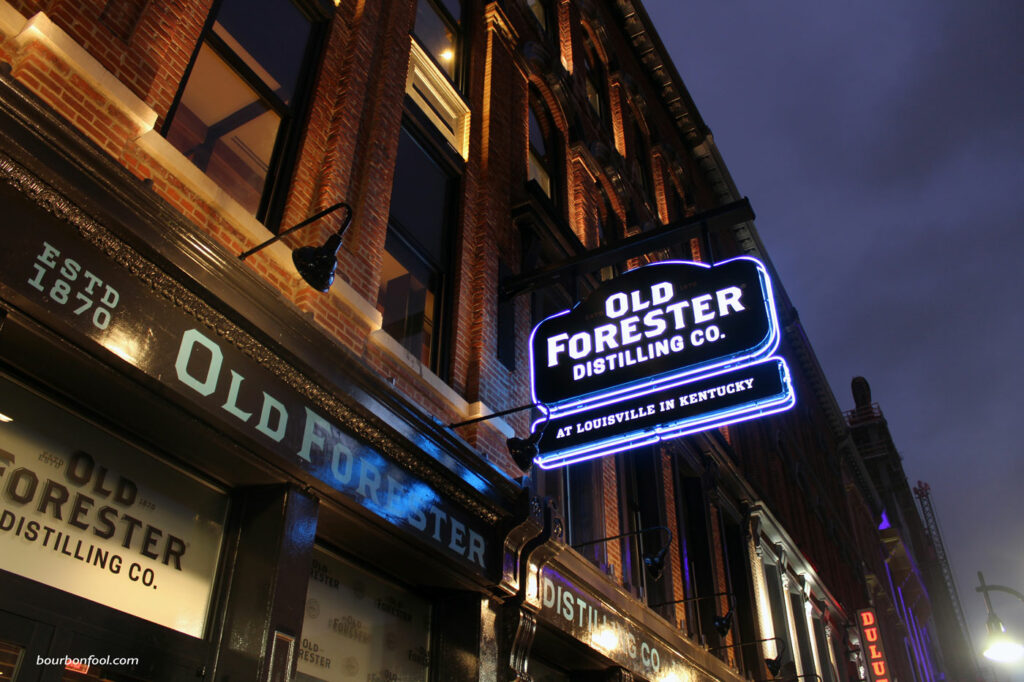 Brown Forman
The Wallwork and Harris Distillery operated in Louisville and was later known as the White Mills Distillery. In 1924, Brown Forman purchased the distillery and converted it into the Brown Forman Old Forester Distillery. Brown Forman's headquarters are still located there to this day. You can view a giant bottle of Old Forester Bourbon at this location perched on the roof.
Louisville, Kentucky Whiskey Row yesterday and today
Whiskey Row included distilleries, rectifiers, blenders, marketing companies, and remote offices for distilleries located outside the city. The amount of whiskey business transacted on Main Street helped to dictate that the area would become known as Whiskey Row. Therefore, today you will find an assortment of bars, restaurants, and working distilleries in this revitalized area. Tours are available at the Main Street locations of Old Forester, Michter's, Angels Envy, and the Evan Williams Bourbon Experience. In addition, the Stitzel Weller Distillery featuring Bulleit Bourbon is in nearby Shively, Kentucky.
Commemorating Louisville Kentucky's Whiskey Row
Old Forester has four bourbons marketed as the Whiskey Row Series. They include Old Forester 1870 Original Batch, 1897 Bottled in Bond, Old Fine Whiskey 1910, and Prohibition Style 1920.
Louisville, Kentucky's whiskey row continues to evolve. Be sure to visit Old Forester, Michter's, and the Evan Williams Experience in Louisville. Another great Main Street location is the Frazier Museum, known as the gateway to the Kentucky Bourbon Trail.