Henry McKenna is a distinctive bourbon. This single barrel whiskey features the bottled-in-bond designation. However, the fact that it is aged ten years indicates that it goes well beyond the minimum four years age as required by the Bottled In Bond Act of 1897.
This whiskey won double gold medals for Best Single Barrel Bourbon and Best Bourbon at the SF World Spirits Competition in 2018. Heaven Hill Distillery produces Henry McKenna Bourbon in Bardstown, Kentucky.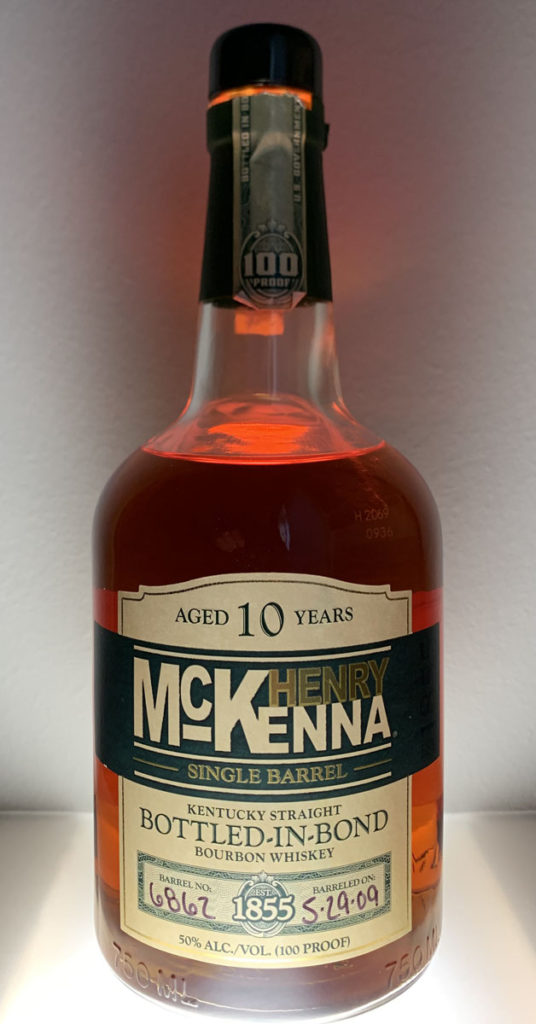 Who Was Henry McKenna?
Henry McKenna was an Irish immigrant that had distilling in his blood. He is known to have worked in a New Jersey distillery before moving to Illinois and building and operating another distillery for a few years. Mr. McKenna eventually moved to Nelson County, Kentucky, and built a new distillery in Fairfield. The H. McKenna Distillery began production in 1855 and was known for creating good whiskey. Throughout the late eighteen hundreds, the distillery produced the brands McKenna and Nelson County Pure Old Line S.M. Henry McKenna died in 1893, and the distillery continued operating under Henry's three sons. The distillery closed at the onset of prohibition.
The distillery restarted after prohibition, with the leading brand being H. McKenna. The distillery continued to operate under the supervision of a McKenna family member until it finally closed permanently in 1969. Interestingly, Henry McKenna Single Barrel is now produced in Bardstown, Kentucky. About five miles from the original Fairfield, Kentucky McKenna Distillery location.
Henry McKenna Bourbon
You have already read about why Henry McKenna is a distinctive bourbon, but what about the whiskey itself? This bourbon shares a specific Heaven Hill mash bill with several other Heaven Hill brands, including Evan Williams, Elijah Craig, and Fighting Cock. The mash bill is 75% Corn, 13% Rye, and 12% barley. As a bottled in bond bourbon, we know that it is 100 proof or 50% ABV.
The bourbon is full-bodied with a spicy palate. You quickly realize that this is a mature, ten-year-old bourbon. Keep in mind that because of the single barrel status, there may be subtle differences between bottles. I have tried two different samples, and one was noticeably better than the other.