Lawrenceburg, Kentucky, is a place that is critical to Kentucky distilling history. It is the current home of the Wild Turkey Distillery, but it has a rich background. We will review the Anderson County Whiskey Barons. There is a lot of marketing sleight of hand to create fables to help sell the product. However, some whiskey history is factual, and there indeed were Anderson County Whiskey Barons.
Compari introduced the Whiskey Barons release of three different labels with definite Wild Turkey origins. Anderson County, Kentucky, plays a dominant role in the history and ultimate reintroduction of these brands. Pre-prohibition whiskey profiles were the goal, and you will see the results.
The bottles were rare and somewhat difficult to find. I would like to publicly thank the Bourbon Summit Brothers for their generosity in introducing me to the entire collection.
The beginning of whiskey barons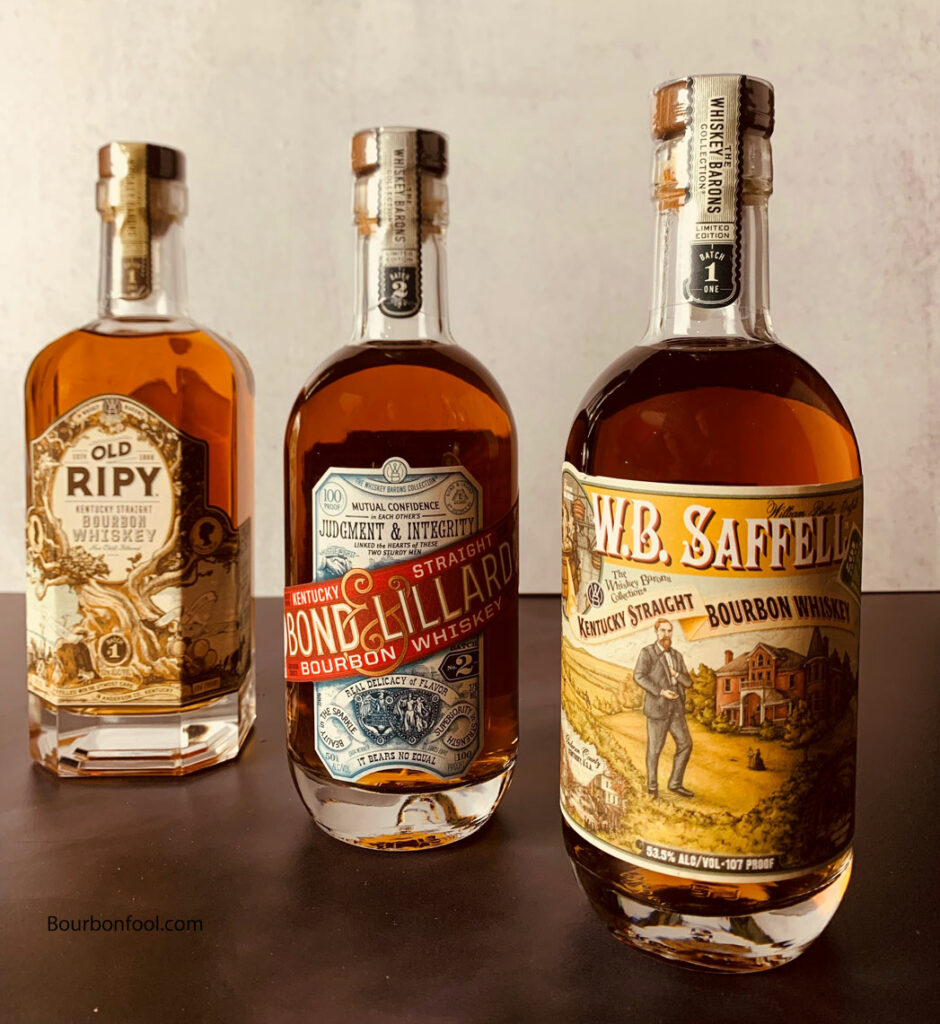 Old Ripy
Anderson County, Kentucky, is home to a long, intriguing distilling history. Old Ripy was initially born in 1868, and this reintroduction was a process to recreate the original pre-prohibition flavor profile. The Ripy home is a landmark in Lawrenceburg that shows the opulence and success of some early distillers. Built in 1888, the T. B. Ripy home renovation is partially funded by proceeds of the whiskey barons collection. The Old Ripy release was 1500 cases of 375 ML bottles; these 104 proof bottles are elegant and different from a Wild Turkey release. Old Ripy has a spicy oak taste with some nuttiness and dry vanilla.
Bond and Lillard batch one and two
The John Bond Distillery operated from 1820 through 1869. William Bond succeeded John and formed a partnership with his brother-in-law Christopher Lillard. The Bond and Lillard Distillery operated from 1869 until it was closed due to prohibition. At one time, the infamous Whiskey Trust purchased the distillery. Winning the grand prize at the 1904 Louisiana Purchase Exposition in St. Louis would give the Bond and Lillard brand tremendous credibility. Again this is a limited release available only in 375 ML bottles. Batch number 2 was superior to number 1, in my opinion. Sweet and smokey with hints of caramel, vanilla, orange zest, and a dash of spicy pepper.
W. B. Saffell
The final release in the Whiskey Baron's series is my choice for the barons' best. W. B. Saffell was a teenage prodigy that built a distillery at a young age in 1889. His bourbon was sought after in the days before prohibition—a beautifully designed bottle with the oversight of Eddie Russell. Interestingly, Eddie or Jimmy Russell was not part of the early releases, as stated by Compari. Oversite or mistake, it is evident that W. B. Saffell benefitted from Eddie Russell's guidance.
A blend of six, eight, ten, and twelve-year-old bourbons creates a memorable experience. At 107 proof, it is bold and flavorful. Caramel, brown sugar, apple, and spice. A delightful bourbon.
Sample the collection
This collection is becoming rare and it is an interesting comparison to try the entire collection. Be on the lookout for the whiskey barons and you will find various profiles complete with a little history.
This Week at Charlies – something completely different
Be sure to check out this whiskey aged for five seconds. That is correct, aged five seconds with a barley forward mash bill. Pabst Blue Ribbon Whiskey. WATCH IT HERE.