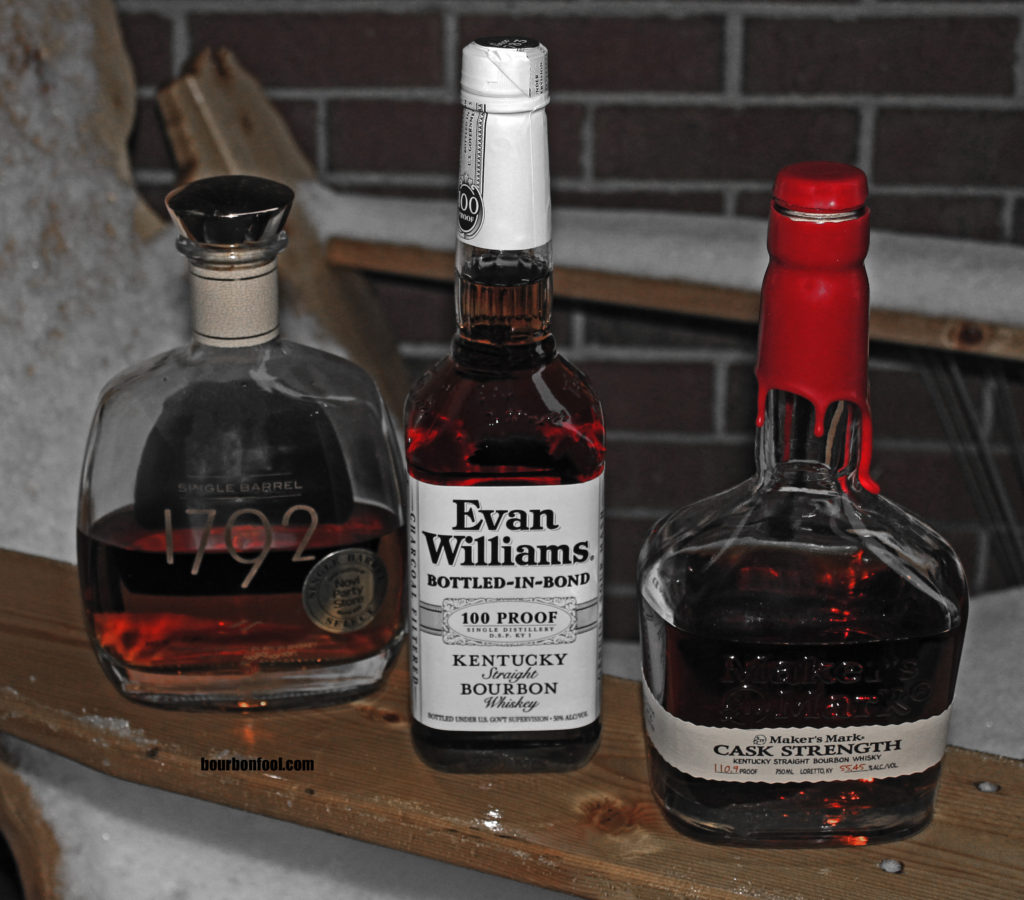 Evan Williams bottled in bond is the first bourbon featured in a tale of three bourbons
This 100 proof bourbon is a budget-minded selection from the Heaven Hill Distillery in Bardstown, Kentucky. Not as readily available as Evan Williams black label which is the largest selling brand for Heaven Hill.
Heaven Hill distillery is a family owned operation that has been in business since 1935. Their whiskey brands include Larceny, Henry McKenna, Rittenhouse Rye, Bernheim wheat, Old Fitzgerald, and Elijah Craig to name a few. Their Bardstown location features the Bourbon Heritage Center, and their Louisville location is known as the Evan Williams Experience.
With a mash bill of 78% corn, 10% rye, and 12% malted barley the nose has a little apple and cinnamon with a hot palate. Many would probably drink this in a cocktail vs. trying it neat. This bourbon is a value purchase at less than twenty dollars.
Makers Mark Cask Strength is included in this list to show wheat bourbon for our comparison. From the famous Makers Mark distillery in Loretto, Kentucky one of the iconic stops on the Kentucky Bourbon Trail.  This bourbon comes in at a robust 110.9 proof which is in the range of 108 to 114 proofs offered depending on the barrel. The spirit is screen filtered to take out any char and then is placed in the bottle. Truly a bourbon that is pure and powerful.  
The aroma reminds me of cherry with a little caramel. The mash bill is made up of 70% corn, 16% red winter wheat, and 14% malted barley. The palate is sweet with some cinnamon and a nutty taste that shows through. This bourbon opens up nicely with a little water.
The final bourbon in this series is a high rye selection. Barton 1792 Single Barrel is a product of the Sazerac Company. The Barton distillery is also located in Bardstown, my bourbon ground zero, and is recently known for the rick house collapse that destroyed thousands of gallons of bourbon.
In addition to being a single barrel selection, I have also chosen to show bourbonfool.com readers an example of a barrel select bottle. This bottle was purchased at the Novi Party Store in Novi, Michigan.  Take my word for it that this location knows their bourbon. So what exactly is a barrel select bottle? Several distilleries offer the availability of a private selection process where you can sample, select, and then purchase your selected barrel.  In this case, the Novi Party Store had its selection bottled and identified as a barrel select product. I have purchased multiple barrel selections from this location, and they have an impressive record of selecting great barrels.
The 1792 barrel offers some butterscotch on the nose along with some citrus. At 98.6 proof this is a robust bourbon that I enjoyed very much. The palate again features some citrus with some hints of almonds.
Listed here are three varied bourbons that will appeal to bourbon drinkers in different ways. Evan Williams bottled in bond is a serious bourbon at a low price. Mix this one in your next Old Fashioned or Kentucky Mule. Makers Mark Cask Strength will appeal to anyone that enjoys wheat flavored bourbon. I enjoy the higher proof of this version vs. the original Makers Mark. This bourbon can be enjoyed neat or with a splash of water. Finally, Barton 1792 is bourbon that will appeal to anyone who enjoys high rye bourbon. Remember, when you see a barrel select offering, someone has chosen the whiskey, and it may be very special.
However, always remember that single barrel bottles can vary in taste from barrel to barrel — one of the great mysteries of bourbon. No two barrels are identical or impart identical taste profiles.