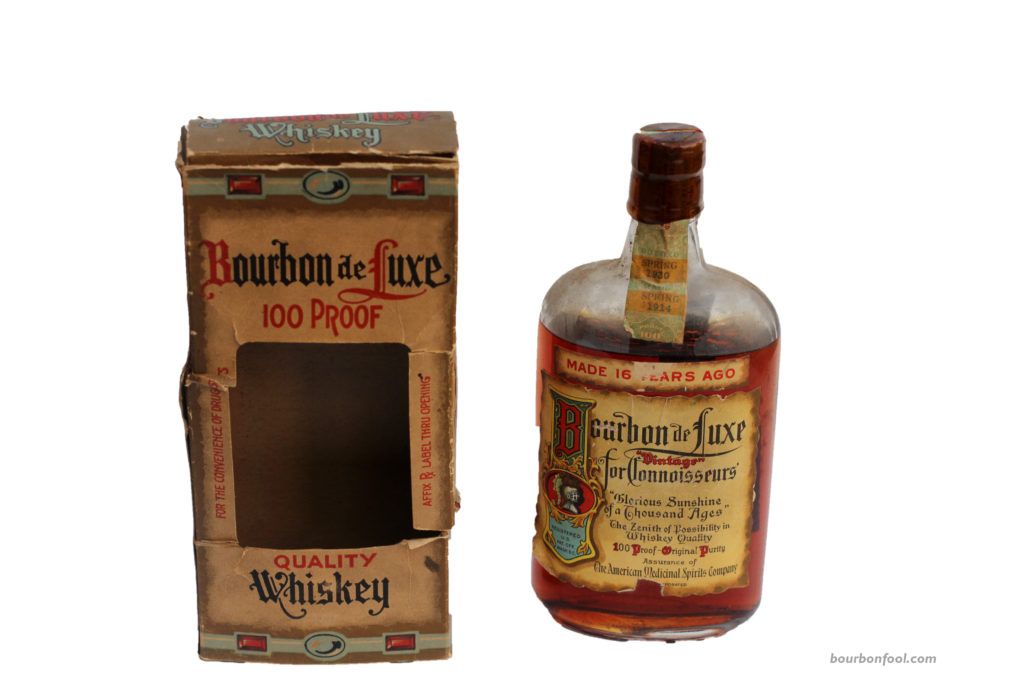 Recently my friend Larry led me to a bourbon discovery when he told me about a gentleman that owned an unopened bottle of medicinal bourbon. Ken was gracious enough to allow me to see and photograph the bottle and the retail box in person. It was a vintage history lesson that not only involved bourbon whiskey, but it also offered a glimpse into prohibition.
A Brief History of Medicinal Alcohol and Prohibition.
In 1919 the National Prohibition Act also known as the Volstead Act was passed leading to the creation of the 18th amendment. The three main sections of the act were to:
Prohibit intoxicating beverages.
Regulate the manufacture, sale, or transport of intoxicating beverages but not the consumption of said beverages.
Finally, to ensure that ample supplies existed for research, industry, and religious rituals.
During prohibition, medicinal alcohol was typically sold in one-pint bottles and uniformly sold in a box made up of cardboard or metal. Obtaining medicinal whiskey was expensive. It would cost about three dollars to get a prescription and then another three or four dollars for the pharmacist. Dishonest pharmacists were known to water down the spirit. The American Medical Association identified twenty-seven ailments that could be remedied by alcohol including cancer, old age, diabetes, and even snakebite. Dentists and Veterinarians were also allowed to write prescriptions for alcohol during prohibition.
In 1933 Congress passed the Blaine Act which was designed to repeal the 18th amendment and end prohibition. Ratification of the 21st amendment effectively ended prohibition for good.
History in a bottle of Bourbon de Luxe.
Bourbon de Luxe was distributed by the American Medicinal Spirits (AMS) company. The government authorized ten medicinal spirit permits during prohibition, but only six were applied for and granted. AMS was the only company formed after prohibition while the other five permit holders were producing spirits before 1920. They were Brown-Forman, Glenmore, Frankfort Distilleries, Schenley, and A Ph. Stitzel Distillery. Of the six companies, only Brown-Forman is still in business today.
Treasury Secretary Andrew Mellon was a shareholder in Old Overholt distillery based in Pennsylvania. It appears that he used his position to secure a medicinal spirits permit through Old Overholt to form the American Medicinal Spirits Company.
Both the retail box and bottle are a fascinating look at a different time in American history. This 100 proof, bottled in bond bourbon has a unique caution label attached to the back of the bottle. The label reads as follows: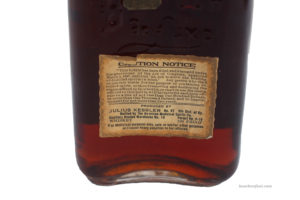 CAUTION NOTICE "This bottle has been filled and stamped under the provisions of the Act of Congress, approved March 3, 1897, entitled 'An Act to allow the bottling of distilled spirits in bond.' Any person who shall re-use this bottle for the purpose of containing distilled spirits, without removing and destroying the stamp affixed to this bottle, or shall re-use the stamp affixed to this bottle, will be liable for each such offense to a fine of not less than One Hundred Dollars, or more than One Thousand Dollars, and to Imprisonment for not more than two years.
At the bottom of the same label is another warning. For Medicinal purposes only, sale or use for other purposes will cause heavy penalties to be inflicted.
Ken explained that the bottle and box were in his grandfather's attic in Independence Missouri. It is now comfortably on display at Ken's home in Southeastern Michigan. I have been fortunate to visit the Oscar Getz Whiskey Museum in Bardstown Kentucky where many historical artifacts are on display. That museum is a treasure trove of all things whiskey, but many of the historical items are behind glass. Being able to examine this piece of American history up close was an educational experience. Many thanks, Ken!